29 Aug 2023
How to Improve Diversity in Construction Workplace Hiring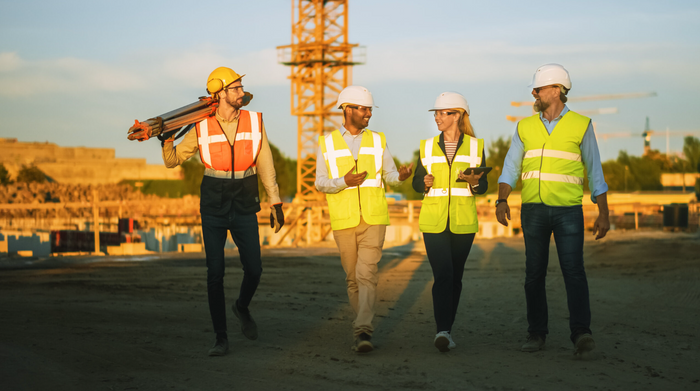 What are the benefits of equality and workplace diversity — and how can these benefits positively impact the construction industry? We consider what a diverse workplace culture should look like and the advantages to construction companies of improving theirs.
What Does A Diverse Workplace Culture Look Like?
The Equality and Human Rights Commission describes equality as ensuring everybody has equal opportunities and that no person be treated differently or discriminated against because of their characteristics.
The Equality Act 2010 was introduced to protect people from discrimination and make it illegal to discriminate against someone because of a protected characteristic. These characteristics are:
Age
Disability
Gender reassignment
Marriage and civil partnership
Pregnancy and maternity
Race
Religion or belief
Sex
Sexual orientation.
An organisation may not dictate exactly their diverse workplace culture, but they can change workplace policies to ensure they're an equal opportunity employer.
This increases the number of diverse candidates. The defining factor in inclusive workplace policies is equality in hiring practices and entrenched within your company culture and values.
What Is Construction Workforce Diversity?
Workplace diversity acknowledges and accommodates the differences between people and groups of people. A diverse place of work will place a positive value on such differences.
In construction, the definition of workplace diversity is no different. Studies have been conducted on workplace diversity in construction and how it compares to other environments in terms of cultural diversity.
Building published a "workplace diversity survey" that shows only 4% of workers in the construction industry are BAME.
CHAS has previously examined the lack of "women in construction". Still, a diverse workplace should more accurately reflect the diversity we see in society — and this doesn't just mean gender diversity.
Representation is important in providing opportunities for people of all backgrounds, but construction companies will also benefit from the improved job satisfaction and higher levels of productivity that come with workplace diversity.
While UK legislation protects minority groups from discrimination, monitoring workplace diversity is not a legal requirement. Nor is diversity training or anti-discriminatory policies.
However, companies can take a proactive stance in promoting a diverse workforce. In an industry like construction, which does not currently have a diverse representation, companies can get an edge on competitors by investing in construction workforce diversity.
Forward-thinking construction businesses should strengthen anti-discriminatory policies, increase diverse hires and promote diversity within the working environment.
Improving workplace diversity is ultimately a good idea for a business. Far from being just a box-checking exercise, it comes with many benefits, which we explore next.
Benefits Of Equality And Diversity In The Workplace
The "Equality and Diversity: Good Practice for the Construction Sector" notes four major advantages of implementing good diversity and inclusion practices. These benefits are:
Efficiency savings through improved staff retention.
A wider pool of talent is available to the industry from under-represented groups.
A more diverse supply chain with better support for small businesses.
Improved on-site working relationships based on respect for everyone's differences.
Tackling Skills Shortage
As a sector with a looming skills shortage, construction companies should be considering ways to encourage more people than ever to pursue a career in the industry. Opening opportunities up to diverse candidates that previously may have felt excluded or unwelcome in construction could be the solution to the skills shortage and improving workplace diversity.
Better Decision Making As A Team
A study by the decision-making platform, Cloverpop explores the benefits of equality and diversity in decision-making at work.
They discovered that while teams make better decisions than individuals 66% of the time, diverse teams make better decisions 87% of the time. This is because the different experiences of a diverse group allow varied approaches to problem-solving.
When you consider that Cloverpop's research suggests decision making drives 95% of business performance, the value of construction workforce diversity becomes clear.
Increased Productivity & Retention
Collaboration is a valuable tool for construction companies from planning right through to completion. It allows team members to feel valued and heard and workers from different backgrounds to reach a mutual understanding more quickly.
By promoting diversity and inclusivity in the workplace, construction companies can benefit from increased productivity and improved morale; when everyone feels valued, respect between colleagues increases. A harmonious workplace saves time on workplace disputes and absences so you can focus on getting the job done.
Improved Reputation
Improving diversity and inclusion doesn't just help you attract and retain great employees. When construction firms decide to increase diversity, it also gives them an industry advantage, showing prospective clients and contractors that they take their company culture seriously.
It also reflects well on the local community where the project may be taking place, allowing a company to better meet ESG social goals.
---
Source: CHAS
London Build is the UK's leading construction & design show. Gain access to 500+ incredible speakers across 8 stages, 350+ exhibitors, Meet the Buyers, live product demos, networking parties, entertainment, live music, the UK's biggest Festival of Construction and endless networking opportunities with leading architects, developers, housebuilders, contractors, government and more.