21 Oct 2021
Crack and Vibration monitoring case study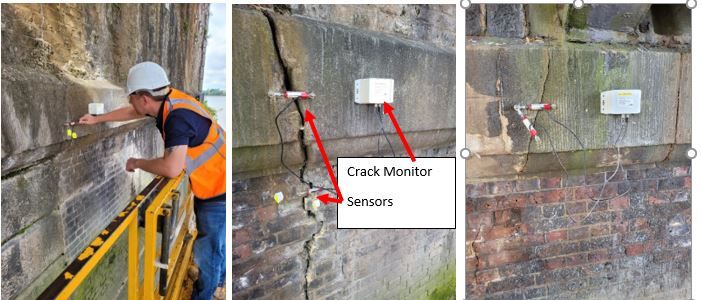 For the construction of the new footbridge, crack and vibration monitors were installed to monitor potential damage on the footings of Barnes Bridge, which crosses the Thames in the London Borough of Hounslow. All monitors are fully automated with batteries lasting several months for vibration and years for crack monitors. Each crack monitor has 2 sensors connected to precisely measure the crack distance and report data hourly to the cloud-based management system for alerting and reporting. Temperature is also measured in parallel to help establish the natural movements of the structure as it heats and cools.
Vibration monitors were also installed with triaxial geophone sensors to precisely measure construction generated vibration in the structure. They measure peak vibration velocity in three directions and upload data to the same web based system for alerting and reporting.
The fully automated nature of the sensors and management software means that the monitoring is low maintenance and efficient to run with the knowledge that project managers will quickly be alerted to any potential damage to the bridge. Cracks are one of the first signs that there has been movement of a structure due to ground movements or excessive vibration. Measuring the change in crack width is a popular technique to assess potential damage.
About Dukes meadows Dukes meadows comprises 75.5ha (187 acres) of parkland located in the London Borough of Hounslow, adjacent to the river Thames and downstream of Barnes bridge. It is one of the largest open spaces in London, offering open access to the Thames through the Thames path. The council is following the development of its ambitious plans to regenerate Dukes Meadows and deliver an improved public realm and sporting facilities.