The future of smart home technology… and what's worth investing in right now!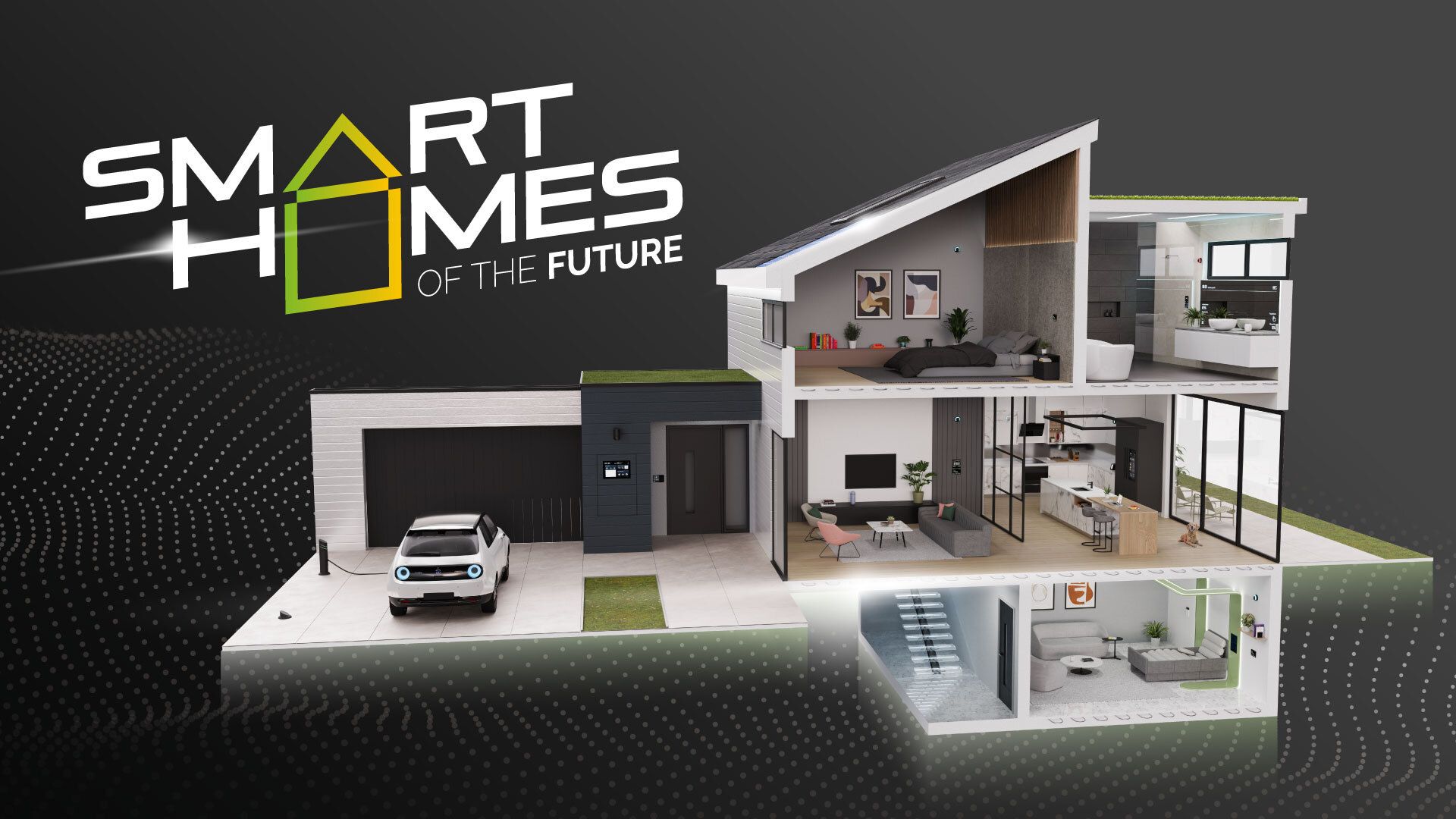 An expert guide on how our homes will look in 50 years' time and the ways in which smart home technology will help us to live more sustainably.
With a constantly evolving wave of technology aimed at enhancing the way we live our lives, it's clear that the future of our homes is smart. But from the way we heat our property to home security, how will smart homes look in 50 years' time?
Rointe has teamed up with the CEO and founder of the global technology network, Tech Women Today, Cecilia Harvey, to understand just how a smart home could look by 2071 and the exciting innovations that could revolutionise our lives.
Here's what to expect from your future smart home…
Energy and heating
Solar panels will replace roof tiles with technology embedded in them to effectively capture and store solar energy to power the home.
A combined centralised utility will support heating, electricity, air conditioning and electric vehicle charging and all appliances will be connected to it within the home. This centralisation will allow for a consolidated view of energy consumption data, which in turn will help users efficiently manage usage.
Information and data on energy costs, demand, generation and usage will be used to efficiently allocate energy among appliances and rooms across the house. Data analysis and personal biometric scanners will be used to anticipate the correct temperature levels for each room of the home for maximum comfort. This will automatically change depending on individual preferences and activity.
Home security
Entrances to the property could include smart door entry cameras that monitor the biometrics of those entering the property and automatically conduct security checks.
Situated around the outside of the property, there is likely to be thermal cameras monitoring all activity and a smart delivery box that captures and analyses the data of delivered items. Biometric cameras could be situated in each room to monitor potential hazards and access to certain rooms may only be granted to those with approved biometric readings.
Health and safety
Panic rooms, a secure room or shelter within the home with restricted access which is linked to the appropriate authorities could become standard in affluent homes. It would likely include some sort of health monitoring device such as a bed that tracks mental and physical health vitals and automatically alerts authorities of any abnormalities and would also provide additional security and a safe space in the case of emergencies.
Sensor technology would create a safe and secure home environment and biometric data would be used to proactively alert devices such as virtual assistants and smart wearables of any physical and mental vital abnormalities. Each room could also include thermal cameras to monitor child movement and biometrics throughout the home.
Homeowners will be alerted of any potentially dangerous situations such as heated stoves and running water being left on.
The smart technology that is worth investing in right now
Although 50 years seems a long way away, there are plenty of smart tech products on the market right now that aim to enhance our lives, but unless you're an IT industry specialist, it's difficult to know where to begin when it comes to investing in the optimum lifestyle-enhancing gizmos that will stand the test of time.
To help you choose the best smart home products that will remain useful, efficient and sustainable as technology continues to emerge over the coming years, Cecilia Harvey shares her top picks:
Smart heating devices
By using smart heating devices to warm your home, not only do you save money in the long run but you also help save the planet by being more energy-efficient. Choosing smart-controlled devices such as electric radiators, towel rails and underfloor heating means you can control the temperature of your home through your phone and keep each room at its optimum temperature without wasting energy.
With the recent announcement about the ban of the sale of gas boilers from 2025, electric heating is paving the way when it comes to sustainable home solutions as it can dramatically reduce carbon emissions.
Sensor Technology
Measuring biometric and physical signals, sensor technology is already being used in conjunction with home control centres to control heating and lighting systems, and it's only a matter of time until these devices will be instrumental in keeping our homes completely safe and secure to fort-Knox standards.
IoT Smart Home Devices
We're not just talking Google Nest and Alexa here, everyday items like light bulbs, kitchen appliances, speakers, doorbells and even dog collars are now featuring internet connectivity and the ability to talk to each other, however, the items worth investing in right now will increase your home security or cut your energy consumption with immediate effect.
Technology that allows you to control your lighting and heating will provide instant returns. You can't put a price on peace of mind when it comes to home security, from monitoring your home from afar to locking your doors with your phone.
Selective Water Heating
If you have a home with a water tank, traditionally you would have to heat all of the water to enjoy a plentiful supply of hot water. However, smart technology now allows for intelligent selective water heating, so households need only heat the water they need rather than the whole tank – saving tonnes of energy and money in the process. An investment definitely worth making.
Zero-Carbon Storage Heaters
This technology replaces gas or oil boilers, providing a much greener and less expensive alternative and integrates into existing radiators, so there's no need to replumb the whole house. It's easy, more sustainable and has better value, so what are you waiting for?
Phone-Linked Security Alarms
For peace of mind when you're away from home, phone-linked security alarms allow you to know exactly what is happening at your property. Through the combination of a security panel, cameras and key fobs, you will know which members of your household enter the building and if you get visitors at the door via your smartphone or PC.