13 Aug 2019
2019's top trends in super prime interior design & renovation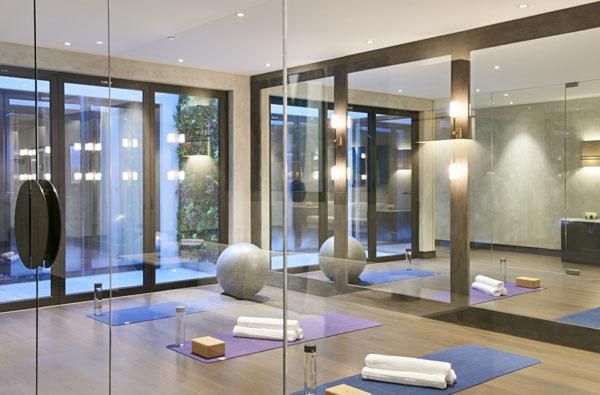 Super-prime construction company London Projects'works with many of the UK's top architects, interior designers and developers, meaning they get a great insight into the key trends and features that HNWIs are blowing the budget on across the world of super prime new builds and'renovation projects today.
Here, co-Founders Nick Stuttard and Steve Howat share their exclusive insight into top luxury interior design trends including home fitness studios and human-centric lighting'
FITNESS AT HOME
At-home fitness facilities are definitely a very important aspect of a home renovation or refurbishment for many of our clients today and something we have seen grow dramatically in popularity over recent years.
We are finding that owners now really want to create a 'social fitness space' in their home, where they can invite friends to train, do yoga or practice Pilates together.
For example, we recently worked on the extensive refurbishment of two seven-storey townhouses on Albert Bridge Road which included state-of-the-art yoga studios in each property big enough for groups to train together.
In another property on Tregunter Road in Chelsea, we worked closely with the client on the design and fit-out of their at-home gym. The design cleverly includes a backlit'Barrisol ceiling, so that the lower ground floor level has the feeling of a bright, naturally lit space. The client loves training outdoors so wanted to try to recreate an outside environment inside, as much as possible.
ROOFLIGHTS
Ensuring that natural light reaches darker spaces of the home is a key priority for many of our clients. Rooflights, glazed boxes or roof lanterns are all in high demand and the installation of these features can be very complex, requiring expert skill.
Clients generally don't want to see joints in the glass, meaning that the glazing panels are delivered as large, heavy units that typically need to be craned into a site. This can involve closing off parts of the road ' a challenge that is often overlooked, but our Project Managers are highly experienced in managing situations that impact other residents, working closely with the local council to ensure minimum disruption.
An interesting trend we are seeing is the demand from clients for glass panels with a low iron content, which gives the glass an ultra-high clarity and removes any blue-green tint and allows for the maximum level of natural light to come through.
Lightwells over basement swimming pools are extremely popular at the moment ' they provide not only natural light to the pool area but also make an interesting glass feature in the garden.
CURVED STAIRCASES
Curved staircases are being requested much more regularly by our clients ' they create a lot of visual interest and can become a focal point of a space. However, they do also present a number of interesting challenges both in terms of design and installation.
We recently incorporated a bespoke curved staircase in one of our projects in Surrey. The fit was challenging as we faced the curved staircase sat in front of a curved, full-height feature wall with recessed feature lighting and an intricate golden leaf art installation.
Ensuring the curved handrail, balustrade and stair treads all dovetailed meant all the individual designs had to be co-ordinated to the millimetre. The complex installation of each of these elements also restricted movement around the site, so programming and scheduling of each of the craftsmen was vital.
HUMAN CENTRIC LIGHTING
Homeowners today are very conscious of the impact of artificial light on their health and wellbeing. At London Projects, we strive to be at the forefront of AV technology and now use a lot with human-centric lighting, which is lighting devoted to enhancing vision and wellbeing by controlling the level of blue light we experience throughout the day.
Carefully selected 'tuneable' LED luminaires and an appropriate lighting control solution means the colour temperature of emitted light can be automatically adjusted through the course of a day to optimise the mix of artificial and natural light.
As we progress into the evening, the colour temperature of the property's lighting can be automated in a gentle manner to become naturally warmer, providing the perfect light levels for relaxation.
In keeping with our natural circadian rhythm, this aids our sleep/wake cycle ' you can even set a human-centric alarm to wake you up through the gentle introduction of natural light levels ' and helps increase our productivity.
Human-centric lighting solutions have been incredibly successful in the workplace to help improve the wellbeing and productivity of the staff. It makes perfect sense that this technology is now finding its way into the home, so that families can also enjoy the benefits.
Source: The Resident'
---
London Build is the leading building & construction show for London and the UK. Gain access to 350+ exhibitors, 500+ speakers and connect with 25,000+ registered visitors. If you are interested in speaking, exhibiting or becoming an official event partner for the 2019 show, simply submit your interest and a member of the team will be in touch.'