03 Sep 2019
7 unconventional hotel lobby designs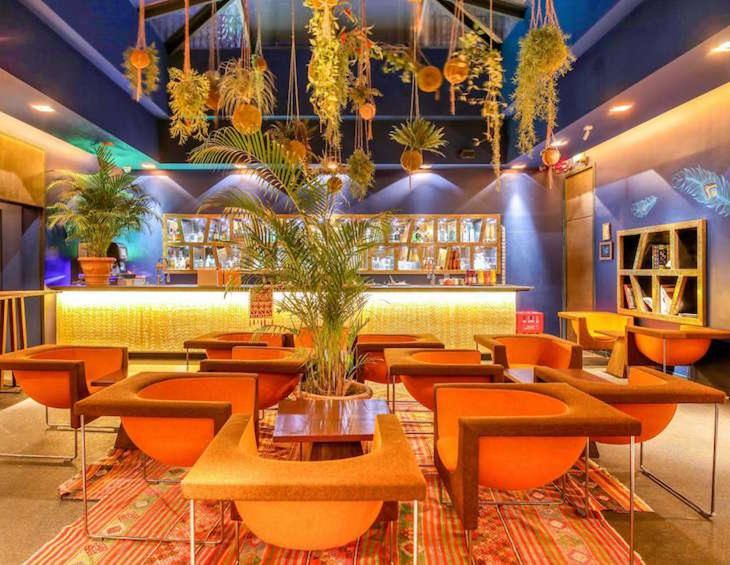 A first impression is a lasting impression, especially when it comes to checking in to the modern-day hotel. And considering it takes the average person just seven seconds for their opinion to be anchored, ultimately right up until they cast their feedback after checking out, designing a hotel lobby is a balancing act worth getting right.
Regardless of a hotel's theme, style and to a certain extent target audience, a well-designed lobby is an effortlessly functioning space ' and in most cases considered to be the most vital working organ in the hotel's body that is most relied.
Today's modern traveller demands for the lobby to be an all-encompassing flexible portal; a home-from-home meeting place, which shelters a social atmosphere. And yet it must also include private break-out areas and accents of personality and sense of place in its design ' just enough for something to catch their eye and be included in their first impression. While it is important to ensure that the lobby is multifunctional, ensuring that its design stays in its lane regarding its style is fundamental.
Here are some hotels that have gone further to challenge the conventional lobby design ' and as a result designed their own lane.
1)'Rosewood Bangkok
Earlier this year,'Hotel Designs'exclusively unveiled the design story of Rosewood Bangkok. Designed by'Celia Chu, her task to design the 159-key hotel was made that much more daunting when having to create a hotel lobby that creates as large of an impression as the exterior does. Instead of competing with the architecture to be bold, Chu looked inwards to sensitively tell the story of Thailand in the words of locals. 'The reception space is relatively small,' explains Chu, 'but in this area we layer different eras from a timeline that represents Thai culture, with antique craftsmanship, modern polished luxury and artistic contemporary elements all piled up into one cohesive and welcoming space.'
2)'Hard Rock Hotel London
Designed by'Scott Brownrigg, The hotel lobby's walls are plastered with memorabilia'that reference the legacy of legends who stayed in Hard Rock Hotels in decades past, including Jimi Hendrix, Nina Simone, Stevie Wonder, Bob Dylan, Diana Ross and Madonna. Balancing the history and heritage of the brand in a timeless style to avoid clich' moments was the first task for the design firm when confronting the motifs that will be sheltered in the new hotel. 'We knew we had to represent the Hard Rock brand in an innovative way for the contemporary London market,' Senior Designer Kate Jarrett explains. 'The hotel scene here is competitive so we knew we had to create something that tied into London and Hard Rock's music heritage, while still being completely contemporary.'
3)'Matetsi Victoria Falls, Zimbabwe
4)'Plaza 18, Vejer, Spain
Almost one year after Hotel Designs started following designer Nicky Dobree's journey to complete her first ever hotel design,'Plaza 18'is now open. With a distinct residential style, the lobby sheltered inside the six-key boutique hotel is unlike any other in the world. 'This entrance challenges the conventional 'hotel lobby' because there is no check-in at Plaza 18,' Dobree explains. 'Instead, check in is done at the adjoining Hotel Casa del Califa enabling guests at Plaza 18 to enjoy the space as if it were their own home, which was my aim.'
5)'1K Paris
Bringing the lush forests of South America's Andes Mountains to Paris,'1K Paris'has a hotel lobby that will take guests into a new world. Complete with vibrant walls, ceilings, floors and furniture ' and finished with tropical plants and timeless Peruvian artefacts ' the area is cleverly also flooded with natural light. The lobby's strong blue backdrop sets the ultimate tone for the abundance of colours that await guest's unique journey ahead.
6)'Raffles Singapore
'
'
7)'Ruby Leni, Dusseldorf
Source: Hotel Designs
---
London Build is the leading building & construction show for London and the UK. Gain access to 350+ exhibitors, 500+ speakers and connect with 25,000+ registered visitors. If you are interested in speaking, exhibiting or becoming an official event partner for the 2019 show, simply submit your interest and a member of the team will be in touch.'