18 Sep 2019
7 underrated architectural gems in London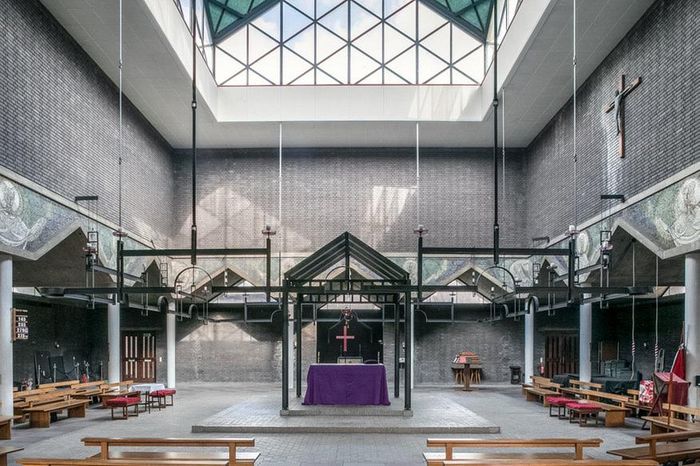 London's flooded with beautiful buildings that unite people in joyous admiration. Wren's masterpiece: St Paul's Cathedral. The inside-out Lloyd's Building. The brutalist dream that is the National Theatre... alright, maybe there are a few naysayers on that last one.
But everyone'knows'about those buildings. What about the gems you might not have noticed? Sujata Burman and Rosa Bertoli have it covered in their new Hoxton Mini Press book:'An opinionated guide to London Architecture.
Below, they reveal seven stunners that you don't hear so much about.
'
1. St Paul's Bow Common
[St Paul's Church, Bow Common]
'
Far from your usual gothic religious architecture, this post-war church digresses down a more modernist, almost brutalist, route. All but destroyed by WWII bombing, the original building was swept aside to make way for the new one, completed in 1960. Its geometric glass roof and purple brick fac?ade are award-winning, while equally bold interiors feature Murano mosaics by artist Charles Lutyens and a cascade of natural light illuminating the concrete. The missive, 'This is the Gate of Heaven', carved over the entrance by German sculptor Ralph Beyer, has been adopted by the local parish as the church's unofficial name.
[St Paul's Way, E3 4AR]
'
2. Sun Rain Rooms
[Sun Rain Room]
'
This isn't just any Portland stone Georgian townhouse, it's a front for something far more exciting. Behind the fac?ade lies a multi-seasonal extension: a steel pipe outlining the plywood roof collects rainfall and filters it down in a calming rain dance. This whirlpool installation mirrors the architecture, while in summer, the sweeping roof becomes a sky garden, featuring Himalayan cedar and Japanese umbrella pine. The innovative space is now used as a studio for Tonkin Liu architects, but visit during'Open House'(check the website as it's not included every year), and, rain or shine, you are in for a treat.
[5 Wilmington Square, WC1X 0ES]
'
3. Ismaili Centre
[Ismaili Centre]
'
While the V&A, Natural History Museum and Albert Memorial ' all within walking distance ' hog the limelight in this part of town, the Ismaili Centre goes about things a little more discreetly. The architecture is a sublime marriage of Western and Islamic aesthetics, and although decoration is kept to a minimum (a requirement from religious leader Aga Khan), there are subtle nods to tradition such as the granite exterior, geometric detailing at the entrance and the rooftop garden, modelled around a central, serene fountain.
[1-7 Cromwell Gardens, SW 2SL]
'
4. Rivolli Ballroom
[Rivoli Ballroom]
'
Dress up in your finest, grab a partner and swing your way back to the 1950s at Rivoli Ballroom. Still as exuberantly art deco as it was when it first opened, the barrel-vaulted auditorium is the only dance hall of its kind left in London, a transformation of an early 20th-century cinema. Inside, it's unexpectedly vast, doing its best to upstage you in your finest dancing togs, with plush red velvet walls framed with gold gilt, oriental lanterns, dark boudoirs and train carriage-style booths. From jive nights to cabaret and film screenings ' it's kitsch, fabulous and the place to live out your secret ballroom dancing dreams.
[350 Brockley Road, SE4 2BY]
'
5. Peckham Library
[Peckham Library]
'
This spaceship-esqe structure landed in the urban sprawl of south east London in 2000, winning the Stirling Prize the same year and kicking off a fun future for 21st-century community architecture. It's now an established Peckham landmark, taking visitors on a journey to a new realm via its copper-clad L-shaped silhouette, with technicoloured glazing on one side and stilts on the other. Inside are three raised sycamore-veneer pods, housing cave-like reading rooms for storytelling, community meetings or just hiding away with your favourite architecture book (hello!).
[122 Peckham Hill Street, SE15 5JR]
'
6. Royal Ballet School's Bridge of Aspiration
[Bridge of Aspiration]
'
It's easy to miss this lever concertina of a sky bridge as you navigate a packed Covent Garden. So take this as a heads up. A connector between the Royal Opera House and the Royal Ballet School, the bridge consists of 23 square portals that make an elegant quarter-turn around their aluminium frame, designed to reflect the movements of dancers inside. Forget the view from the bridge though; it's all about catching it at golden hour from street level, for a shimmering recital of metal and glass.
[44 Floral Street, WC2E 9DG]
'
7. LSE Saw Swee Hock Centre
[LSE Saw Swee Hock Centre]
'
At the centre of the village-like campus of the London School of Economics lie the angular forms of the Saw Swee Hock Centre. Built using 17,000 locally sourced, hand-made bricks, architects O'Donnell & Tuomey have referred to the highly sustainable structure as their 'Japanese puzzle'. Inside, a sweeping concrete staircase, terrazzo details and red accents provide the missing pieces; while all the student essentials, from a career centre to a pub, make it a fresher's favourite. Stroll through the pedestrian lanes and take in different perspectives of the asymmetric, dynamic fac?ade.
[1 Sheffield Street, WCA 2AP]
Source: Londonist
---
London Build is the leading building & construction show for London and the UK. Gain access to 350+ exhibitors, 500+ speakers and connect with 25,000+ registered visitors. If you are interested in speaking, exhibiting or becoming an official event partner for the 2019 show, simply submit your interest and a member of the team will be in touch.'