01 Aug 2019
A sculptural coffee house by Mizzi Studio lands in London's Hyde Park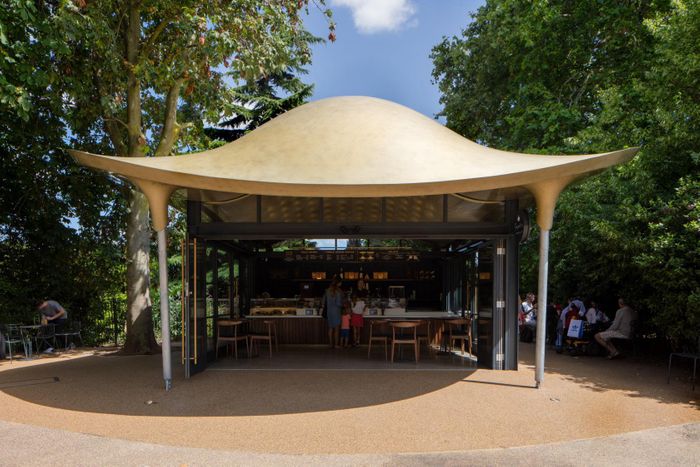 A good drink'is obviously a key draw when in search of a place to rest and grab a coffee during a park walk; but great architecture comes a close second, with design acting as a beacon that attracts visitors, enhancing'their experience and sense of recharging.'In Hyde Park's latest coffee house, guests can now'get both these things for the price of one, courtesy of emerging London and Malta based practice Mizzi Studio.'
The compact building replaced a small kiosk on site and is part of a series of highly architectural coffee spots that Royal Parks are rolling out across Kensington Gardens and Hyde Park. The whole scheme comprises some 10 structures, all designed by the young studio, which is headed by architect Jonathan Mizzi.
'The parks exist to enrich the life of the visitors', he says.''The kiosks may be small, but they provide a very important service. This was an opportunity for the parks to transform their identity and really enrich the visitor experience'.
The new coffee house is different to the kiosks, primarily because of its size, but also due to its distinctive approach in terms of shapes, methods and materials. '[The structures] all share a genetic make up, but each one is a little different', says Mizzi. The studio's approach is inspired by both modern and traditional techniques. 'We found our voice in fusing the digital with the physical and the human element', he explains.
So, the coffee house'design mixes influences from both context and the digital architecture world, as well as'engineering advances. The structure was conceived like a 'serpent that comes out of the lake, a smiling stingray', says Mizzi, who put together an impressive, curvaceous brass roof ('it's a regal but earthy colour', the architect points out) and a glass box underneath. At the same time, looking up makes you think of a 'reptilian underbelly', explains Mizzi.'
The use of the right materials was very important for Mizzi to get the effect he desired, and the team combined glass, terrazzo floors, blue tiles and metal, with roof'milled out of one piece of foam in CNC and laminated in carbon fibre. The brass effect is subtly polished and hand patinated to perfection. Connecting with a lived-in, human and tactile element was key for the team, when creating a structure among nature.
One more kiosk is due to launch in Hyde Park this autumn completing Mizzi and his client's vision for this sequence of functional mini-structures, aiming to enrich the park-goers' visitor experience through design; while offering'some top quality coffee to boot.
Source: Wallpaper*
---
London Build is the leading building & construction show for London and the UK. Gain access to 350+ exhibitors, 500+ speakers and connect with 25,000+ registered visitors. If you are interested in speaking, exhibiting or becoming an official event partner for the 2019 show, simply submit your interest and a member of the team will be in touch.'