04 Oct 2018
Exclusive interview with Maximus Green Consultants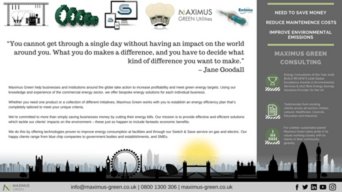 Ahead of this year's awards we asked a number of companies about their entry and why they should win. This is what Maximus Green Consultants told us.
Why did you enter this award category?
In a world with dwindling resources, population growth, increased demands for productivity and energy efficiency, not to mention skyrocketing energy prices, Maximus Green Consultants, Energy Saving Solutions Specialists are a welcome addition to all sectors to assist in reducing environmental impacts with added economic benefits.'
Over time we have helped prime customers such as the Royal Orthopaedic Hospital NHS Trust, Birmingham. They said:
'Since the implementation of Maximus Green's Technology on the boiler systems at one of our boiler houses, the Royal Orthopaedic Hospital NHS Foundation Trust has reduced its overall fuel consumption for one department'.
Craven District Council said:
' ''
'Saving us both environmentally and financially, Maximus Green has certainly helped us to achieve 'A' star rating on our DEC certificate. For a leisure centre with swimming pools, this is almost unheard of'.
Maximus Green has already been recognised for awards that include Energy Consultants of the Year 2018, Global Excellence Awards in Environmental Services & 2017 Best Energy Savings Solutions Provider for the UK. These awards have been given in recognition for the hard work Maximus Green have invested towards its customers, providing what the customer needs as well as finding the solution that will fit the running of the business. We know that every business, hospital, leisure centre and school run differently and need bespoke treatment to achieve the best outcome.'
'
Why do you deserve to win?
When looking at the whole market, we saw that a lot of potential clients/customers were confused with what to do when it came to energy reduction, and government set targets. We realised that these confused businesses and industries were crying out for advice. Many of these businesses experienced that most of the advice given failed to provide a balanced review of what they should be doing. We, Maximus Green offer this balanced advice which is free of charge and is for this reason that we have been voted supplier of the year.

How will attending and entering the Awards benefit your organisation?
Maximus Green is a rapidly growing business which in only four years have branched out globally including Africa, The Middle-East, Australasia and the Pacific Rim. For the UK, having the award presented to us will encourage prospective clients to take us seriously when discussing the importance to reduce environmental impacts when focusing on emissions. The London Construction award for supplier of the year will provide the benefits of increased awareness, third-party validation as wells as establishing market leadership. Maximus Green are growing in size; therefore, candidates see our company is ranked as a 'good place to work' and receiving this award will develop our company to appear even more attractive to potential hires.
'
For further information, please contact:
Lisa Carnwell
Marketing Content Manager
Costello Palmer Communications'
07511 037650
lisa.carnwell@costellopalmer.com
---
London Build is the leading building and construction show for London. Gain access to 8 dedicated conferences, 300+ exhibitors across 9 show zones, the construction industry's very own Oktoberfest, entertainment and much more. Promote your brand, open new business opportunities, win contracts and gain access to the latest market intelligence in London and the wider region.