18 Jul 2019
Brent's Grand Union village: London's latest brownfield conversion brings 3,000 new homes as part of huge regeneration scheme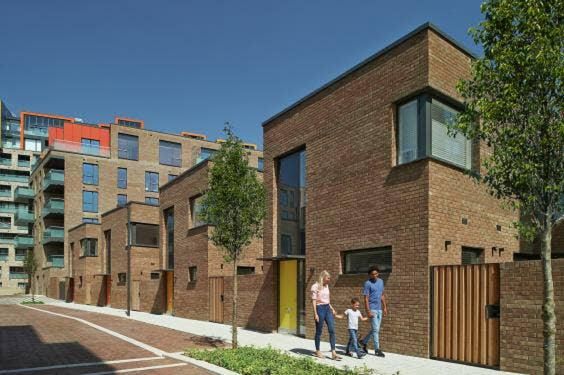 Swathes of industrial wasteland, the desolate legacy of a bygone era, were for years a blight on many areas of London. But in the past two decades blight has turned into blessing.
Brownfield sites have played a key role in tackling the capital's housing shortage, often becoming new urban villages, each delivering thousands of homes, new schools, community centres, shops and restaurants.
Docklands,'Nine Elms,'King's'Cross,'Brentford,'Old Oak Common,'Barking and Dagenham'have been transformed, and the list continues to grow, usually with the full support of local communities. Cleaning polluted land and creating homes and new landscaping is welcomed more than the controversial demolition of older housing estates or encroachments into parkland.
New land analysis by architects Jestico+Whiles reveals this week a rich, albeit finite, pipeline of brownfield sites, with 3,000 deemed suitable for residential development, ranging from small infill plots to vast stretches of marshland.'
'Brownfield has become the definition of regeneration in London,' says Ben Marston of Jestico+Whiles.
Brent's new village
London's latest brownfield conversion was unveiled today, a new village in Alperton, Brent.'Grand Union Village'is being built on a former distribution warehouse campus.
The project by developer St George will deliver 3,030 new homes on a'22-acre site straddling a part of the canal that has not been open to the public since the 1930s.
Grand Union village will span 5,000sq ft including a community hub, co-working space, a bowling alley and landscaped gardens. There will be a nursery and healthcare centre, plus a gym with discounted rates for residents.'
Prices for a studio flat start from '350,000, and 35 per cent of the new homes will be for social rent or can be bought via the shared-ownership scheme. Contact 0808 1788 838.
'
Work on your doorstep
The Greater London Authority now requests that new homes schemes on former industrial land retain some element of industry to create permanent local jobs.
Separated from the residential quarter by just the canal and a footbridge, but all part of the same site, will be a six-level unit called The Generator. It will house light-industrial businesses, distribution firms, creative studios and tech start-ups. A recording studio has already signed up.
But can articulated lorries, forklift trucks, makers and homeowners all co-habit happily?'
'It's far better to create truly mixed developments than separate zones of light industry and residential ' a hangover from post-war planning policy,' says architect Roger Hawkins of Hawkins\Brown. 'Industry is getting quieter with more distribution centres for online shopping and tech businesses, therefore we can safely work, live and play in one space.'
Greenwich Millennium Village
New homes can be built'next to heavy industry harmoniously. The 3,000-home'Greenwich Millennium Village, with its village square, hairdresser, dry cleaner's and vegetarian caf', is part of the wider regeneration of Greenwich Peninsula, once London's gasworks hub.'
It stands right next to a gravel-extraction plant. The gravel is dredged depending on the tide, so could happen at any time of day or night and creates a low rumble.'
'We built a very high wall to keep the sound out with single-sided homes facing away from the plant and looking inwards. The homes shield the scheme from the noise,' Ben Marston explains.'
The next phase of Greenwich Millennium Village, Commodore's Quarter, launches in August and comprises 136 one- to three-bedroom flats and three- and four-bedroom houses. Prices start from '399,995.
Adding social value
Aside from creating long-term jobs in each new community, developers are also tackling social issues such as loneliness by specific placement of facilities on brownfield sites.'
Healthcare centres, surrounded by caf's and shops, are being put in the middle of schemes. A GP surgery generates natural footfall for small businesses, but they are also a place for people to go.
The 85-acre Wembley Park regeneration has an NHS health centre for 25,000 patients, along with 8,000 homes.'
Across all these new schemes community programmes are being designed to appeal to residents of all ages. St George at Grand Union put on its first event, the'Alperton Summer Festival, last year, and this month saw the second annual Big Barking Riverside Picnic on a pop-up Thames-side beach at the 11,000-home scheme. Children were treated to face- painting, glitter tattoos and den-construction.'
One-, two- and three-bedroom homes are available for shared ownership at'Parklands Barking Riverside, with prices starting at '60,635 for a 25 per cent share.'
Help to buy is available on one-,' two- and three-bedroom apartments (prices from '250,000) and four-bedroom townhouses (from '525,000). Contact 020 8617 1747.
Battersea Power Station: romance in heritage
The Grade II-listed Battersea Power Station in Zone 1 is the most romantic transformation of historic brownfield into a new London village. The 42-acre site will deliver 4,000 homes, retail and leisure facilities, the new Apple campus and an extension to the Northern line.'
It is also an example of how brownfield ' deemed less ecologically important than the green belt ' can become a biodiverse urban habitat.'
'A pair of peregrine falcons were living in the towers and hunting from the chimneys before we occupied the site. As each chimney needed to be rebuilt we provided a new home for the birds,' says BPS spokesperson Sarah Banham. 'We have an ornithologist who advises us on care of the peregrines on a live construction site and all workers are told about them as part of their induction.''
There are studio apartments available in the power station for '850,000. Call 020 7062 1862 or visit'bpsestates.co.uk.'
Industrial heritage at the heart of modern homes
The gasometers at King's Cross have been converted into luxury apartments, as have acres of old factories in Docklands and Shad Thames, often retaining their industrial components. The preservation of the dock cranes at the Royal Victoria Dock has been built into the'service charge of local residents.
Source: Evening Standard
---
London Build is the leading building & construction show for London and the UK. Gain access to 350+ exhibitors, 500+ speakers and connect with 25,000+ registered visitors. If you are interested in speaking, exhibiting or becoming an official event partner for the 2019 show, simply submit your interest and a member of the team will be in touch.'