05 Nov 2019
Bring monochrome home:bold black-and-white geometrics, stripes and twisted lines are back in a big way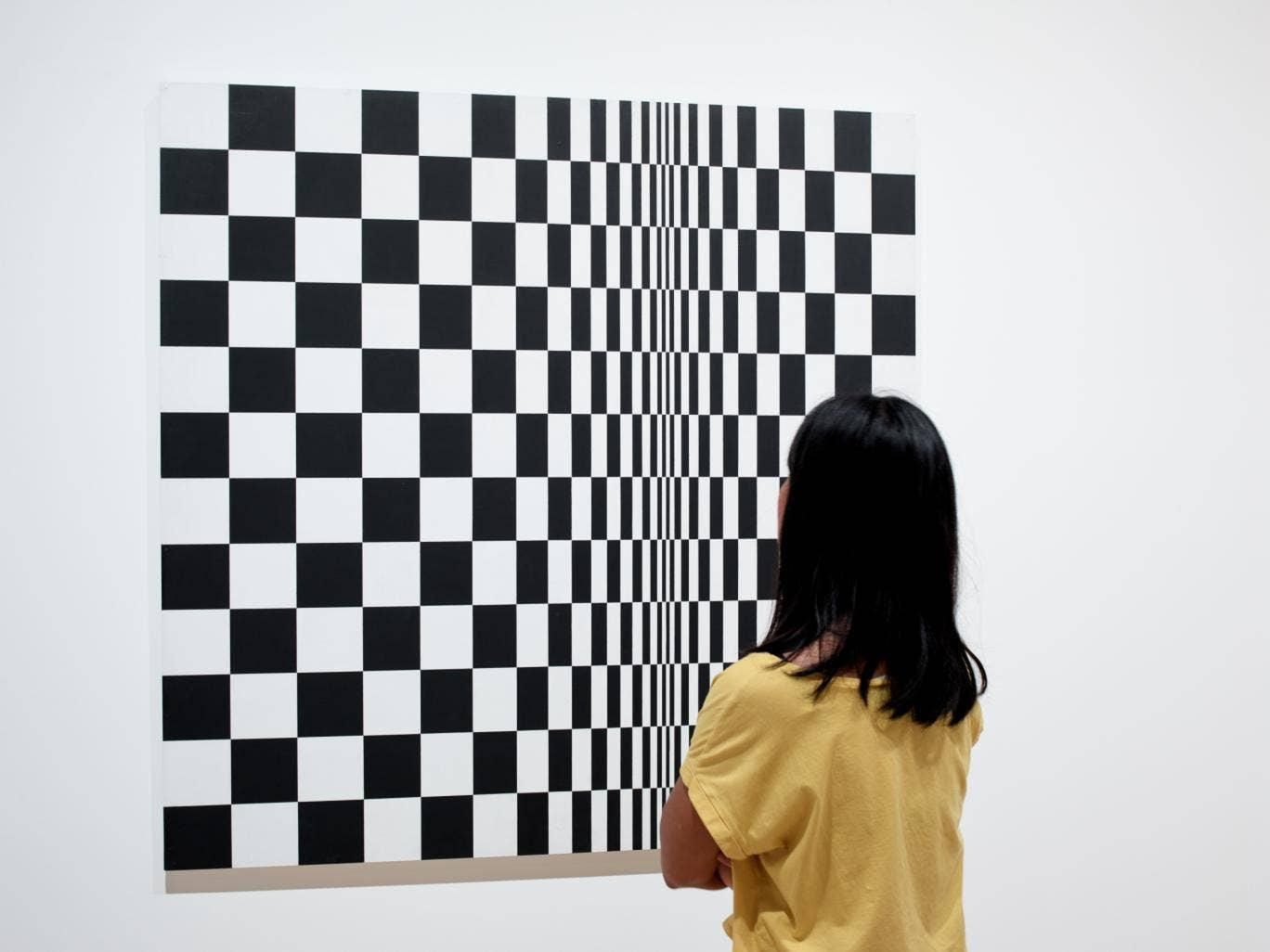 The huge retrospective for Bridget Riley which opened at the Hayward Gallery last week spans 70 years of the British artist's working life.
It brings into focus the craze for the black-and-white optical art ' Op Art ' that spread like wildfire from Riley's early paintings to fashion and'interiors'in the mid-Sixties.
Suddenly, geometrics in'monochrome, whether stitched in blocks or printed in dazzling lines and swirls, were everywhere on the A-line shifts, tunics and mini skirts devised by Courr'ges, Cardin and Quant, and endlessly copied. There was even an Op Art paper dress.'
Riley, now 88, thought the craze vulgarised her art, but could not copyright her motifs. Textile companies took the theme into furnishings. Eduardo Paolozzi did prints for textiles company Hull Traders, but the most prolific designer was Barbara Brown, working for Heal's.
Today, you'll have to hunt these down on eBay, but intriguingly still in production are the patterns of Finnish Maija Isola made round about the same time for Marimekko, which was set up in 1951.
Her colourful prints were also fashion hits: Jackie Kennedy bought eight dresses for the 1960 presidential tour. Isola was equally adept at black and white, and her bold mono geometrics on cotton furnishing fabrics today cost a modest '39 a metre.
Particularly strong is Lokki, inspired by wave-like shadows from a curtain.
Now'design'creatives are swinging the Op Art opus in new directions.
'I am inspired by mathematics, Op Art and graphic design,' says young London-based French designer'Diane Bresson.
She graduated from Central Saint Martins only last year, but has already won a Colour in Design Award and kitted out the British Fashion Council's pop-up store in Bicester Village with pulsating patterns in black and white. Order her monochrome wallpaper tailored to fit your space.
Bespoke'd'cor:'London-based French designer Diane Bresson's black-and-white wallpapers come tailored to fit your space
Typically, London artist'Camille Walala'combines her oversized, chunky black-and-white stripes and dots with bold slabs of colour for large projects, but'Floor Story'of east London sticks to black and white for her shape-shifting White Noise rug.
Also check out'Eley Kishimoto, the fashion duo whose twisted stripes, squares and arrowheads have migrated on to textiles by'Kirkby Design.
Textile artist'Helen Owen'twists and stretches black-and-white striped fabric into Op Art effects over padded boards, for textile panels that express conflict and stress. They cost from about '200.
In Finland, fashion designer Anna Alanko's Wavy wallpaper is a surreal Op Art take on traditional stripes.
'My twisted lines hint at imaginary landscapes with mountains and water,''she says. Selling her patterns is the'Feathr'studio. Delivery to the UK is free, and takes about 10 days.
Design duo Petra and Nicole Kapitza, originally from Germany, settled in London in 2006. Clients for the sisters' sparse, distinctive geometrics include Comme des Gar'ons, Gucci, Clinique, Braun and Swatch.
Now they are putting twisted mono lines and bold circles on textiles for'Ikea, with cushion covers at '3.50 and rugs and curtains at '19 each.
'Bridget Riley's work excites us and is a constant inspiration,' says Petra.
Fashion maestro Jasper Conran does a diffusion line for'Debenhamswith a bold new monochrome abstract, Typo, printed on a sateen duvet cover, priced '40 to '70. Or you could just buy the pillowcases, '20 a pair, to update your white bed linen.
With or without the Op Art fireworks, monochrome is having a moment.
'We're seeing peak sales of black and white across bed linen and ceramics,' says Martha Coates, pattern designer for Habitat. 'You can layer colour and texture on top to soften the look,' she adds.
Your own mono machinations can be super-simple. A basic chequerboard floor, for example. Or create a herringbone pattern with rectangular tiles on a wall. Simply add black pillowcases to your white bedlinen ''Dunelm'does them for '3.50 a pair'' or place white china on a black cloth.
Fashion designer'Eley'Kishimoto's'twisted stripes, squares and arrowheads have migrated on to textiles by'Kirkby'Design
Natural materials add depth and texture. Good for black are veined marbles, lustrous velvet, slub silk, rough slate, stained or lacquered timber and metals with a smooth black finish, as in the current craze for black taps and showers.'
Paint is an easy option and white works for walls, of course, as well as for fabrics and ceramics. But there are many 'whites' on any designer paint card, and several 'blacks', too. So a new edit by'Paint & Paper Library'is welcome, with six pairs of monochrome shades that work well together.
'Black and white stands for elegant interiors old and new,' says marketing director Ruth Mottershead. 'You get maximum impact with minimum effort. Our chic, harmonious relationships avoid those harsh, unpleasant contrasts of pure jet black and brilliant white.'
'Black and white are the Alpha and Omega of colour, polar opposites of the spectrum whose enduring love affairs span art, fashion and interior design,' adds Marianne Shillingford of'Dulux. 'They are extremes with a huge impact at home, even in small amounts.'
'
Source: Homes&Property
---
London Build is the leading building & construction show for London and the UK. Gain access to 350+ exhibitors, 500+ speakers and connect with 25,000+ registered visitors. If you are interested in speaking, exhibiting or becoming an official event partner for the 2019 show, simply submit your interest and a member of the team will be in touch.'