14 May 2018
BRITISH LAND SUBMITS PLANNING APPLICATION FOR 650-HOME CANADA WATER DEVELOPMENT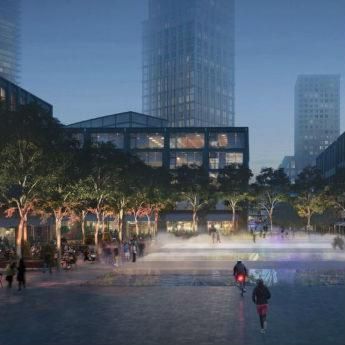 British Land has submitted an outline planning application for its Canada Water development, which will see the company develop 1.8m square feet (sq ft) of retail and residential space.
The planning submission includes a detailed outline for the project's first three buildings, which involve workspace, homes and a new leisure centre.
The total project will include 1m sq ft of workspace, 250,000 sq ft of retail and leisure space and 650 homes, of which 35 per cent will be affordable.
Subject to planning approvals, construction of the first buildings will begin in spring 2019.
The company plans to eventually deliver up to 3,000 new homes, 2m sq ft of workspace 1m sq ft of retail, leisure, entertainment and community space.
Roger Madelin, who heads up the Canada Water development at'British Land, said: 'Submission of our planning application for the Canada Water Masterplan marks an important milestone in the delivery of this project.
'Drawing on our experience of creating vibrant, mixed-use places across the capital, this major urban centre at Canada Water will provide an exciting place to live, work and visit, delivering high quality design, active spaces and significant economic and social benefits for the local community.'
British Land said it had worked closely with Southwark Council for the planning submission, and is planning on delivering a low carbon, energy efficient neighbourhood.
Councillor Peter John, leader of Southwark Council, said: 'It is fantastic to see this project moving forward. British Land have done great work to consult and engage with local people and the resulting Masterplan will deliver what local people want to see'.
On completion, the British Land said the Canada Water project will be home to approximately 20,000 jobs.
A decision on the planning application is expected by the end of the year.