21 Sep 2018
Brownfield development and its role in London' an interview with Mike Jamieson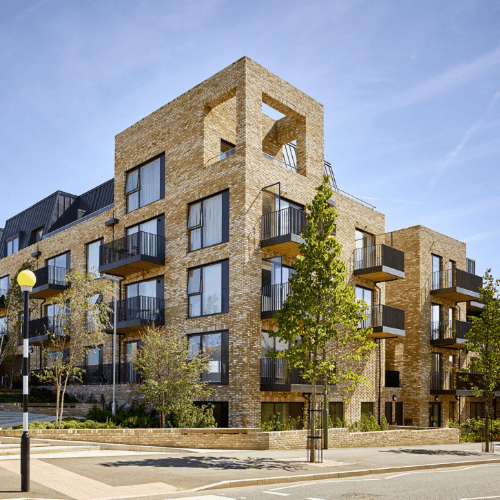 The Future London Summit conference programme at London Build 2018 has a long list of expert speakers confirmed. From discussions around the housing crisis to the future of London's skyline, we will be examining the topics that impact how London will operate in the future. One such topic area that can't be ignored is that of brownfield development, so we are honoured that Mike Jamieson, Design Director at TateHindle and Chair of RIBA East London Architects Group, a Civic Trust Assessor, and a corresponding member of the RIBA Housing Group will be joining our programme at 14:20 on 23rd October to tackle this sometimes contentious issue.
We spoke with Mike ahead of the show to find out more about the man, and how he approaches the development of brownfield sites.
Can you provide a brief background on your role at TateHindle and what your practice's aims are?
I have over 20 years of experience across sectors including residential, commercial and healthcare. As Design Director at TateHindle, my expertise includes masterplanning and the design and delivery of residential, commercial and mixed-use developments.
At TateHindle, I work collaboratively with teams to develop designs that aim to respond positively to their community and context. Through careful analysis, designs embrace changing lifestyles and new ways of working to produce buildings that are sustainable, uplifting and timeless.
Established over 25 years ago, TateHindle is an architecture and design practice based in London. We work with high profile clients across sectors including residential, commercial, and mixed use. Our portfolio features innovative new builds, intelligent retrofits and the sensitive restoration of listed heritage buildings. Fundamental to every project is an ambition to create contextual work and buildings which are rooted to their locality.
Your presentation at London Build tackles brownfield land development at Millbrook Park.
How important is it that we redevelop brownfield areas?
As London's population continues to grow at an unprecedented rate, intensification of existing sites and brownfield development near transport hubs is vital to address this challenge and is the cornerstone of the GLA's strategy for good growth in the capital.
Current predictions suggest 66,000 new homes are needed annually to meet London's housing need. This is the equivalent of four new Olympic Park developments per year, plus the existing pattern of development found in London. With building on the green belt ruled out by the Mayor, this will inevitably push these remaining options to greater extremes.
Once cleaned and repurposed for other uses, brownfield land can form a significant opportunity to re-use, revitalise and intensify. Innovative, new high-quality mixed-use developments can be found across London. These often re-invigorate the best of the old with contemporary, sustainable, distinctive development that focuses on neighbourhoods, placemaking and a reduction in commuting. A particularly successful example can be found at Kings Cross, where an underused wasteland is being transformed into a new city quarter with homes, shops, offices, bars, restaurants, schools and university.
What challenges do you face when redesigning brownfield and what are the highlights of the Millbrook Park project?
There is limited brownfield space left in London with two-thirds of it already taken up by housing and critical infrastructures such as roads, schools and hospitals. Most of the 'easier' brownfield sites have already been developed, leaving the more complex opportunities that often require some form of land assembly and/ or remediation at significant cost, which may result in development proving unviable. Initiatives such as the '3bn Home Builders Fund and the GLA's Brownfield Land Register have helped identify and support land for potential development. However, recognising brownfield is only the start, the site needs to be in the right place to support revitalisation.
Clearly, re-use and retention of land in the right locations provides an essential way of meeting the need for more housing. Situated within one of the GLA's Opportunity and Intensification areas, Millbrook Park in Mill Hill offers a significant opportunity for good growth on land adjacent to good transport links.
Situated on the site of a former army barracks, Millbrook Park will form a new sustainable urban extension that embraces modern lifestyles. Arranged across 33.6 hectares on a sloping site, the development comprises 2,240 homes, commercial space, a new school, shops and parks. A new civic square provides the gateway into the development from the south, which is located directly adjacent to Mill Hill East underground station.
One of the critical challenges of designing on this brownfield site is also one the highlights: the significant change in level from north to south of 30 metres across the masterplan. At the centre of Millbrook Park is The Mount, TateHindle's scheme for the first phase of development. This provides 133 homes and is organised into a legible urban framework of streets and squares that embraces the sloping site. Houses and apartments step down the slope with extensive balconies and rooftop terraces arranged to capture views towards the various landscape spaces and Wembley beyond. Changes in level across the phase have enabled parking to be cleverly tucked below landscaped podiums to reduce the impact of cars while minimising cut and fill. Extensive Sustainable Drainage Systems (SuDS) features promote the landscape setting to create a development that responds to and enhances its surroundings.
Why is attending London Build essential and what do you hope it will achieve?
Being informed and up to date on industry knowledge, thinking and trends is crucial to our practice ' London Build presents an opportunity to hear from leaders, experts, thinkers and creators that are shaping or influencing our built environment in London and nationwide. I'm looking forward to engaging in topical, relevant issues, everything from city planning and the skyline, the housing crisis, infrastructure, the environment, regeneration and safety.
What do I hope London Build will achieve? Greater collaboration between disciplines within the built environment to understand and resolve some of the pressing issues just listed would be at the top of my list.
Interview by Costello Palmer Communications
---
London Build is the leading building and construction show for London. Gain access to 8 dedicated conferences, 300+ exhibitors across 9 show zones, the construction industry's very own Oktoberfest, entertainment and much more. Promote your brand, open new business opportunities, win contracts and gain access to the latest market intelligence in London and the wider region.