08 Nov 2019
Cavendish Square subterranean complex can be 'spring board' for underground revolution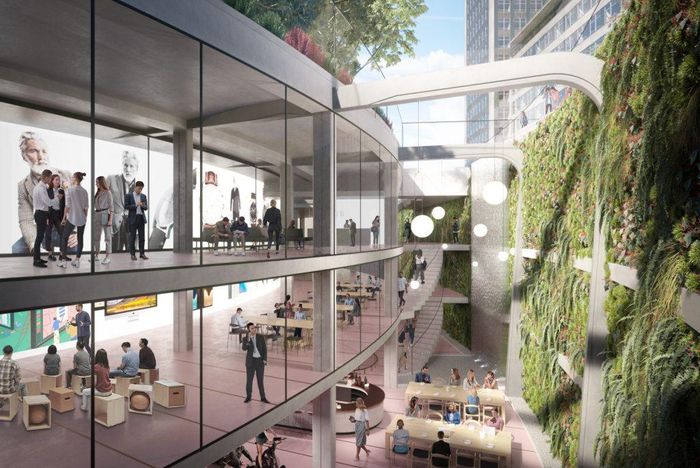 Plans to turn a four-storey underground car park in London into a shopping and leisure complex should act as a 'spring board' for similar schemes across the UK, according to an engineering group dedicated to promoting smart use of underground space.
Developer Reef Group has submitted plans to Westminster Council to transform the car park in Cavendish Square into a 'mixed-use destination in the heart of London's West End', with an investment in excess of '100M.
The plans will see the creation of 26,012m2 of space across four storeys below ground level. At street level two glazed lanterns will frame a new entrance facing Oxford Street and provide natural light for the floors below.
Statement entrances to Harley Street and Regent Street complete the development which will be one of the West End's largest, with floors of up to 7,000m2 and floor to ceiling heights of up to 8m.
And Aecom major projects director Patrick Cox ' who is part of Think Deep UK ' believes that the Cavendish Square scheme should set a precedent for further reclamation of land beneath London.
'This definitely sounds like the type of scheme we [Think Deep UK] should be supporting,' Cox told'New Civil Engineer.
'This type of project is the sort of thing that we should be trying to document and to use as a spring board to showcase the opportunities of maximising underground space.'
He added: 'Throughout the world there are many examples of studies being done to better map underground space. In Hong Kong and Singapore there is a lot of work going on to maximise space, with a key focus on underground use.
'[In the UK] use of space on the surface is currently planned and thought out, however underground space is not being given the same attention.'
The Cavendish Square scheme has been drawn up by Reef Group's own in-house design team, UrbanR, with GDP with McGee providing structural engineering advice.
Subject to planning approval, construction is expected to start on site in late 2020, with completion in 2022. Reef Group said it is in 'active discussions with a range of exciting occupiers who could move into the space'.
Reef Group chief executive Stewart Deering said: 'Reef have worked closely with Westminster City Council in designing a unique and iconic destination for London.
'We will invest in excess of '100M in developing a vibrant, sustainable and sensitively designed subterranean mixed use 'place' that will combine retail, leisure, medical, health and wellbeing.
'The historic Georgian square will be restored to its former glory, becoming more accessible to the public than ever before with improved public realm. Cavendish Square will become an oasis in the heart of London and as well as providing an interesting mix of occupiers, we hope the plans will encourage more public events to take place within the square.'
Cox and fellow Think Deep UK member Stephanie Bricker from BGS will be speaking about 'harnessing underground space for smarter and more sustainable urban cities' during'New Civil Engineer's'Tunnelling Festival'in December.
'
Source: New Civil Engineer
---
London Build is the leading building & construction show for London and the UK. Gain access to 350+ exhibitors, 500+ speakers and connect with 25,000+ registered visitors. If you are interested in speaking, exhibiting or becoming an official event partner for the 2019 show, simply submit your interest and a member of the team will be in touch.'