04 Oct 2019
Construction of major new cycleway in east London set to begin this winter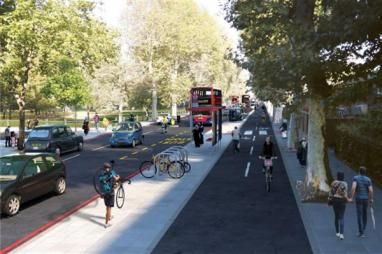 Construction work on a major new cycleway in east London is set to begin this winter, as Transport for London (TfL) outlines the next steps for plans which would transform neighbourhoods between Hackney and Westferry and enable thousands more journeys to be made on foot and by cycle.
The proposed cycleway was the first new cycling route to be consulted on from TfL's Strategic Cycling Analysis, which used data to identify 25 areas which showed the best potential for growing cycling numbers.
More than 1,800 people took part in the consultation and 91% thought that the proposals would boost the number of people cycling in the area. Nearly three quarters also thought that the changes would enable more people to make journeys in the area on foot.
Will Norman, London's walking and cycling commissioner, said: 'I'm delighted that construction work on this major new cycleway is set to begin this winter. The overwhelming support for the plans during the public consultation shows there is great demand for walking and cycling improvements which enable many more people to get around on foot or by bike as part of their everyday routine. By reducing car use we will improve air quality for everyone, and reduce congestion.'
TfL is investing '2.3bn to enable millions more journeys to be made by walking and cycling as part of the Mayor's plans to tackle some of the biggest challenges facing the capital, including the global climate emergency, toxic air and obesity.
In September, four new cycleways were launched across London and construction on a number of major new routes is either underway or set to begin this year. Work on cycleway 4 between Tower Bridge and Greenwich began in June, whilst work on cycleway 9 between Brentford and Olympia is planned to start later this year. Construction work also continues on cycleway 34 between North Acton and Wood Lane.
'
Source: Infrastructure Intelligence
---
London Build is the leading building & construction show for London and the UK. Gain access to 350+ exhibitors, 500+ speakers and connect with 25,000+ registered visitors. If you are interested in speaking, exhibiting or becoming an official event partner for the 2019 show, simply submit your interest and a member of the team will be in touch.'