17 Jun 2019
Cotswold estate is one of England's best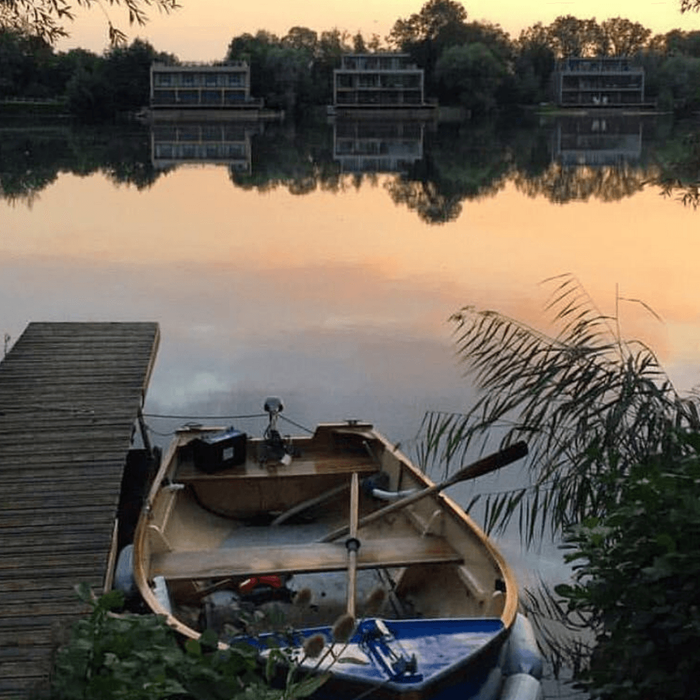 Every summer, tradition has forced me to beat the glorious but intolerably ephemeral British weather with an exodus to the continent. On the other side of la Manche, a game of boules under manicured lime trees and foie gras on brioche await me. And with so many recommendations in ink why wouldn't an Englishman be tempted? - from Hemingway to Fitzgerald to Henry James. I suspect the reason for our historic rivalry with the French is a case of subconscious envy of their je ne sais quoi.'
I was about to book a flight to Nice when I received an invitation to the Lakes by Yoo, a private estate in the Cotswolds. The itinerary sounded like something out of Enid Blyton's Famous Five: I would be staying at the estate's exclusive four-bedroom Barnhouse (partly designed by Kate Moss, though sadly I learned I would not be greeted by her upon arrival) and would be left to my own devices to play with rabbits, roam the estate on bicycles and collect honey.

Taking my motorbike down England's westerly spine, the scenery becomes noticeably prettier once you pass Oxford. Whilst the majority of Britain's towns and villages are defined by ombres of red and brown brick, the Cotswolds is all honey, amber and gold. The stone varies in colour from north to south, being honey-coloured in the north and northeast of the region, as shown in Cotswold villages such as Stanton and Broadway; golden-coloured in the central and southern areas, as shown in Dursley and Cirencester; and pearly white in Bath.'
Passing through the sleepy town of Lechlade, I reach a village green where sheep openly graze. Located opposite a bright-yellow field of what I think is rapeseed, I'm welcomed through the understated gates by a stocky Sherpa-looking man with a gentle smile. I'm later told he's an ex-Gurkha; not a surprise, since the estate houses some ultra high-net-worth properties and people.
For those familiar with Soho Farmhouse, the Lakes by Yoo is the original daddy of the member's club-cum-country retreat thing. Unlike Soho Farmhouse though, this is a place where the focus seems to be placed on wild creatures, rather than the pretty creatures of London. The estate is wild where it should be, and beautifully pruned where it would otherwise detract from the curated viewing experience- it's like giant Japanese bonsai cutting by Monty Don, after he went on a visual tour of Camp America. Unlike Soho Farmhouse as well, many of the properties are available to buy and rent. Not surprisingly, more than 70% of the residents here are Londoners, so expect a varied bunch of creatives, finance-gurus and A-listers.'

Created by the luxury property development company YOO, it's hard to see how the sprawling site has been transformed from an abandoned quarry. Working alongside in-house architects, nine base designs form the starting point for the villas, lending the estate a coherent, contemporary feel. There's a monastic hush here. Perhaps it's the soft bark of the trees that absorbs the sound. The expansive vistas, silver birches, wild cherry trees and pines mislead you into thinking you're in New England; it's difficult to fathom London being 90 minutes away.
The houses are made from stress-graded timber and clad in Russian larch, with possibly more glass used on site than on The Shard. Those who want a more bespoke approach to creating their dream home are able to request a roster of world-class design talent including Philippe Starck, Marcel Wanders and Elle Macpherson (who happens to have been a resident). Also launching this year are the Lakes by Yoo apartments, for those who want something smaller but no less appealing. Like all of the properties on the estate, the team are able to manage your property on the rental market, making it a very investment-worthy holiday home.'
As I stand on the balcony of my villa, I catch sight of three shooting stars and recall a quote by Emerson; "but if a man would be alone, let him look at the stars. The rays that come from those heavenly worlds, will separate between him and vulgar things.' I can see the appeal of the Lakes for urban millennials and families. As more and more of us are fed a diet of virtual reality, the call to nature has never been more significant. I haven't been on my phone once today; I've also completely forgotten to book my flight to the South of France - I don't think I will anytime soon.'

The Estate at a Glance
135 homes on the 850-acre estate, of which 20 homes are now in the rental pool and growing at 15% per annum
Average rents are '4500 per week and average occupancy is in excess of 30%
Capital growth across portfolio stands at circa 10% per annum'
Residences are managed and maintained by an around-the-clock concierge team '
Facilities include a full-service spa, clubhouse, a restaurant, sailing club, and a wealth of family-friendly activities from zip-wiring to honey beekeeping.'

The Apartments at a Glance'
Starting at '950,000
Choice of three interior design packages
Approx 1300 sq ft
18 Apartments
3 blocks
6 apartments per block.
'
Source: Luxury London
---
'London Build is the leading building & construction show for London and the UK. Gain access to 350+ exhibitors, 500+ speakers and connect with 25,000+ registered visitors. If you are interested in speaking, exhibiting or becoming an official event partner for the 2019 show, simply submit your interest and a member of the team will be in touch.'