30 Jul 2019
Demolition begins on '1 billion London regeneration project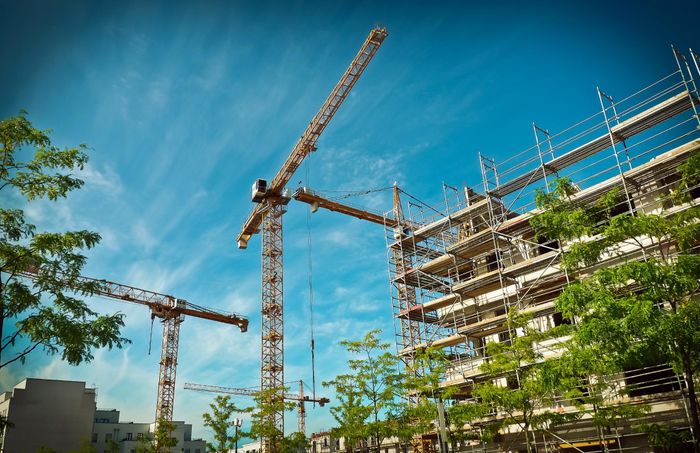 Demolition has begun on one of London's biggest housing regeneration projects, marking a significant step forward for the '1 billion scheme.
The project will deliver around 5,200 high quality homes over the next 12 to 15 years, doubling the amount of council rented accommodation and more than doubling the number of affordable homes. The right to return is also guaranteed to all residents, meaning families that have been relocated from the estates under development will be able to return, if they wish to.
The Napier and New Plymouth House site in Rainham is the first of 12 to be regenerated as part of the'joint venture partnership between Havering Council and'Wates Residential.
Proposals for the site were submitted to Havering Council's planning committee in May as part of Phase One of the wider project. They include 126 affordable homes and a further 71 homes for private sale. Phase One also includes the Waterloo Estate in Romford and Serena, Solar and Sunrise Courts in Hornchurch.
Havering Council's Cabinet, including The Leader of Havering Council, Councillor Damian White, and Deputy Leader, Councillor Robert Benham, attended an event on Monday to mark the start of work alongside Wates Residential's Operations Director Adrian Fennessy, Development Directors Kate Ives and Lia Silva and members of the site team.
As part of Havering Council and Wates Residential's pledge to deliver a borough-wide legacy and boost the local economy, the demolition will be carried out by'local contractor Kilnbridge Construction Services, which has offices in Rainham.
The appointment comes after the joint venture partners held four Meet the Buyer events earlier this year for local suppliers to learn about contract opportunities on the biggest regeneration project in the borough.
The events honour a pledge from the developer to boost the local economy by using local Small and Medium Enterprises (SMEs). This investment will make up a minimum of 10 per cent of the total programme, valued at '100 million of contracts to be secured by local businesses. The demolition of Solar, Serena and Sunrise Courts in Hornchurch will also be carried out by a local supplier, Downwell Demolition.
Kates Ives, Development Director from Wates Residential, said:
'With demolition now underway on our first site, we are one step closer to providing the thousands of new and affordable homes that Havering needs.
Working with local businesses is particularly important for us and we are delighted that Kilnbridge Construction Services has been appointed to carry out the demolition. As our long-term partnership with Havering Council progresses, we will continue to increase opportunities for residents and local businesses through our investment in education, training and skills.'
Councillor Damian White, Leader of Havering Council said;
'Today marks a new and exciting chapter in the future of Havering and the Council's commitment to double the amount of council rented accommodation and more than doubling the number of affordable homes for local people, including former residents, who will get the right to return to a brand new home.
We are ensuring that this investment in the borough goes much further than just creating new homes; through our supply chain initiative, meet the buyer events, training opportunities and apprenticeships, we can make sure the project benefits as many businesses and residents of Havering as possible'.
Source: Wates
---
London Build is the leading building & construction show for London and the UK. Gain access to 350+ exhibitors, 500+ speakers and connect with 25,000+ registered visitors. If you are interested in speaking, exhibiting or becoming an official event partner for the 2019 show, simply submit your interest and a member of the team will be in touch.'