16 Sep 2019
Design insights with Lee Broom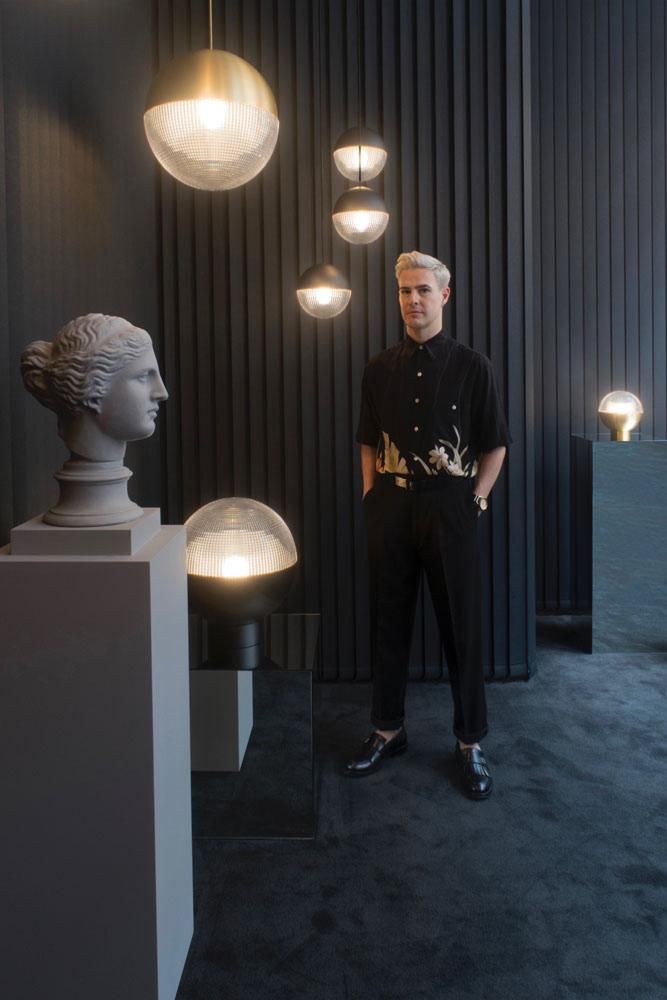 Having launched into interiors in 2007 with a collection of neon-lit chairs,'Lee Broom'has since showcased a grandfather clock handcrafted from marble and designed a gravity-defying'hanging chair'made with just two metal hoops.
Stepping into Lee's world feels a little like being Alice falling through the rabbit hole to Wonderland.
'Doing a show means I can create a story around the pieces,' he explains. 'You wouldn't display them like this in your home, but it gives me an opportunity to create a narrative to frame each collection, weaving an ongoing thread through my work.'
One year his showroom, Electra House in Shoreditch, was transformed into a flower shop with thousands of fresh flowers surrounding new pieces displayed in glass cases and on marble plinths. And in Milan for his tenth anniversary in 2017, the all-white Time Machine collection was contrasted within a dank, derelict vault in the central train station.
Carousel.
Birmingham-born Lee's sense of the dramatic owes much to his childhood spent treading the boards as a budding young actor (he was a member of the Royal Shakespeare Company at seven) before he won a fashion design competition aged 17, which led to him to intern for Vivienne Westwood. He went on to enrol at London's prestigious art college Central Saint Martins.
Classics Glass on Brass glasses.
'Fashion taught me form, silhouette and process, which I soon realised could be the same for making a dress as a lamp,' Lee says.
'It also taught me to design from a very emotional place ' so a silhouette and the materials, rather than practicality and functionality, are always at the forefront of my mind when I first think about an idea,' he explains. 'That way, I end up with something a little more sculptural and unusual.'
Orion Gold.
Longevity is also key. It is why he tends to evolve existing collections with different colours or material finishes rather than launching new products seasonally.
Crystal bulb and pendant.
It's the latest addition to the acclaimed Lens Flair collection, which launched in New York earlier this year. 'It's a great responsibility designing things people will potentially own for the rest of their lives and even pass down to the next generation,' he says.
Lee garnered huge plaudits for his Tube light, a handcrafted twist on the traditional fluorescent tube milled from a single piece of Carrara marble with the ends finished with brushed brass. It's this innovative approach to lighting that has best forged Lee's reputation.
Lee's innovative Tube light in Carrara marble.
'It's one of the most important items you'll buy for your home,' he enthuses. It illuminates and sets the mood of a room, but 'it's also the only thing hanging from the'ceiling, so it's the one way you can create either something incredibly eye-catching and extravagant or something very simple,' he says. 'A light fixture says a lot of about who you are.'
Source: Living etc
---
London Build is the leading building & construction show for London and the UK. Gain access to 350+ exhibitors, 500+ speakers and connect with 25,000+ registered visitors. If you are interested in speaking, exhibiting or becoming an official event partner for the 2019 show, simply submit your interest and a member of the team will be in touch.'