24 May 2022
Flagship East London Residential Scheme Commences Work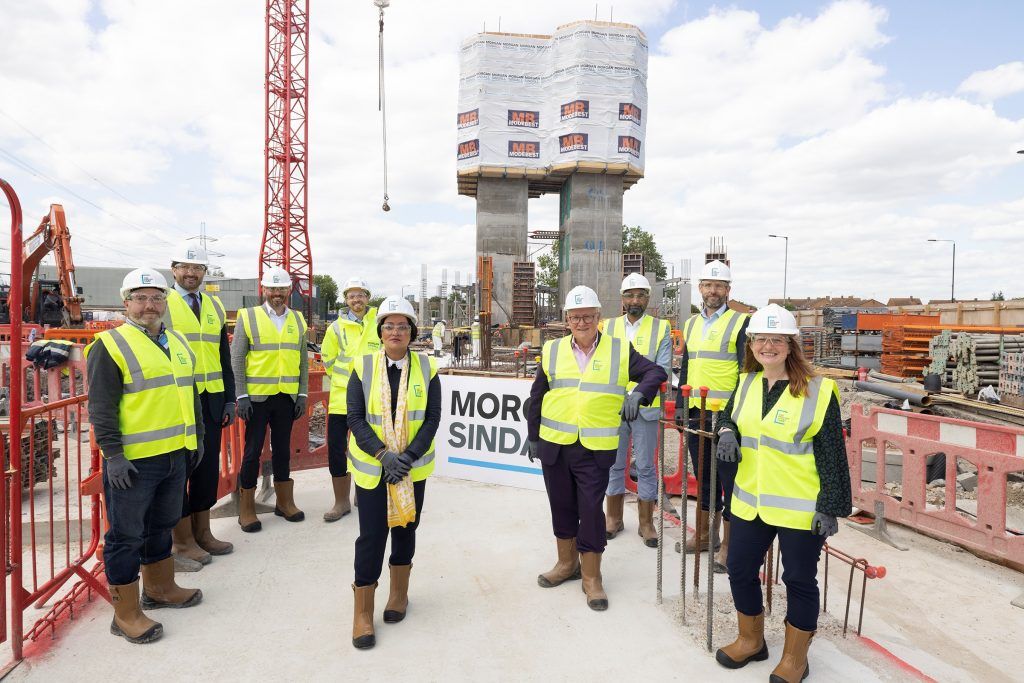 The Flagship East London residential scheme is officially underway in Canning Town, with a ceremony held to mark work starting on the Manor Road Quarter.
The Flagship East London residential scheme is from the'English Cities Fund (ECF)'and will bring 804 homes to the London Borough of Newham ' of which 50% are affordable ' across three phases.
The East London Residential Scheme features three towers and a range of apartment types, along with 8,000 sq ft of commercial space.
The ceremony was focused on phase one of the project, which will create 355 homes in the largest of the three towers. At 32 storeys, it will become one of the tallest buildings in Canning Town on completion in 2024, adding to its rapidly changing skyline, which ECF has been instrumental in transforming since starting its work in the area in 2008.
The flagship scheme is being delivered by ECF in partnership with the Greater London Authority, London Borough of Newham and Metropolitan Thames Valley Housing Association (MTVH), one of the UK's largest housing associations. MTVH will own, manage and administer the affordable homes.
'Attracting investment and creating much-needed affordable homes for the people of Newham'
Sir Michael Lyons, chair of ECF, commented: 'We are pleased to be continuing the regeneration of Canning Town, which has proved to be a catalyst to the wider renewal of the area.
'Manor Road Quarter will further help to reinvent the area in a bold and imaginative way, while at the same time attracting investment and creating much-needed'affordable homes'for the people of Newham.
'At ECF, we bring together the very best of the public and private sector, which means that we are uniquely equipped to help in shaping and strengthening local economies; by taking on complex sites, committing for the long term and creating the momentum needed to positively transform places.'
'Homes that people can afford'
Rokhsana Fiaz, Mayor of Newham, added: 'How we reimagine spaces is important as it gives local residents confidence about the possibilities that exist in their communities.
'The partners involved in the new Manor Road Quarter, including ECF, the London Borough of Newham and GLA, have worked hard to build up this confidence and provide a much-needed resource for our people ' homes that people can afford.
'Speaking to residents about London and their hopes and fears with regard to the cost of living has instilled in me a focus on the fundamental human right of access to genuinely affordable homes and social rents.'
Driven by social purpose and social value
Fiaz continued:''I'm looking forward to welcoming residents into their new homes in the future and am grateful to all the teams involved for being driven by so much social purpose and social value.
'We are at the new epicentre of this amazing global capital city, with City Hall recently moving into Newham, and the Elizabeth Line just about to open, and we've got an ambitious agenda of really thinking bold and big about the future of Newham. At the heart of it, we'll have our people first and foremost.
'Developments such as this, supported by ECF with 804 homes, 50%, that of which will be at genuinely affordable levels is exactly what our people need in this borough. We've got population growth ' the projections are we'll get to over half a million in the next 10 years.'
Manor Road Quarter ' the East London residential scheme ' will be environmentally friendly across a score of measures.
Set in a two-acre park, the scheme's residents will benefit from green space that supports their wellbeing and promotes active travel through new walking and cycle routes.
Other measures include a large cycle store combined with only seven on-site car parking bays and its close proximity to tube and bus links will encourage the use of sustainable transport options.
It will operate entirely gas-free, with air source heat pumps providing an ambient temperature supply to the apartments, avoiding the need for additional ventilation.
To actively minimise energy requirements,'photovoltaic cells'generating renewable energy are also being installed, along with efficient lighting with controls.
Manor Road Quarter is being delivered by Morgan Sindall Construction, which has been engaging with Newham Works, the agency which helps candidates secure apprenticeships and employment.
To date, seven previously unemployed people have been hired at the Manor Road site and six apprentices are learning trades on the project.
Manor Road Quarter has been designed by EPR Architects, with Gardiner and Theobald as the quantity surveyor, and Gleeds operating as the client project manager.
Source: PBC Today'