10 May 2022
Galliford Try Appointed to Net Zero Carbon School Scheme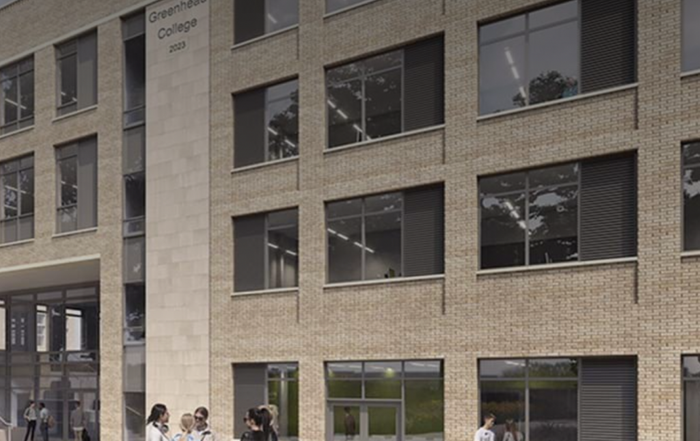 Galliford Try'has been appointed to a new net zero carbon school project under the Department for Education (DfE) Net Zero Carbon in Operation (NZCIO) scheme.
The '25m project features a new four-storey net zero carbon building for Greenhead College in Huddersfield.
The net'zero carbon school'will provide new teaching facilities, new catering facilities, along with social spaces.
The building envelope has been designed with air tightness and energy efficiency at the forefront.
A fabric-first approach
The project adopts a fabric-first approach, utilising'low-carbon'materials, passive ventilation and heat recovery to keep energy use low.
LED lighting and low energy services are combined with a building management system to ensure that consumption is closely monitored and photo Voltaic (PV) panels will also be used.
'Cutting edge of school buildings'
Cliff Wheatley, managing director of Galliford Try Building North East and Yorkshire, commented:
'Throughout our region, Galliford Try has established a fantastic reputation in the education sector, and I am delighted that we will be working on this project, at the cutting edge of'school buildings.
'We look forward to collaborating with the college and all the stakeholders involved to produce a high-quality facility for the students and staff.'
'Expertise in education building'
Claire Jackson, education director for Galliford Try, said:
'This is yet another project that Galliford Try has been awarded with net zero carbon targets, demonstrating that our business is at the very forefront of developments in this key area of focus for the government and public sector bodies.
'Through undertaking projects like Greenhead College we can continue to develop that learning and expertise in education building to ensure that we can face the targets the country has set itself on net zero carbon with confidence.'
Source: PBC Today'