12 Apr 2018
GOVERNMENT LOOKS TO TOUGHEN BUILDING REGS ON FIRE SAFETY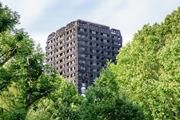 Consultation focuses on restricting or banning 'desktop' studies following the Grenfell tragedy
New rules designed to strengthen fire testing for cladding systems on residential buildings in the wake of Grenfell have been published for consultation by housing secretary Sajid Javid.
The consultation will look at restricting or banning the use of desktop studies as a way of assessing the fire performance of external cladding systems. The government has also asked whether desktop studies should be used at all.
Desktop studies take the results of full-scale fire tests on cladding systems and model variations to the specification to demonstrate equivalent fire performance.
The consultation is seeking views on whether desktop studies are appropriate for all construction products, wall systems, or cladding, or for any other purpose.
The proposed changes would involve amendments to Approved Document B of the statutory guidance on fire safety.
Recommendations - if desktop studies are deemed appropriate at all - include improving the transparency of assessments, enabling proper scrutiny of results and ensuring the studies are only be carried out by properly accredited bodies with relevant expertise.
Javid said: 'We have listened carefully to Dame Judith Hackitt and we are taking action to strengthen building regulations guidance, which could mean that the use of desktop studies are either significantly restricted or banned altogether.
'This demonstrates the tough measures we are prepared to take to make sure that cladding tests are as robust as possible and people are safe in their homes.'
The consultation closes on 25 May.
This news comes as construction products approval body the BBA has been forced to defend its decision not to follow the example of its French equivalent and downgrade the fire performance of the cladding used on Grenfell Tower.
The BBA accredits the performance of construction products with its stamp of approval, widely accepted by specifiers, building control and insurers.
French certification body CSTB lowered the fire rating of Reynobond ACM cladding panels featuring a polyethylene core back in 2014.
The panels were eventually withdrawn from the global market for use on tall building days after last June's Grenfell fire which killed 72 people.