05 Jul 2018
Green light for Elephant & Castle '3bn regeneration project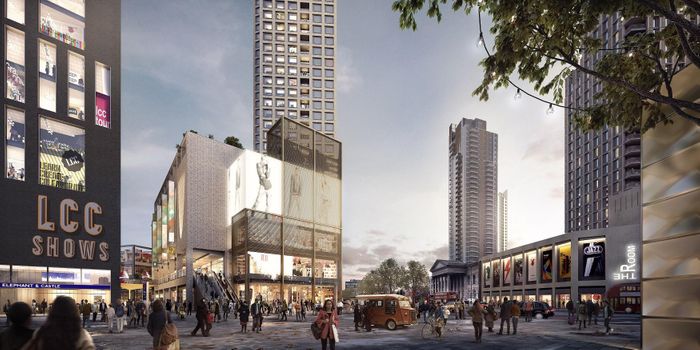 Southwark Council approved proposals for a new 'town centre' and the'construction of a'new London Underground Northern Line entrance and ticket hall, a university campus and 979 new homes'on the site of the shopping centre as part of its''3bn regeneration of the area.
The planning committee narrowly passed developer Delancey's plans amid opposition from residents and councillors over affordable housing numbers and the relocation of shopping centre traders.'
Cabinet member for development, growth and planning Councillor Johnson Situ said: 'This is a complex scheme that will create a vibrant, new town centre, which is a key part of the wider regeneration of Elephant and Castle bringing new homes, jobs and opportunities to the area. Investment in the area is essential to bring forward these benefits.
'The scheme also includes a new home for London College of Communication, enabling them to stay in the area - and critically will provide an opportunity to improve both the Northern Line station, which TfL have stated is urgently needed with the station currently operating above its capacity, and National Rail station.
'New leisure facilities such as space for a cinema, new live music venue and a replacement bingo hall, have also been outlined as part of our ambitions to make Elephant and Castle the 'Piccadilly of the South' again.'
Opponents have called on London mayor Sadiq Khan to secure a 'better deal' from the developer before he gives the plans a green light. 35% of the residential accommodation will be 'affordable', including 116 council homes.
Southwark Council deputy leader Rebecca Lury said: 'We now call on the Mayor of London to pressure Delancey in to delivering a better deal before signing off on this decision.
'We need more social homes, to protect our vibrant trading community and secure a development which recognises the cultural and economic diversity of the area.'
'
Source:'New Civil Engineering
London Build is the leading building and construction show for London. Register to attend the 8 dedicated conferences, 300+ exhibitors across 9 show zones, the construction industry's very own Oktoberfest, entertainment and much more.
Get your free tickets today: www.londonbuildexpo.com/register-your-tickets