28 Aug 2019
Green-roofed community centre champions sustainable design in London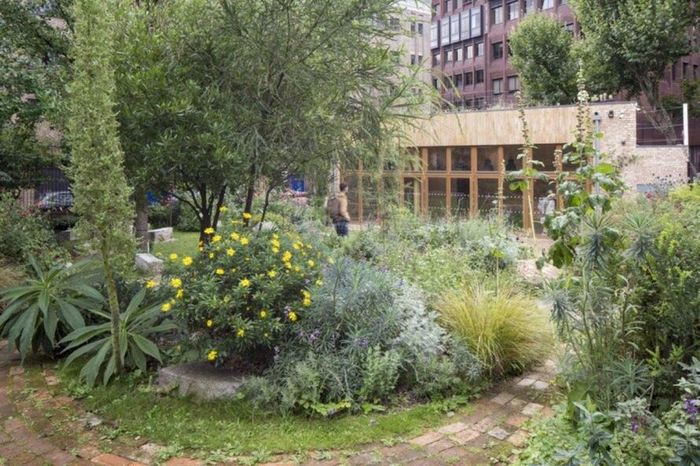 In the heart of'London, the Phoenix Garden ' an acclaimed refuge for urban wildlife and greenery ' has gained an award-winning beacon for sustainable design. Local architecture practice'OFFICE SIAN Architecture + Design'designed the Phoenix Garden Community Centre to improve accessibility to the park, which is open to the public and commonly used by visitors for a variety of events ranging from student field trips to weddings. In addition to a thriving green roof and a highly contextual design, the new building also features durable, super-insulating materials and air-source heat pumps.
Located in London's Soho area a few meters from Covent Garden and Leicester Square, the 120-square-meter Phoenix Garden Community Centre'and the adjoining garden were conceived as a'green retreat'from the stresses of London's West End. Although the park is just a third of an acre in size, the community garden has become very popular for both residents and urban wildlife alike. In deference to the landscape, the community centre'was constructed with natural materials, from the timber doors and walls of brick that match the existing low garden walls to the large white limestone lettering that announces the building's presence and matches the style of the nearby St. Giles Church.
Because the two-story building would be the first purpose-built, new-build community centre'in central London for generations, the client, the Phoenix Garden Trust, thought it especially important that the building promote the garden's values of sustainability. To that end, the architects created a 'super-insulating' envelope made from durable materials and topped the structure with a'green roof'that increases the landscaped area of the garden by 90 square meters. In addition to air-source heat pumps, the building reuses collected rainwater for irrigation.
'The design was developed from an early concept of 'garden walls' as a metaphor for ideas of enclosure, secrecy and boundaries,' the architects explained. Glazed timber-framed doors fold open to merge the indoor spaces with the outdoor garden.'Brick'was also used to line the interior floors to blur the boundary between indoors and out.
Source: Inhabitat
---
London Build is the leading building & construction show for London and the UK. Gain access to 350+ exhibitors, 500+ speakers and connect with 25,000+ registered visitors. If you are interested in speaking, exhibiting or becoming an official event partner for the 2019 show, simply submit your interest and a member of the team will be in touch.'