05 Nov 2019
Hinkley C is 'biggest economic boost for a generation,' says council committee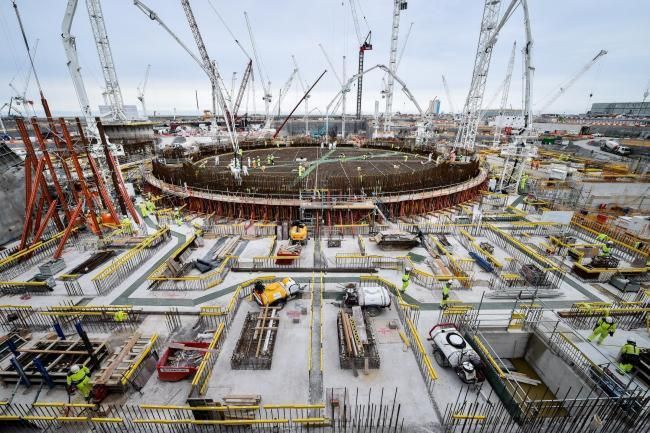 THE construction of Hinkley Point C nuclear power station has been described as the 'biggest boost to the economy of the area for a generation'.
Members of'Somerset County Council's Scrutiny Committee for Place recently visited the site of the new nuclear power station construction.
And Cllr Ann Bown, who represents Bridgwater West and is vice chair of SCC's Scrutiny Committee, Place, said: 'Of course we know about the development of the new nuclear power station on our doorstep, but it isn't until you actually set foot on the site you get a real feel for the scale of it all and how much progress is being made.
'With more than 4,000 people already working here, and more to come, this is the biggest boost to the economy of the region for a generation.'
Councillors and officers were taken on a tour of the site to see it for themselves and to hear from EDF - the firm behind the scheme - on the impact the project has had on jobs and the legacy the firm and partners in local authorities are working to create.
David Eccles, head of stakeholder engagement for Hinkley Point C, told the group: 'The project successfully completed the base for the first reactor in June 2019, known as 'J-zero' and was a real achievement and landmark moment for the project.'
'HPC has seen over 450 apprentices work on the project, with further recruitment expected throughout 2019,' he added.
When completed, it is hoped Hinkley Point C will provide power for up to six million homes.
Construction is just over three years into a 10-year schedule.
The project was hit by bad news in September, when EDF revealed construction costs at the Somerset site were likely to'increase by between '1.9 and '2.9 billion, reflecting 'challenging ground conditions'.
But Michele Cusack, director economic and community infrastructure commissioning at Somerset County Council, said the scheme was 'impressive'.
'It was hugely impressive, seeing the scale of the project and the progress that has already been made on what is Europe's biggest building site," she said.
'The project has increased local employment, in turn helping to develop a sustainable regional supply chain.
"Nuclear is part of a low carbon mix for new electricity generation in the UK and in Somerset we are leading the way with new technology.'
How the Hinkley C power station could look
'
Source: County Gazette
---
London Build is the leading building & construction show for London and the UK. Gain access to 350+ exhibitors, 500+ speakers and connect with 25,000+ registered visitors. If you are interested in speaking, exhibiting or becoming an official event partner for the 2019 show, simply submit your interest and a member of the team will be in touch.'