12 Oct 2018
HS2 launches public consultations on plans to extend the railway north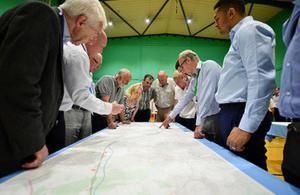 HS2 has launched public consultations on the Phase 2b route for high-speed railway between the West Midlands, Manchester and Leeds.
The 10-week consultations will give communities the chance to respond to HS2's plans and designs, and give feedback on HS2's working draft environmental statement and working draft equality impact assessment report.
HS2 will visit locations across the route to talk to people and businesses as well as affected residents across the Phase 2b route, with the consultations finishing on 21 December.
HS2's head of consultation and engagement, Leonie Dubois, said: 'Through the public consultations, we are providing a more detailed account of how we propose to build the railway and minimise its impacts during construction and operation.
'We actively encourage people to have their say on the plans we have published today.'
She continued: 'HS2 is coming to the north and it will reap significant benefits as a result. High speed rail will play a crucial role in rebalancing Britain's economy; driving business growth, stimulating investment and creating jobs right across the country.'
Construction of Phase 1 of HS2 is well underway between Birmingham and London, with around 2,000 companies already awarded contracts working on the project.'Around 7,000 jobs have been created so far and that number is forecasted to rise to 30,000 when construction reaches its peak.
Leeds City Council leader Judith Blake welcomed the consultation launch, saying that HS2 will be transformational for Leeds and the region.
She said: 'It will bring many thousands of jobs: not just during construction as Birmingham is already proving, but alongside our growth strategy it will deliver enormous economic benefits, huge improvements in connectivity and significant further numbers of future jobs locally.
'It is imperative however that HS2 is planned and delivered in a way that maximises its potential for Leeds while minimising its disruption to the city.
'This is an extremely important opportunity for people living near to the planned route, or indeed anyone who is interested to have their say on the emerging plans and I would urge them to do so to help HS2 Ltd get it right.'
'
Source: Rail Technology Magazine
---
London Build is the leading building and construction show for London. Gain access to 8 dedicated conferences, 300+ exhibitors across 9 show zones, the construction industry's very own Oktoberfest, entertainment and much more. Promote your brand, open new business opportunities, win contracts and gain access to the latest market intelligence in London and the wider region.