09 Sep 2019
Huge residential development opportunity brought to London market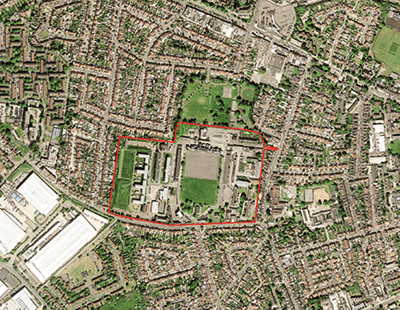 An enormous 14.85 hectare site is being brought to the market after the Defence Infrastructure Organisation (DIO) instructed Avison Young to list the Cavalry Barracks in Hounslow.
The 36-acre site will represent one of the largest and most unique development opportunities available to the London market in recent years.
This comes after the Ministry of Defence deemed the Barracks surplus to military requirements in November 2016, setting a proposed closure date of 2020, with the 1st Battalion Irish Guards relocating to alternative accommodation.' '
Since that announcement, DIO has been working closely with the London Borough of Hounslow, Historic England and other key stakeholders to formulate an adopted Supplementary Planning Document (SPD). This aims to support a 'high-quality residential led development' of at least 1,000 units, designed to deliver 'much-needed affordable and market housing to the area'.
Additionally, the site includes fourteen Grade II Listed buildings and the SPD will help to make sure these heritage assets are sympathetically refurbished and improved to 'retain a strong identity reflecting the site's military legacy'.'
Catherine Davies, head of estates for DIO, said: 'DIO and its advisers Avison Young and Wood have worked with London Borough of Hounslow and Historic England to produce an adopted supplementary planning brief which sets out clear and tangible boundaries for the redevelopment of the barracks.' '
She added: 'The brief allows for a residential-led development of 1,000-plus residential units, employment and community space and involves the conversion of listed and heritage buildings, the retention of historic open space and new-build opportunities.' The release of the site allows for much-needed housing, including affordable housing, to be developed.'
Barney Hillsdon, project lead and principal at Avison Young (a real estate services firm founded in 1978 and headquartered in Canada, but with numerous UK-based offices), said 'the scale and location of the site' will ensure it appeals to a wide range of housebuilders, developers and registered providers.
'There is a real opportunity to create a high-quality residential-led development that integrates with the surrounding area,' he concluded.
The Cavalry Barracks in Hounslow have a history dating back more than 200 years and are said to have links with Florence Nightingale, often seen as the founder of modern nursing thanks to her training of nurses and introduction of far more hygienic care methods. She is best known for her nursing of wounded soldiers during the Crimean War.
Holly Carter-Chappel, a collections officer at the Florence Nightingale Museum, said it was likely she offered advice to the Barracks' hospital designer Captain Douglas Galton (married to Nightingale's cousin Marianne Nicholson) in 1862, but never actually worked there.
Among the oldest barracks in the country, Hounslow'Cavalry Barracks was the first of 40 barracks built during the Napoleonic Wars.
Some are against the redevelopment, with a Change.org petition to 'Save Hounslow Cavalry Barracks and its Grade II listed buildings!' gaining nearly 1,000 signatures, but Steve Curran ' council leader at the London Borough of Hounslow ' insisted the legacy and heritage of the development would be protected.
'We want to preserve the long and proud military heritage of the site while retaining as much use of the 14 listed buildings, given that the entire site is in a conservation area,' he argued.
The barracks are located close to a number of Tube stations and just a stone's throw from Heathrow Terminals in one direction and Twickenham Stadium in the other.'
Source: Property Investor Today
---
London Build is the leading building & construction show for London and the UK. Gain access to 350+ exhibitors, 500+ speakers and connect with 25,000+ registered visitors. If you are interested in speaking, exhibiting or becoming an official event partner for the 2019 show, simply submit your interest and a member of the team will be in touch.'