05 Jul 2018
Innovative architecture proposals that could change our modern cities
When humanity ascended from darkness and lit up the world by mastering the art of fire, the course of history changed. technology has always been at the forefront of evolution, allowing us to showcase some of our species' important characteristics: drive, ambition and creativity — some of which are exemplified through the grandest structures in the world, like the great wall of china, the pyramids of giza, machu pichu, and the colosseum.
With technology advancing everyday, such as the 3D-printers now able to build concrete houses, creative agency neomam has illustrated the architectural possibilities that could have reshaped our modern cities.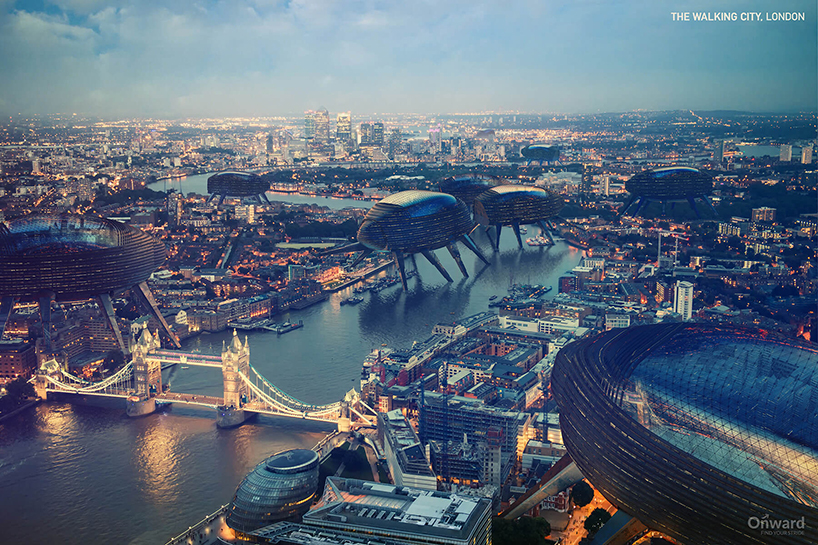 Ron Herron's walking city
Neomam takes us around the world to look at some of humanity's most forefront architectural proposals with 7 renders developed for onward.
In London, England, Ron Herron first introduced the concept of a walking city in the mid 1960s. the idea was to place legs on buildings, allowing artificial intelligence to calculate where these buildings were needed and giving them the capacity to 'walk' over to that location — even in a different city. however, Herron's concept was intended to exist in a world where there were no boundaries or borders, and people lived in an post-apocalyptic period where a nomadic lifestyle was again necessary for survival.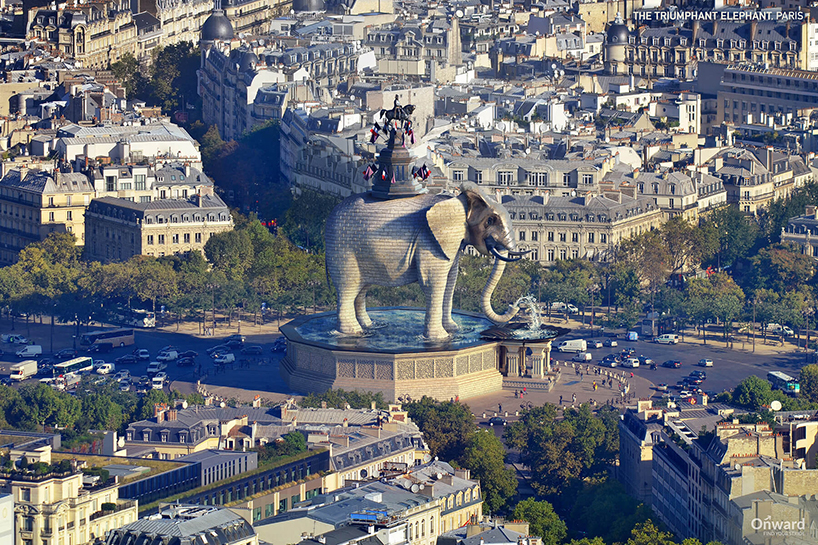 Charles Ribert's triumphant elephant would be where today's arc de triomphe is
Across the English channel, London's easily accessible cousin in Paris, is home to the Arc De Triomphe, which memorializes those who fought and died in the french revolutionary and napoleonic wars, forever blistered with culture and art that provides much of the foundation of our society today. however before the construction of the arc, in 1758 architect Charles Ribert proposed the idea of constructing a giant elephant, with water flowing out of its trunk and music escaping from its ears via an orchestra in the ballroom inside. visitors would be able to climb the 'pièce de résistance' through a spiral staircase.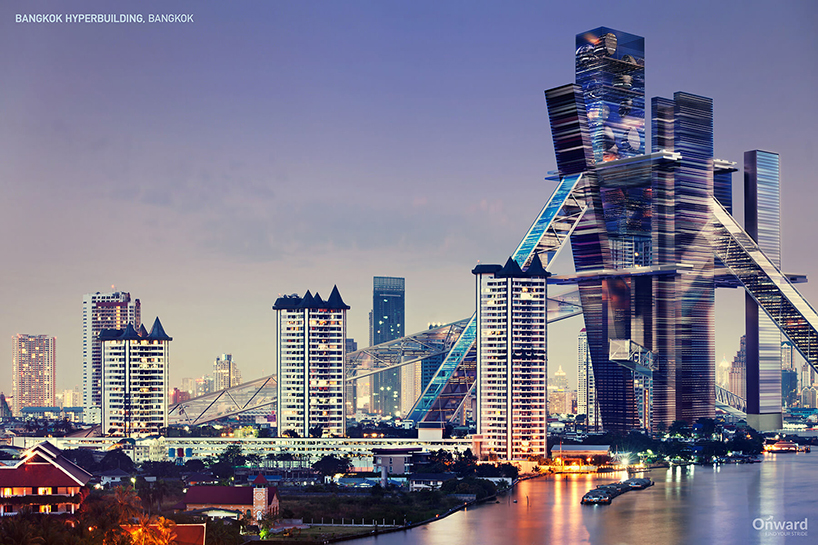 Rem Koolhaas' hyperbuilding
On the other side of the world in Bangkok, Thailand, Rem Koolhaas presented the Bangkok hyperbuilding as a solution to earth's increasingly concerning energy consumption and housing issue. conceived in 1996, the 'hyperbuilding' would have the capacity to house around 120,000 people but only use around 3% of the space usually required for that mass number. the concept would also focus on introducing a variety of elements to create an ecosystem of not just restricted to housing, but also have space for workplaces, greenery, services topped off with transportation efficiency systems such as cable cars, gondolas and train elevators.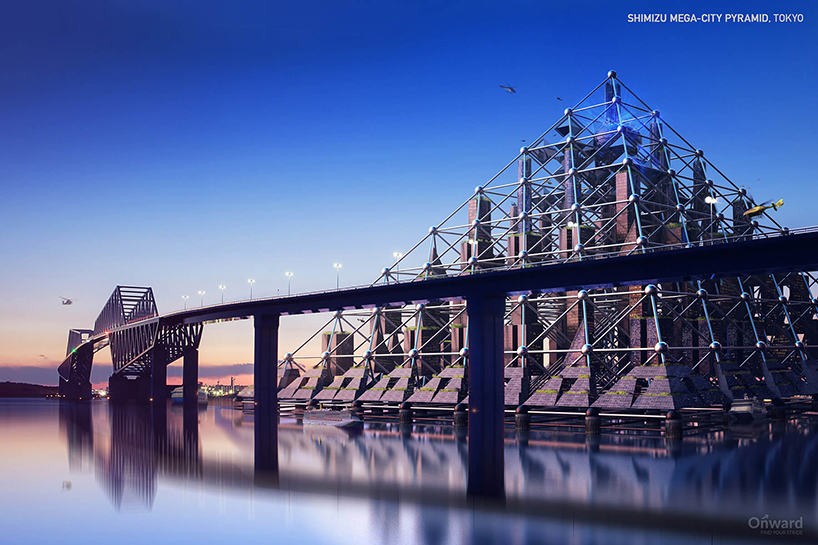 Shimizu mega-city pyramid in Tokyo
Crossing the gulf of Thailand, and the Philippine sea, is the Tokyo bay in japan, the site for the proposed largest man-made structure in the world — the Shimizu mega-city pyramid. introduced in 2004, architects designed the 'blade runner-esque' design to withstand high winds, earthquakes and tsunamis and house over 1,000,000 people.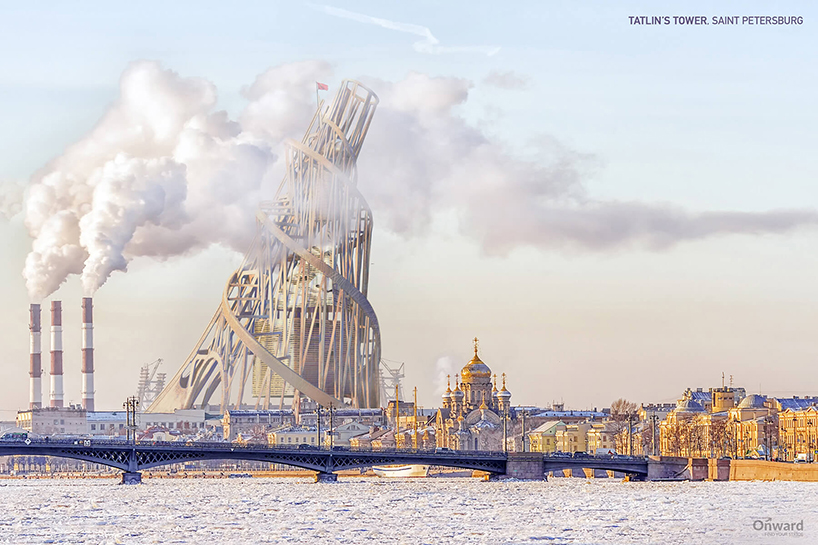 Tatlin's tower in St. Petersburg
Flying over Russia to its western front, St. Petersburg is the site of a 400 meter twisted tower of iron, glass and steel proposed in 1919 as the headquarters for the third communist international during the soviet regime.designed by architect Vladimir Tatlin, it was meant to be a monument that would represent everything achieved from the bolshevik revolution to what that was to come.
Gaudi's hotel attraction in NYC
Rome, Paris and London have all been the metropolitan capital of the world at one point in history. now, New York City has taken that title in modern day history — and not just because designboom has an office here — but its skyline is ever-changing with some of the most recognizable and groundbreaking buildings. naturally, the city attracts some of the most famous architects in the world, but in the 20th century, it missed out on the genius of antoni gaudi. the father of the Sagrada Familia, Gaudi proposed the 'hotel attraction', which had conical towers and a star-shaped sphere becoming the tallest building in the city and unlike any of what is in the skyline today.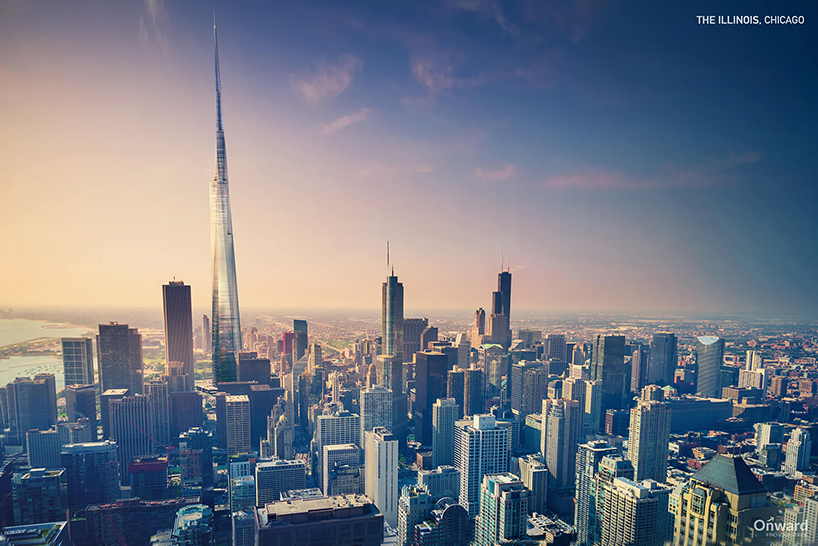 The Illinois
In Chicago, The Illinois: a skyscraper that redefines purpose was proposed in Frank Lloyd Wright's 1957 book, atestament. it could house over 100,000 people, with room for 20,000 cars, 180 helicopters powered by 60 mph atomic-powered elevators.
If these groundbreaking designs were constructed, they would have changed the landscape of the most recognizable cities in the world and the direction of architecture, making them some of the most innovative concepts that showcase human ingenuity and capability to think beyond our age.
Source: designboom
Images Source: Onstride
---
---
London Build is the leading building and construction show for London. Register to attend the 8 dedicated conferences, 300+ exhibitors across 9 show zones, the construction industry's very own Oktoberfest, entertainment and much more.
Get your free tickets today: www.londonbuildexpo.com/register-your-tickets
What the UK's construction industry is saying about London Build..
It was our first time as an exhibitor and London Build Expo did not disappoint. It proved to be both exciting and productive. Looking forward to next year.

Certainly the best Expo I've been to with regards to meeting the desired audience!

London Build 2018 was our first year as exhibitors & we thoroughly enjoyed it. The show had plenty of interaction and interest!

London Build is a busy and vibrant expo bringing together large to small players in architecture, interior design, building, construction and refurbishment. I would recommend it as both an exhibitor and as a visitor.

We attended as a visitor for the first time last year and were impressed enough to rebook for this year. The standard of visitors that came to the stand was really good and the variety of roles from MD's to electricians was excellent and some meaningful conversations took place, we met people that we would not have been able to access during a normal working week. It was a well organised event, very easy for the exhibitor and a really good atmosphere throughout, I would recommend that anyone who visited with a view to taking stand space in 2019 should go for it.

I would wholeheartedly recommend exhibiting at London Build.

We had a great time exhibiting at this year's show. We met a real mix of individuals and companies, collected some valuable leads and found it an excellent platform to showcase our new fire safe building wrap material to the market.

A very well organised exhibition. From the initial booking of our stand, design, social media coverage and logistics; London Build 2018 was a breeze to organise and exhibit at. The layout of the floorplan was very clear and enabled exhibitors to find stands they were interested in and engage with exhibitors. We certainly made a lot of new contacts and would recommend London Build!

London Build is THE construction show for London. A must attend

The London Build Expo was a well organised and attended event. The quality of the speakers and the discussion was high and there was a progressive development of new products and materials on show.

London Build Expo was a wonderful event. I particularly enjoyed the balance of like-minded professions and stimulating debate. There was never a moment without something of interest to see

London Build Expo was a great experience bringing together all facets of building construction and operation. Highly recommended!
COUNTDOWN TO LONDON BUILD!