26 Jul 2022
Kier Trials Hydrogen Generator on National Highways Project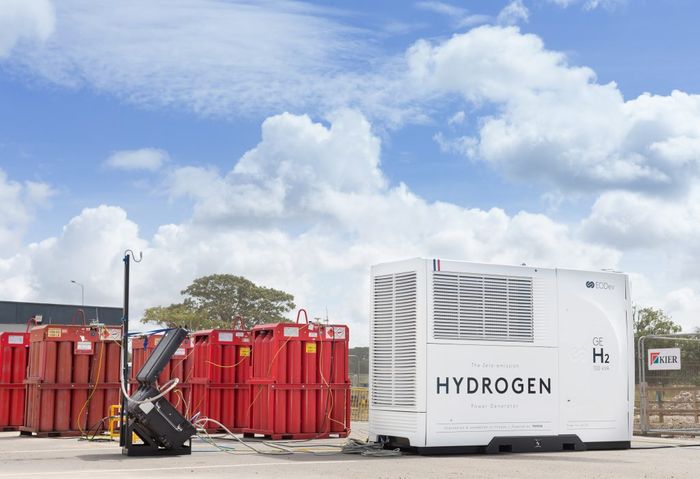 Kier Highways'is trialling a hydrogen generator at its National Highways A585 Windy Harbour to Skippool site in Poulton-le-Fylde, Lancashire
Kier Highways is deploying its first hydrogen generator, in collaboration with Hydrologiq, to uncover the challenges of'replacing diesel with hydrogen'as well as reduce the site's carbon emissions, producing less noise, vibration and air pollution.
Replacing a diesel generator with this'hydrogen 110kVA generator'could create a 40%-80% reduction in CO2e emissions when powered by grey hydrogen, and close to a 100% reduction when powered by green hydrogen.
Department of Business, Energy and Industrial Strategy grant
Hydrologiq ' a UK start-up company that specialises in off-grid hydrogen ' secured a grant from the Department of Business, Energy and Industrial Strategy (BEIS) in 2021.
There are three main aims to the grant:
building a platform to streamline the planning and deployment of hydrogen generators;
prototyping a monitoring system for any hydrogen generator;
and testing these developments through real-world hydrogen generator deployments on live projects with partner businesses including those in the construction industry.
Kier Highways aims to run its fleets and plants on alternative fuels by 2030
Matt Tompsett, head of environment and sustainability at Kier Highways, said: 'Hydrogen is a key solution to the'decarbonisation'of both our fleet and plant.
'At Kier Highways, we have a target for all our fleet and plant to be running on alternative fuels by 2030. There is no silver bullet to this issue and there won't be one alternative fuel solution.
'Whilst we are transitioning our small fleet and plant to electric, we recognise hydrogen is currently the most viable solution to larger fleet, plant and generators.
'The trial of this hydrogen generator is an important step on this journey, helping the 'proof of concept'', expelling myths, and engaging our employees who will use the new equipment and technology.'
Hydrologiq connects end users with their network of hydrogen fuel and hardware suppliers
Benjamin Lindley, director at Hydrologiq, said: 'Hydrologiq exists to help businesses like Kier Highways make a tangible move towards Net Zero in off-grid power. Currently, there are many challenges to overcome when deploying a hydrogen-powered generator on an active project.
'I'd like to thank our supplier partners and everyone on the Hydrologiq team who worked on compliance, logistics, and commissioning to facilitate Kier's access to this new and complex technology.
'We are grateful for the support of Kier Highways for their enthusiasm, interest, and professionalism. From senior environmental management and project managers, through to works managers and ground workers, the entire team at the Windy Harbour site have played a major role in making this deployment a success.'
Source: PBC Today'