28 Jun 2022
London Bridge City Achieves Secured Environments Award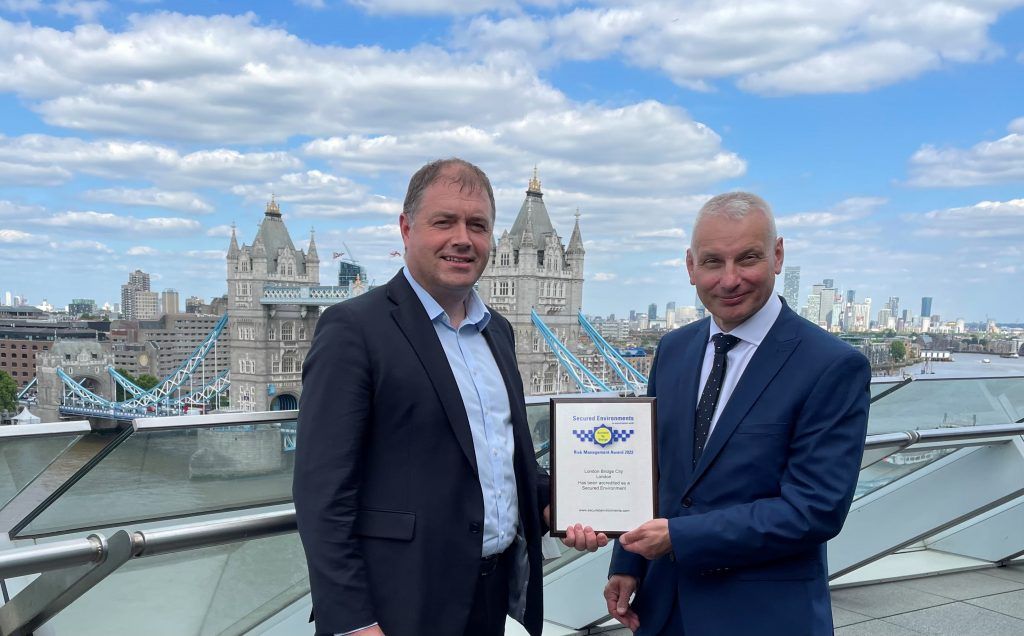 London Bridge City'has been presented with the prestigious Secured Environments award on 13th June 2022 by Guy Ferguson, chief executive officer,'Police CPI
The'estate, located in an iconic neighbourhood, surrounded by famous London landmarks, is a destination for shopping, entertainment and dining, and hosts a range of residential and business premises. As such the area presents a range of security challenges to manage.
Recognising these challenges and the benefits that good security management can bring to all users and occupiers of the site, and the surrounding local community, the London Bridge City management team set their sights on achieving the'Secured Environments award'to ensure an effective framework was being followed.
To achieve the Secured Environments award, the organisation underwent a thorough audit of their security processes and procedures, as well as consultation with staff, to verify that they were following six key principles to maximise the security of all visitors and users of the area.
The six key principles of the Secured Environments accreditation are a commitment by an organisation and its leadership to:
create a secure environment;
an understanding of the security risks that it faces;
the development of an effective response to reduce the risks to the organisation;
a management plan to achieve its aims and objectives;
the effective implementation of the security and crime prevention measures;
and the monitoring and evaluation of the security and crime prevention measures.
'London Bridge City is determined to continue to provide a safe, welcoming and sustainable place for businesses'
Magnus MacAulay, estate director, London Bridge City said:
'London Bridge City is delighted to have achieved the Police recognised Secured Environments award. By submitting our safety and security operation to the rigorous assessment process we have demonstrated our commitment to public safety.
'London Bridge City is determined to continue to provide a safe, welcoming and sustainable place for businesses, the public and the local community and we are committed to working with the Police and other partners to continuously test, evaluate and improve our processes.
'We are especially proud that whilst the assessment was facilitated by our team of security professionals the award was ultimately achieved by the collaboration of a multi-disciplinary team, all of whom are committed to safety, security and defeating crime.'
Jon Felix, risk and threat advisor, CIS Security Ltd noted:
'Achieving this certification by working in partnership with our clients, the police, wider community, and the efforts of the teams involved is fantastic.
'The hard work put in by the security, operations and service partners who engaged as a team across London Bridge City, is testament to the levels of commitment ensuring the safety and security of this iconic landmark location.
'Taking into account how the Secured Environment principles and the future of the Protect Duty are being embedded every day at London Bridge City, makes this partnership between CIS and London Bridge City something we are incredibly proud to be a part of.'
Presenting the award Guy Ferguson, chief executive officer,'Police CPI'stated:
'It's a real testament to everybody here's hard work that you've achieved the Secured Environments award, it's not easy to get, so congratulations for rising to the challenge and meeting the high standards required to achieve the award. Well done.'
Source: PBC Today'