22 Oct 2018
LONDON BUILD: SUSTAINABILITY ZONE FEATURE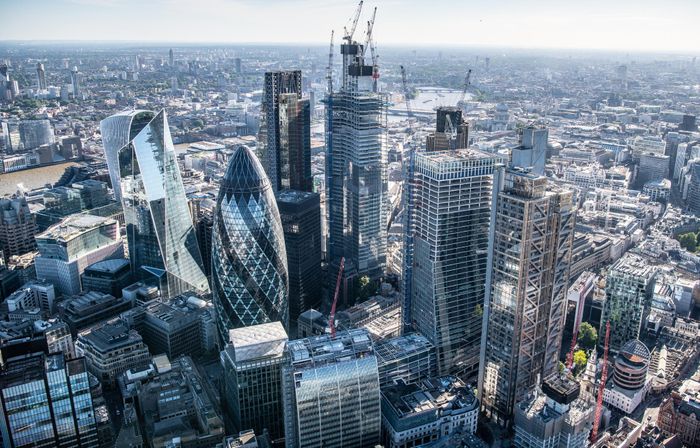 How Do We Create A Sustainable London? London Build's Sustainability Zone has the answers.
Meeting our targets, as set out in the Paris Agreement of keeping a global temperature rise this century below 2 degrees Celsius, means that London must play its part in reducing carbon emissions. This reduction is targeted through the New London Plan within the standards for energy and sustainability that include the Mayor's target of zero emissions by 2050.
Tackling energy efficiency in our buildings, transport and infrastructure is a vital first step where buildings use solar shading, low energy lighting, green roofs, and photovoltaic panels among many other solutions. But 'sustainability' doesn't end there. We have to examine how we become climate change resilient, how we use the earth's resources, and how we can apply a circular economy for the built environment so that buildings and materials can be reused and salvaged to extend their life.
'
London Build's Sustainability Summit will be answering and debating these crucial topics over two days at London's Olympia venue on the 23rd and 24th October. Together with our Sustainability Zone partners The Passivhaus Trust, we'll be delivering a cutting-edge programme covering sustainability in the construction industry that briefly will include:
'''' Panel Discussion: The Councils on Sustainable City Planning; clarifying the scale of the challenge and what decisive action needs to be taken to make sustainable development second nature in the built environment;
'''' The major obstacles and opportunities that climate change poses for architects;
'''' Panel Discussion: Future water, the government's water strategy for England;
'''' The new London Plan: Energy and sustainability standards;
'''' Can resilient design reverse climate change?
'''' Innovating with low impact materials;
'''' Passivhaus: The Leading International Standard
Our expert line-up of speakers that include Shaun McCarthy, Director at Action Sustainability, Simon Sturgiss, Chair of RIBA Sustainable Futures Group, Darren White, Head of Environmental Sustainability at Tideway, and Martin Gettings, Group Head of Sustainability for Canary Wharf Group will provide attendees with substantial knowledge of how building sustainably can be achieved.
Darren White of Tideway told us:
'Events such as London Build are key to finding out the best practice that is going on outside of your site hoardings. Whilst the construction sector is getting better at sharing knowledge through various platforms, such as i3p, we are still very insular and tend to know your own particular sector, whether its tunnelling, rail, or building. However, we all have the same opportunities and issues, and can learn a great deal from each other.'
We also spoke to Martin Gettings of Canary Wharf Group about what the Sustainability Zone will provide for delegates:
'As a developer in London we have 30 years' worth of relevant, transferable experience to share with others in the built environment sector. We want to use the lessons we've learned to work together to tackle the big global sustainability challenges. I'm excited to talk about our place-making experience and our Breaking the Plastic Habit programme, and to share ideas on how we can all shape a better built environment. London Build is a brilliant platform to share what we've done, and to collaborate on where we're going next.'
'
The Networking Events
The Sustainability Summit also includes a range of exciting networking events such as the Passivhaus Awards Ceremony where exemplar Passivhaus case studies will be presented by the award finalists. All shortlisted projects will be on display so come along to this free event for an informative and celebratory afternoon on Wednesday 24th October - 2pm - 4pm.
Our hugely popular Oktoberfest makes a welcome return this year too! Open on both days, you'll be treated to live Bavarian music, traditional German food and, of course, beer! Entry is free as part of your expo visitor pass, and it makes an excellent opportunity to network with industry peers in a relaxed setting.
The Constructing Excellence Breakfast is held as the first official networking event to kick off the event programme within the Innovation Summit. Attend this free and exclusive event to hear from a keynote panel while you form essential business connections over complimentary refreshments.
And, don't forget about the Women in Construction morning tea networking event on 24th October from 10am to midday. This free session includes refreshments and a panel of established experts discussing the untapped opportunities for women working in construction, diversity and equality. Places always fill up quickly so register for your ticket now!
'
Our Exhibitors
The Sustainability Zone at London Build will bring together thousands of professionals and organisations showcasing the latest innovations and solutions for our sustainable future. Our leading exhibitors such as Action Sustainability, Zublin Timber, Vital Energi, Recticel Insulation and Selectaglaze will be on hand to explain how they are forging ahead in this sector and helping authorities to meet carbon reduction objectives.
'
Recticel told us:
'As one of the largest construction and built environment shows in the south-east, London Build offers the opportune platform to showcase Recticel's high-quality thermal insulation solutions for the commercial and domestic market. Sustainability is one of the event's core elements; which perfectly aligns with Recticel's commitment to creating energy-efficient interiors for the health, comfort and well-being of occupants and generations to come.
'We look forward to welcoming visitors to London Build's Sustainability Zone where our team will be available to highlight the many benefits of our innovative product range, as well as offer general advice on matters relating to insulation.
'For consumers, influencers and anyone with a commercial or personal interest in the built environment, London Build is an annual highlight. Recticel is proud to be a part of its continued success.'
Vital Energi will be exhibiting for the first time at London Build 2018 on stand G20 to showcase their solutions. When we spoke to them they told us:
'Over the last 30 years, we have established ourselves as one of the UK's leading providers of district heating and cooling schemes and have designed and installed energy solutions for some of London's largest and most prestigious residential and business developments. These include: a CHP energy scheme for Nine Elms in London which is an efficient decentralised solution for 650 apartments, a superstore and numerous commercial units, and the Somers Town Heat Network which in addition to providing heat and hot water to five housing estates, a community centre and a primary school, will also reduce CO2 emissions by 1,000 tonnes annually upon completion.
'Our representatives will be on hand to meet with you to discuss how our expertise in the design, build, operation and maintenance of low carbon energy solutions could work for you.'
If you're interested in helping to develop a sustainable built environment, the Sustainability Zone at London Build is a not-to-be-missed opportunity, so register for your free tickets now at https://www.londonbuildexpo.com/register-your-tickets and become a part of the solution.
---
London Build is the leading building and construction show for London. Gain access to 8 dedicated conferences, 300+ exhibitors across 9 show zones, the construction industry's very own Oktoberfest, entertainment and much more. Promote your brand, open new business opportunities, win contracts and gain access to the latest market intelligence in London and the wider region.
'
For further information, please contact:
Lisa Carnwell
Marketing Content Manager
Costello Palmer Communications
Clavering House
Clavering Place
Newcastle upon Tyne
NE1 3NG
07511 037650