12 Oct 2018
LONDON BUILD: THE TALENT POOL IN THE LGBT COMMUNITY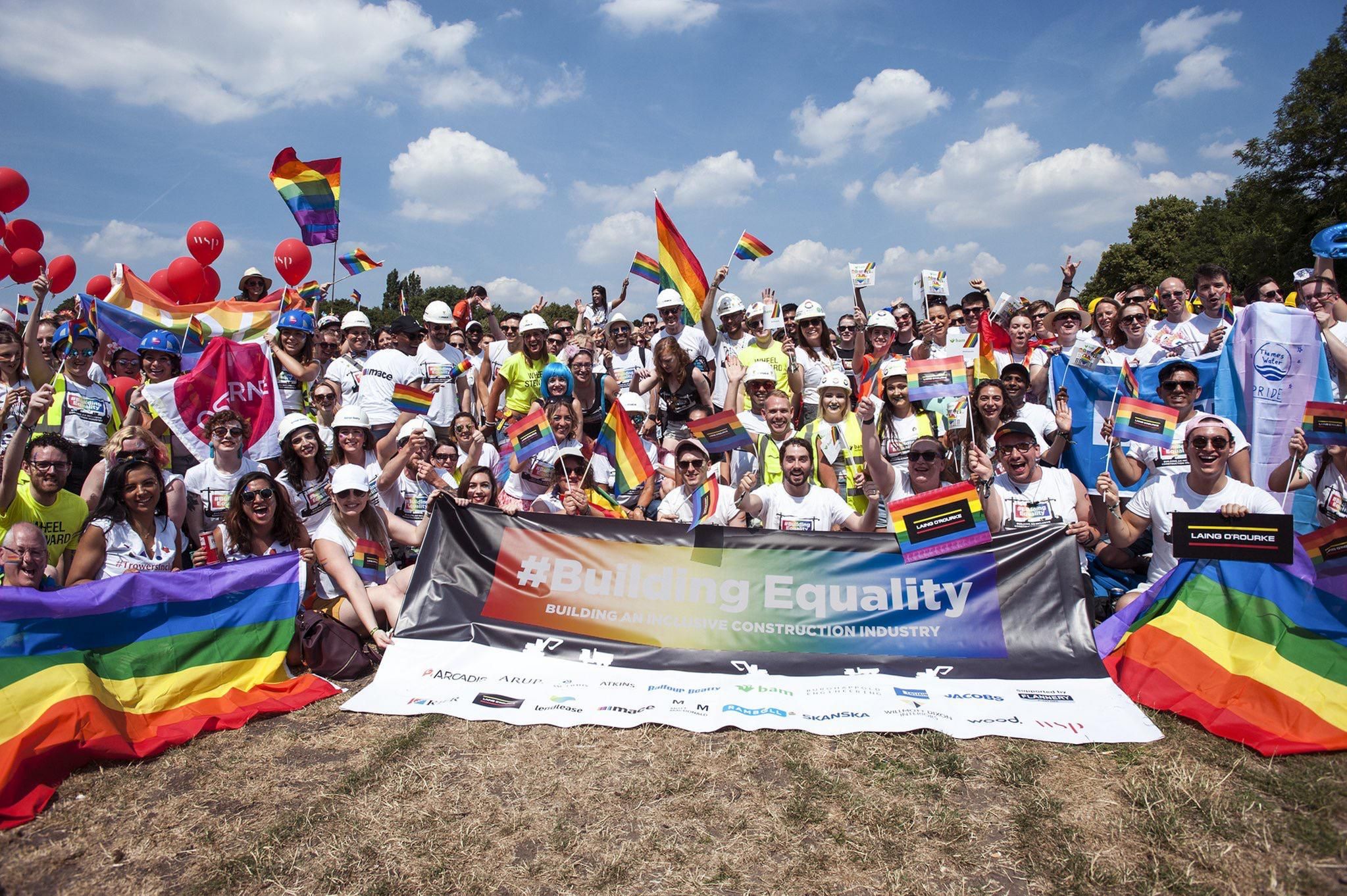 Tapping into the talent pool within the LGBT+ community
Perhaps one of the most pressing challenges the construction industry faces is that of a skills shortage.' An ageing workforce and the uncertainties that Brexit may present are just two aspects compounding the problem, and while little can be done at this moment in time to fully comprehend how Brexit will impact the UK, steps can be taken to encourage and retain skills within the construction industry.
The National Infrastructure Pipeline alone contains over 700 projects and programmes for the UK, with a combined value of more than '500bn, never mind the thousands of other construction projects underway on our shores. But where will the talent pool to sustain it come from?
Increasing gender diversity and recognising that inclusion of all citizens in society is of vital importance, however barriers to inclusion for the LGBT+ community still remain. While positive action is being taken to address this, change will not happen overnight, and ingrained gender and sexual bias within an industry still perceived as male-orientated will take a great deal of effort and education to eradicate.
According to the 2018 annual LGBT+ survey by Construction News, 28 per cent of LGBT+ respondents had an offensive or inappropriate comment made about their gender or sexuality in the workplace over the past year. While this figure represents an improvement on the previous year, it acts as a stark reminder of the challenges ahead.
There is, however, a growing tide of activity within the construction industry that is addressing the diversity and inclusion agenda with companies such as Balfour Beatty introducing it's 'LGBT & Allies' Network, establishing diversity as a key part of the company's Build to Last transformation. In addition, the CITB's Be FaIR framework 'sets out to provide a 'structured approach that helps develop Fairness, Inclusion and Respect (FIR) within your construction company, supporting your workforce and your business.'
The Be FaIR framework highlights how organisations can implement an inclusive policy through a series of core modules, supporting documents and templates that can increase productivity through improved staff engagement, retainment and loyalty. By showing the world they value their employees, they're highly likely to gain more work.
Christina Riley, Vice Chair of the Kier LGBT & Allies Network, is an active public speaker for LGBT+ and gender diversity. She founded the 'LGBT Construct' network that reaches out to support LGBT+ people into construction, but she also educates leadership to drive change and to be more inclusive.
She has echoed the sentiments of many others whereby if employees are freed from having to expend their energy on concealing their sexual orientation and gender identity, they are able to concentrate efforts on their career ' a win for both employee and employer where stress and anxiety are reduced.
Also, many main contractors are forming alliances with each other through networks like #BuildingEquality, Off Site, and InterEngineering where they can foster inclusion. At this year's London Pride over 260 people from construction firms were at the event representing #BuildingEquality; an alliance of 23 tier 1 main contractors and consultants. 'They marched alongside a rainbow JCB provided by Flannery Plant to help increase awareness of LGBT+ employees in the construction industry.
The rainbow-coloured JCB was a perfect vehicle (forgive the pun!) to deliver the message that the construction industry wants to be seen as inclusive and embracing of all, and it will be making a very welcome return to the London Build Expo taking place on 23rd and 24th October at Olympia.
The London Build Expo is also hosting a 'Diversity in Construction' panel and networking session on October 24th in the Built Environment Networking Hub. The panel discussion will run from 12.00pm until 12.45pm. Panellists include: Christina Riley, Kier Group, Priya Aiyer, Mace, Kam Kullar, Multiplex, Anjali Pindoria, and Avi Contracts Ltd.
Join the discussion on Diversity in Construction as part of London's leading construction and design show at the Olympia London. Free tickets to attend London Build are available online at'www.londonbuildexpo.com/register-your-tickets
The positive impacts of diversity, inclusion and equality are being recognised through the efforts mentioned above, relying heavily on a culture change within the industry. The changes are happening with momentum increasing, but as an industry, it must also concentrate efforts on getting the very best people into it, and keeping them there! They must promote the industry to the younger generation and create the supportive and innovative environment for a stable and prosperous future.
If they are ever to solve the skills crisis and meet the pipeline of work in progress, it must be inclusive, mitigate against an unconscious bias, and embrace the talent that lies in the LGBT+ community.
'
---
For further information, please contact:
Lisa Carnwell
Marketing Content Manager
Costello Palmer Communications
lisa.carnwell@costellopalmer.com
London Build is the leading building and construction show for London. Gain access to 8 dedicated conferences, 300+ exhibitors across 9 show zones, the construction industry's very own Oktoberfest, entertainment and much more. Promote your brand, open new business opportunities, win contracts and gain access to the latest market intelligence in London and the wider region.