15 May 2018
LONDON MAYOR TURNS PROPERTY SPECULATOR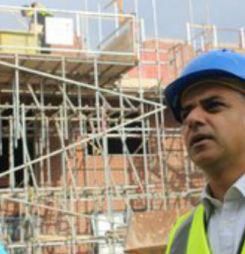 THE MAYOR OF LONDON HAS BOUGHT A SITE AT ST ANN'S HOSPITAL IN HARINGEY TO ENABLE THE DEVELOPMENT OF 800 NEW HOMES.
The purchase from Barnet, Enfield and Haringey Mental Health NHS Trust, worth 'tens of millions of pounds', was mayor Sadiq Khan's first use of his new '250m land fund.
The deal is said to signal a new direct approach by City Hall to unlocking land in the capital. Sadiq Khan said he intends to use the land fund to buy further sites in London to prepare sites for housing, and he urged other local authorities to follow suit. The money secured from selling land to housing associations, councils and Community Land Trusts will be recycled to buy further land to build homes and unlock further opportunities across the capital.
The number of homes now planned at St Ann's is a significant increase on existing planning permission for the site ' secured originally in 2015 ' which would have delivered only 470 homes. And whereas before 14% were classed as affordable, now 50% are.
City Hall's investment will provide redeveloped NHS facilities on the 11.24-hectare site, including a new mental health inpatient building.
Mr Khan said: 'As mayor, I've set out how City Hall will take a more active and direct approach to unlocking sites across the capital. Late last year I announced my plans for a new land fund to buy sites ' and at St Ann's we are showing what this can achieve. Not only will my intervention unlock this site, but it will also allow us nearly to double the number of homes, and crucially increase six-fold the number of affordable homes that had previously been given planning permission. I am pleased my investment will see the redevelopment of a new mental health facility and in due course we will recycle this fund to buy more sites so that we can build more affordable homes.
'Despite the government still failing to give us the investment and powers we need to make a true step change in homebuilding in London, we are showing what can be done. It is an approach councils and other local authorities across the country may look to adopt to ensure they play a key role in fixing the housing crisis.'
Source:'The construction index
London Build is the leading and largest construction show to focus on residential, commercial and infrastructure projects and opportunities across London and the South East of England. The show is taking place at the Olympia National Hall on October 23rd'& 24th.
London Build is FREE to attend and features 200+ speakers, 300+ exhibitors, 8 dedicated conference theatres, thousands of attendees, CPD-accredited training workshops and entertainment. Book your free ticket today by clicking'here.