10 Oct 2019
Love is Enough converts old railway warehouse to social space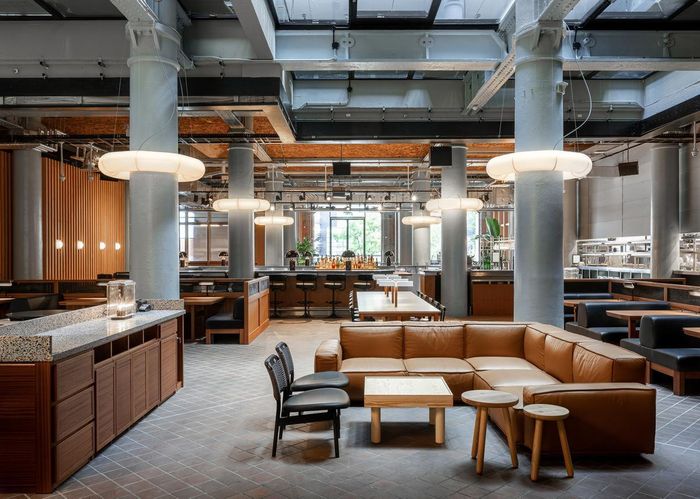 Cultureplex, on the edge of the city's Northern Quarter, is described as "community centre for a modern city". At its heart is a multipurpose and communal central space that can be used by people throughout the day. The space is likened to a public square and "takes inspiration from Manchester's great libraries and halls, traditionally seen as places of aspiration, democracy and community."
Integrated bench, table and charging stations provide places for individuals to work and there are a variety of seating types to suit different people and purposes. Elsewhere, Cultureplex has an 80-seat restaurant, a small cinema, three adaptable meeting and event spaces and a coffee counter.
For the interior design, Love is Enough sought to celebrate the building's industrial and transportation past, with original features left intact and rail references, such as the type of lighting used. The floor is laid with quarry pavers and there are timber-panelled walls.
Cultureplex, opened at the end of August, is one of multiple tenants in the Ducie Street Warehouse (aka the London Warehouse), which is owned by'Capital and Centric.
Love Is Enough''Manchester''Warehouse'
'
Integrated bench, table and charging stations provide places for individuals to work / Cultureplex
'
There are a variety of seating types to suit different people and purposes / Cultureplex
'
There are timber-panelled walls / Cultureplex
'
Love is Enough sought to celebrate the building's industrial and transportation past / Cultureplex
'
Some of the lighting references rail heritage / Cultureplex
'
The floor is laid with quarry pavers / Cultureplex
'
There are places to lounge, work and eat / Cultureplex
'
Cultureplex has an 80-seater restaurant / Cultureplex
'
The restaurant is called Bistrotheque / Cultureplex
'
Bistrotheque has an 'expansive open kitchen' / Cultureplex
'
Cultureplex also has a small cinema / Cultureplex
'
Cultureplex is one of multiple tenants in the Ducie Street Warehouse / Cultureplex
The Ducie Street Warehouse is owned by Capital and Centric / Cultureplex
'
Source: CLADnews
---
London Build is the leading building & construction show for London and the UK. Gain access to 350+ exhibitors, 500+ speakers and connect with 25,000+ registered visitors. If you are interested in speaking, exhibiting or becoming an official event partner for the 2019 show, simply submit your interest and a member of the team will be in touch.'