24 Sep 2018
Mace to build '180m tower adjacent to London's Olympic Park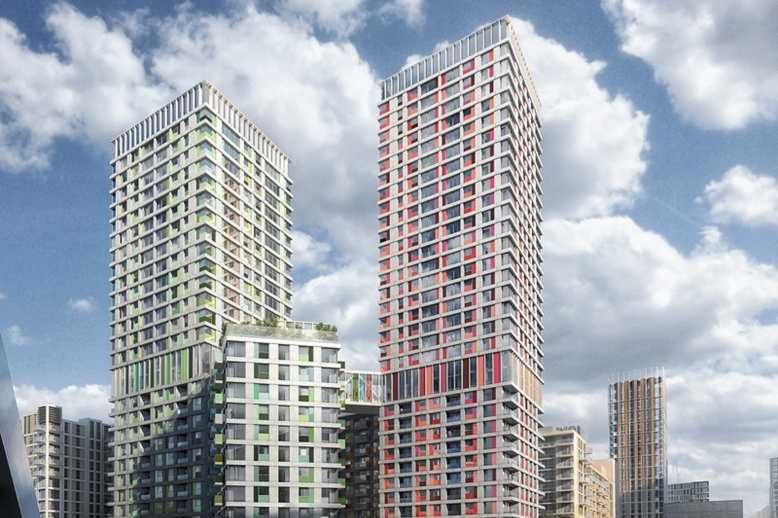 Mace has been appointed to build London's N06 East Village adjacent to the Queen Elizabeth Olympic Park by Get Living, the UK's largest build to rent provider.
The residential tower project will be built on one of the last remaining development plots in the East Village neighbourhood, adjacent to Queen Elizabeth Olympic Park. The area has now been transformed into a destination neighbourhood, with carefully curated social infrastructure and more than 25 independent shops, bars and restaurants.
The '180 million project will provide 524 new homes for private rental in East Village, which takes the total number of Get Living homes in the neighbourhood to 2,500, as well as retail space on the ground floor and a children's play area.'
Two towers, at 26 and 31 storeys, and two ten storey pavilions have been merged into a single development connected by an inhabited sky-bridge. It also includes a landscaped private courtyard, outdoor terraces with views over Queen Elizabeth Olympic Park, and shared amenity space for all residents. The buildings have been designed by architects Hawkins Brown, with Walsh as structural engineer and ChapmanBDSP as services engineer.
Mace is currently building the N08 East Village project for Get Living, where it has been using an innovative, award-winning 'rising factory' method to deliver the project. The company plans to use the N06 project to further develop its innovative construction delivery methods. Details about the methodology will be revealed before construction begins on the superstructure.'
Construction is due to commence in December 2018, following completion of enabling works on the site.'
The consultancy and construction firm already has a long standing relationship with the area, having participated as part of joint venture CLM, the delivery partner for the London 2012 Olympic and Paralympic Games, as well as supporting the London Legacy Development Corporation on the post-Games transformation of Queen Elizabeth Olympic Park.'
Mace is the project and construction manager for the Stratford Waterfront scheme comprising the V&A East museum, Sadler's Wells East theatre, London College of Fashion campus and BBC venue, and was appointed in August 2018 by University College London as principal contractor to deliver Marshgate 1, the first phase of their new campus in Stratford, UCL East.
Shaun Tate, a Director for Mace, said:''This is an appointment we are very proud of. N06 is an architecturally innovative development that will provide a unique living and working environment. Over the last two years, we have worked closely with Get Living on the delivery of N08 East Village and built a fantastic working relationship. It takes a close partnership between client and contractor to be effective, particularly when seeking to drive innovation in the construction sector.
The use of our ground-breaking rising factory on N08 has driven very positive results and we look forward to developing this further with the next phase of East Village.''
Neil Young, CEO of Get Living said:''N06 is East Village's gateway to Queen Elizabeth Olympic Park and these new homes, retail and public space will add to the vibrancy of the existing neighbourhood. Over the past five years we've learnt what a great home, neighbourhood and rental experience looks like. It's this experience that has guided the development of N06 and we're now excited to see Mace appointed to bring that vision to life.
'Mace has been a brilliant partner at N08, working closely with us to be a good neighbour to the East Village community during its construction. We're confident Mace will continue this approach at N06 and through this important next phase for East Village.''
'
Source: Global Construction
---
London Build is the leading building and construction show for London. Gain access to 8 dedicated conferences, 300+ exhibitors across 9 show zones, the construction industry's very own Oktoberfest, entertainment and much more. Promote your brand, open new business opportunities, win contracts and gain access to the latest market intelligence in London and the wider region.