03 Oct 2019
Major work to transform Highbury Corner is complete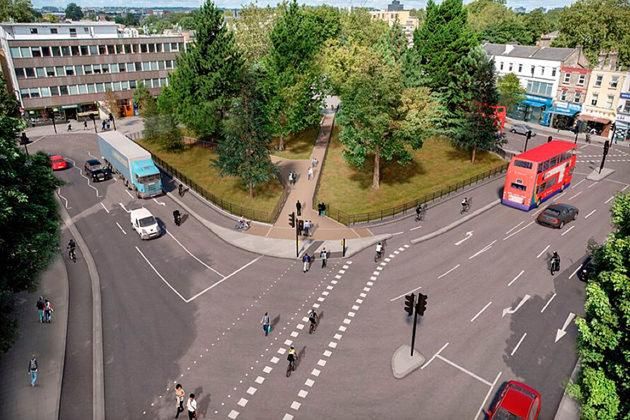 The Mayor of London, Sadiq Khan, Transport for London and Islington Council have officially opened the new Highbury Corner junction,'which has been transformed from one of London's busiest'roundabouts into a junction.
'
Construction work to remove the intimidating 1960s roundabout and replace it with two-way roads began in June 2018. Traffic switched to two-way operation for the first time in 60 years in April this year whilst work continued on the new junction.'
The transformation includes:'
'
Segregated cycle lanes on all three sides of the new junction.
'
'
A new green public space, including a new Highbury & Islington station forecourt.
'
New, wider and 'straight across' pedestrian crossings, which are easier to use than the old two-stage crossings.
'
More green space by partially opening the arboretum to public access.
'
A new shared pedestrian/cycle toucan crossing across St Paul's Road to allow two-way cycling to and from Corsica Street.
'
Mayor of London, Sadiq Khan, said: 'I'm delighted that our work to transform Highbury Corner is complete. It has overhauled the junction from three lanes of busy motor traffic into an area safer for walking and cycling, with a new public space for everyone to enjoy.'
'
'Whether you're commuting into central London, or heading to the local shops, the transformation of Highbury Corner will make the area safer for everyone.

'With thousands of people dying prematurely every year as a result of our dirty air and our continuing inactivity crisis, it is essential other boroughs follow the lead of Islington in getting more Londoners walking and cycling as part of their everyday routine.''
'
Cllr Claudia Webbe, Islington Council's Executive Member for Environment and Transport, said: 'The transformation of Highbury Corner is a vital part of our bold action to make Islington a safer and easier place to walk and cycle.

'With the support of residents we campaigned hard to change a dangerous and outdated junction into a much more welcoming and pleasant place for people, and have worked together with the Mayor of London and Transport for London to make this happen.'
'
'Now we have much better, wider pavements outside the station, a smart new area for people to walk and sit, new access to a botanical collection of trees and green space previously cut off behind traffic, and high-quality segregated cycle lanes.

'We will keep working to make transport in Islington healthy, fair, accessible and enjoyable as a central part of our commitment to further reducing car use, tackling air pollution and helping Islington become carbon neutral by 2030.''
'
The work to transform Highbury Corner is part of TfL's Safer Junction's programme.'Work has now been completed at 31 junctions across the capital, with another ten set to be complete by May next year. Major work to remove another the'roundabout at Old Street, in partnership with Islington and Hackney Councils,'is set to be completed next year.'
'
Source: Taxi Point
---
London Build is the leading building & construction show for London and the UK. Gain access to 350+ exhibitors, 500+ speakers and connect with 25,000+ registered visitors. If you are interested in speaking, exhibiting or becoming an official event partner for the 2019 show, simply submit your interest and a member of the team will be in touch.'