23 May 2022
Muse Announces Official Launch of Bradford One City Park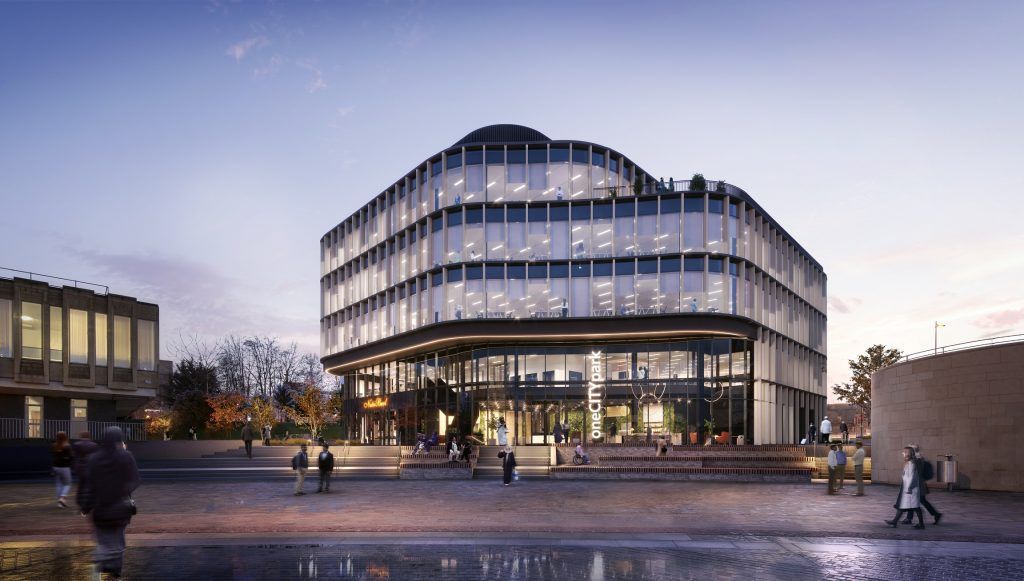 Muse Developments, in partnership with'Bradford council, has officially launched Bradford One City Park, a BREEAM 'Excellent' 56,403 sq. ft office building in the heart of the city centre.
Bradford One City Park'is the first Grade A office scheme delivered in Bradford city centre for 20 years, and will directly address the need for high-quality offices, with flexible options now available to secure off-plan.
One City Park will offer workspace with floor plans that can adapt to accommodate new and more agile working practices that promote wellbeing in the workplace.
Bradford One City Park will appeal to a range'of occupiers, from home grown starts-up and SMEs, through to larger organisations and multi-nationals.
In addition to the open-plan office space, Bradford One City Park will be complemented by new public spaces around the site for the community to enjoy.
It is also within walking distance to cultural assets including City Hall, St George's Hall and new music venue, Bradford Live, which is currently undergoing a multi-million-pound transformation, as well as bars, restaurants and cafes.
More than 300 jobs will be created throughout construction
Throughout the construction of the development, more than 300 jobs will be created, with Yorkshire-based Caddick Construction as the scheme's contractor. A further 450 jobs will be based in the building once completed.
The development will have strong sustainability credentials, including high-performance glazing to the fa'ades to maximise natural light while reducing solar gain;'photovoltaic panels'and air source heat pumps to make sure the building operates on renewable energy.
A roof terrace will serve a dual purpose, helping with the natural cooling of the building, as well as promoting the wellbeing of its occupants. All of the car-parking spaces will have electric car charging points, coupled with secure cycle storage and changing facilities on the ground floor to encourage workers to take more sustainable and healthier ways to travel to the office.
The district has been selected for the UK City of Culture 2025 shortlist
Simon Dew, development director at Muse Developments, said: 'We're very excited to officially launch One City Park as a landmark development for Bradford. There's been real interest and anticipation building over recent months and we know there's demand from businesses looking to relocate or expand in the city centre.
'The green shoots of recovery are visible all across Bradford, including the district making the shortlist for UK City of Culture 2025, successful collaborations with businesses and a commitment to the levelling up agenda. As part of that shared regeneration goal, One City Park will provide Bradford with much-needed Grade A office space in a superb location.'
One City Park will act as a catalyst and showcase 'what Bradford has got to offer'
Councillor Susan Hinchcliffe, leader of Bradford Council, commented: 'One City Park is an integral part of our ambitious regeneration plans for the city and this launch comes at a really exciting time for Bradford.
'The city urgently needs new, high-quality and flexible office space to accommodate the ambitions of home-grown businesses as well as attract new organisations into the district. Its central location and superb design will act as a catalyst and showcase what Bradford has got to offer.'
Bradford has an exceptional talent pool, with plenty to offer
Eamon Fox, partner and head of office agency at global property consultancy Knight Frank in Leeds, who is advising, added: 'Multiple forces influence real estate requirements; digital transformation, organisational restructuring, news skills requirements, talent competition, evolving employee and client expectations, cultural change, focus on ESG, purpose, health and wellbeing, rising competition and new working practices.
'One City Park and the city of Bradford offer the perfect combination to address these market influences, as a property and city.
'Bradford city provides an exceptional talent pool, for example there 758,000 young people under 20 living in the region, more than anywhere else in the North and the University of Bradford is part of the elite group of 1% of business schools worldwide with triple crown accreditations.
'With excellent education levels, an employable workforce, a quality of life offering in Yorkshire and a super prime office at One City Park, we are excited to work with cutting edge firms, keen to be part of Bradford's next chapter.'
Source: PBC Today'