28 Jun 2022
Net Zero in the NHS: NHS Property Services Launches Green Plan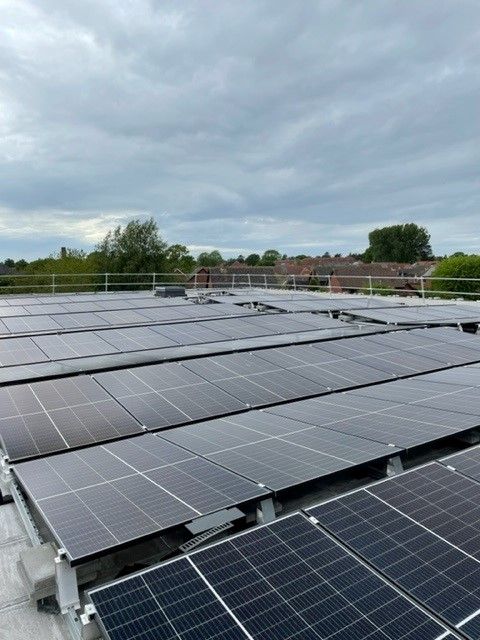 As part of the NHS's 'Delivering a Greener NHS' programme, NHS Property Services(NHSPS) has published its first three-year'Green Plan'to provide long term sustainable models of care, greener travel and transport and'decarbonising'estates, aiming to reach net zero in the NHS by 2040.
The drive follows initial efforts to reduce NHS impact on the environment, with 99% NHSPS waste now diverted from landfill. All four'UK health services'have recently committed to becoming net zero by 2050 through the COP26 Health Programme, aligning with the Government's ambition set out in its'Build Back Greener'strategy.
NHSPS plays a vital role in achieving'net zero'in the NHS by 2040, as it handles over 3,000 NHS properties and sees six million patients daily.
Green Plan targets include decarbonising and developing efficiency across NHS infrastructure
Targets include:
Transforming vacant and underutilised space on the NHS estate into affordable or free-of-charge facilities for community groups
Transitioning company vehicles to ultra-low emissions vehicles and develop an electric vehicle strategy for eventual fleet transition
Establishing a calculation tool with carbon as the main metric to measure cost savings against, enabling regional teams to access capital finance for projects in their regions
Carrying out decarbonisation feasibility studies for end-of-life gas or oil-fired heating systems
NHSPS has saved the NHS '23m in carbon footprint associated costs since 2019
NHSPS has decreased their carbon footprint in their properties by 30% and reinvested the savings back into the NHS. The organisation has also shifted to 100% renewable electricity and established a strategy to minimise waste to landfill, with more than 99% now being diverted from landfill.
NHSPS will be opening the new Devizes Health Centre in Wiltshire this summer. The centre will be one of the first 'Net Zero' health facilities across England, utilising green technology- such as'heat pumps'and'solar panels'to generate electricity and heat to serve the building- reducing reliance on fossil fuels.
Cameron Hawkins, head of energy and environment for NHSPS, said, 'It is vital that sustainability values are embedded in everything the NHS does, so that together we can improve the health and wellbeing of the communities we serve.'
Source: PBC Today'