22 Jun 2021
Planning application submitted for new neighbourhood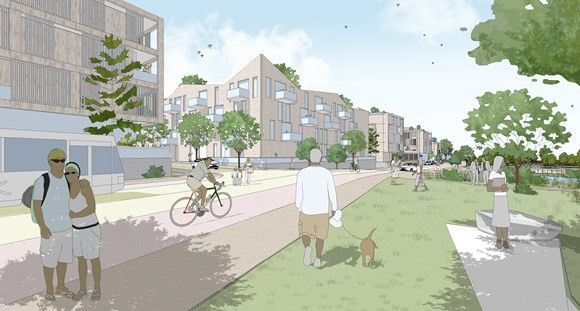 Ebbsfleet Development Corporation has submitted a planning application to redevelop an area of land into a new neighbourhood.
The EDC is seeking to turn the land, in Grove Road in Northfleet, into a quality new neighbourhood of up to 320 new homes with commercial and community space.
The proposed development would'provide affordable homes, homes for older people, new public spaces as well as a waterfront park with community facilities and shops and cafes.
There will be improved pedestrian access and a public plaza as well as public transport links, with the area benefiting from Fastrack bus services.
The area is part of the Northfleet Embankment West site and lies within 400 metres of Northfleet Railway Station providing easy access to central London.
Ian Piper, Chief Executive of Ebbsfleet Development Corporation, said: 'We undertook a public consultation last year and those who took part came out in support of our proposals.
'We want to turn this area into a new residential neighbourhood, and create a fantastic open space around the historic Harbour that is accessible to everyone.' The setting beside the Thames can be transformed into a great waterside destination with high quality and affordable homes.'
The planning application is expected to go before a planning committee around September or later.
Source: BDC Magazine