21 Sep 2018
Powering Battersea ' an interview with Liam O'Sullivan and Matt Cannon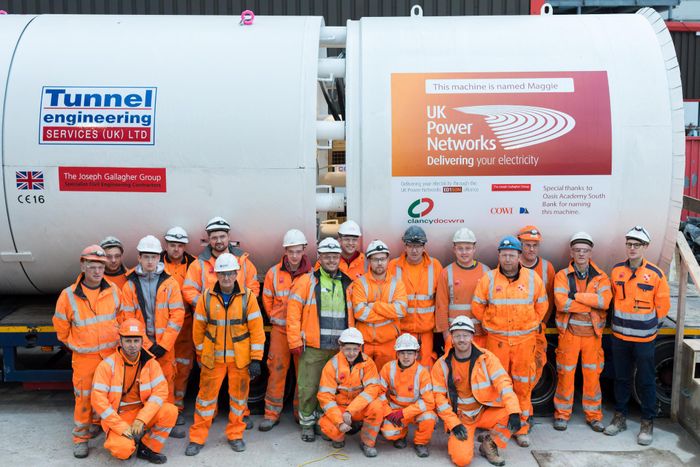 The iconic Grade II* listed Battersea Power Station building is one of the most notable and recognisable of the entire London skyline. After years of uncertainty around the power station's future, this piece of the London skyline is now undergoing major redevelopment, preserving its unique heritage within an exciting and innovative mixed-use neighbourhood where locals, tourists and residents can enjoy a unique blend of restaurants, shops, parks and cultural spaces.
The regeneration around the area and the power station itself requires a new generation of power infrastructure, including an additional electricity substation and an underground cable tunnel to connect the famous power station back to the modern utility grid.
The new connection is being delivered by UK Power Networks, which manages the capital's energy infrastructure, together with a team led by utility specialist contractor Clancy Docwra.' Liam O'Sullivan, Head of Alliance Delivery at UK Power Networks and Matt Cannon, Chief Operating Officer at Clancy Docwra will be speaking at our Future London Summit on 23rd October at 13:40 and we caught up with them in advance of the event for more details about this exciting project.
Can you provide a brief background on your roles?
Liam O'Sullivan
As head of Capital Programme and Alliance Delivery at UK Power Networks, the role of my team is to deliver critical electricity infrastructure across London, the South East and East of England, supporting new development as well as making sure the lights stay on.
In 2015 we launched our ground-breaking ED1SON alliance, a new model for delivering this investment. The alliance brings together the skills of contractors and consultants to deliver schemes as part of a continuous work programme ' ensuring greater efficiency and innovation, which brings the best value to our customers.
Matt Cannon
As Chief Operating Officer at Clancy Docwra, I work with the other board members to oversee the successful delivery of our nationwide operations across the civil engineering, energy, utilities, rail and water sectors ' including through our work with UK Power Networks and the ED1SON alliance. We're celebrating our 60th anniversary this year, so it's an exciting time for the business.
What will the new Battersea Cable Tunnel mean for London?
Liam O'Sullivan
Battersea Power Station is one of the capital's most iconic buildings, and its regeneration is key to the wider transformation of London's Nine Elms. The cable tunnel provides the power supply needed by the redevelopment of the power station and associated new development, as well as by the surrounding area with new homes, places to work and leisure spaces.
What particular challenges did you face with the project?
Matt Cannon
To ensure continuity of supply for UK Power Networks and their customers, we worked safely around two live 132,000-volt cable circuits that provide power to part of south London. We're extremely proud that our innovative approach meant that the project is the first time that UK Power Networks has extended a tunnel network without any required outages on the live circuits.
What will success look like and where are your efforts focussed?
Matt Cannon
The technical successes of the project are self-evident, but we also made every effort to engage the local community and minimise disruption for residents. This included tasking a local secondary school with naming the tunnel boring machine to help promote STEM careers. Pupils also visited the site to welcome 'Maggie' ' named after prominent space scientist Maggie Aderin-Pocock ' and get a first-hand glimpse of cutting-edge engineering.
What innovative construction did you utilise?
Matt Cannon
The project team devised a bespoke construction methodology for working in the constricted,
tunnel environment. This included installing steel ribs to provide internal support and allow for the safe removal of the original tunnel wall and enabling us to connect to UK Power Networks' existing tunnel network.
Why is attending London Build important?
Liam O'Sullivan
The successes of this project are a testament to the close working relationship between the delivery and support of partners within UK Power Networks' ED1SON Alliance. Collaboration and knowledge-sharing will be essential to delivering the UK's demanding and ambitious infrastructure development plan for growth & prosperity, and that's why it's important we share what we've learnt from this innovative project.
Don't forget you can see Liam and Matt on 23rd October at 13:40 in our Future London Summit.
Interview by Costello Palmer Communications
---
London Build is the leading building and construction show for London. Gain access to 8 dedicated conferences, 300+ exhibitors across 9 show zones, the construction industry's very own Oktoberfest, entertainment and much more. Promote your brand, open new business opportunities, win contracts and gain access to the latest market intelligence in London and the wider region.