30 Aug 2019
Premier Inn's new Southwark hotel 'topped out'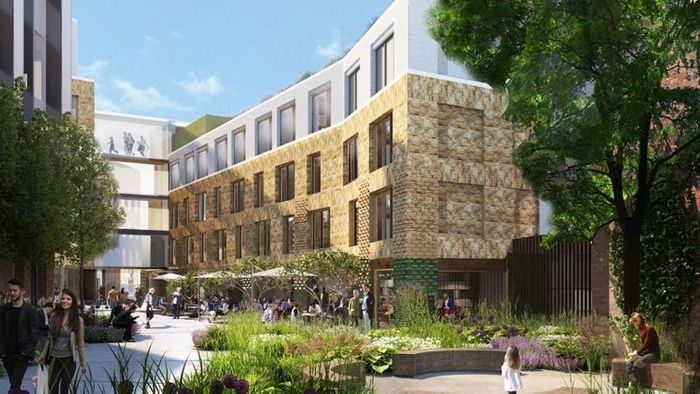 Frogmore is developing the new hotel on land formerly owned by'Southwark College'between'The Cut'and'Ufford Street.
Construction of the building started in July last year, and the Premier Inn and Bar + Block Steakhouse are expected to open in autumn 2020.
The hotel will be reached by a new walkway ' to be known as New Marlborough Yard ' which will open out onto'The Cut'between'Southwark College'and the Tas restaurant.
"We're delighted to be celebrating this milestone with Whitbread and LaSalle and are excited to be a part of helping to grow the Premier Inn network across the Capital," said Jo Allen, Frogmore's chief executive.
"The hotel should be a welcome contribution to the vibrant Southwark scene; with the addition of the Bar + Block Steakhouse, as well as the additional open space for public enjoyment."
Whitbread's Jonathan Langdon added: "The creation of high-quality local jobs was an important consideration in the planning case for New Marlborough Yard.
"With the development now topping out we are one step closer to recruiting for the 70 new roles on offer in the Premier Inn and Bar + Block Steakhouse.
"Our approach is to recruit locally for all new Premier Inn hotels and we hope residents living in the local area will be interested in applying as we get closer to opening what will be one of our flagship hotels in Central London."
Frogmore secured a forward funding investment sale of the development worth '85 million from LaSalle, investing on behalf of Greater Manchester Pension Fund.
Tom Rose from LaSalle said: "We're delighted to be celebrating the topping out of this development, which is situated in one of the most attractive areas of central London.
"The asset has very strong fundamentals and offers a fantastic return profile to our client given Premier Inn's long?term lease with inflation?linked uplifts."
Source: London SE1
---
London Build is the leading building & construction show for London and the UK. Gain access to 350+ exhibitors, 500+ speakers and connect with 25,000+ registered visitors. If you are interested in speaking, exhibiting or becoming an official event partner for the 2019 show, simply submit your interest and a member of the team will be in touch.'