30 Jul 2019
Property: A TV producer's purpose-built flat transformed into a luxury loft-style apartment.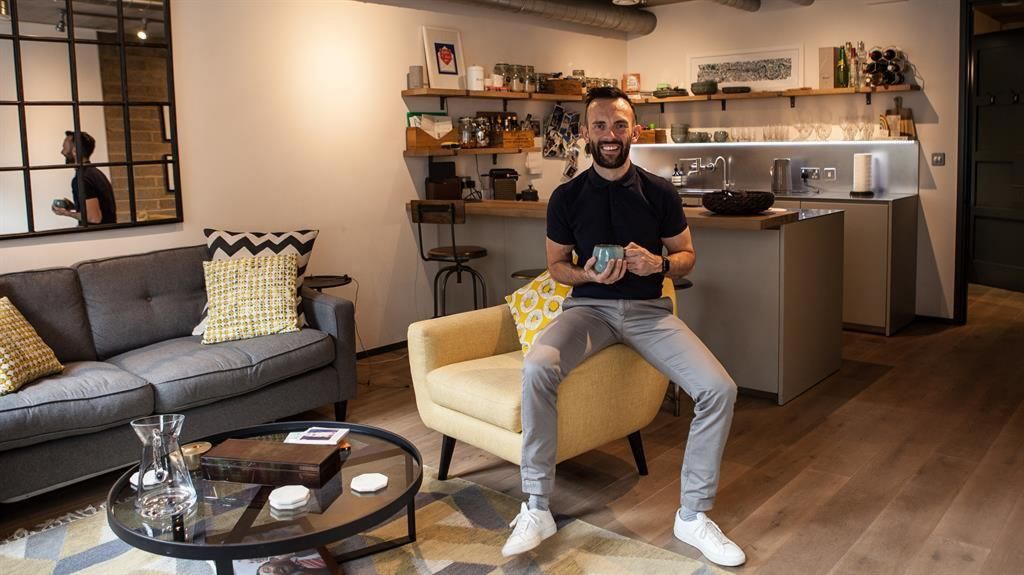 As you'walk into Pete Ogden's urban apartment, a stone's throw from the Thames in the heart of London, you could be forgiven for thinking you've gone back in time. The exposed brickwork, the steel ceiling ducts, anthracite grey walls and concrete floors seem to tell a story of a long industrial heritage. Yet this stylish dwelling is not part of an old city warehouse. It is, in fact, a first-floor flat in a modern apartment block.
And the Blackpool-born TV producer, responsible for hits such as Ant And Dec's Saturday Night Takeaway and I'm A Celebrity' Get Me Out of Here!, has given it a magnificent makeover to achieve the look of an industrial loft.
And the transformation is every bit as impressive as the two Bafta awards sitting in his living room.
Pete was smitten at first sight when he viewed the two-bedroom flat in Southwark four years ago. And having travelled extensively with his job, he decided to create a modern but chic industrial vibe with leading interior designer Claire Bloom.
'I didn't think I could afford an interior designer but Claire worked with me on an hourly rate and we set about creating this luxe, yet functional, boutique hotel look. I wanted shelves, an area for shoes and cupboard space in the living room as well as surfaces to display pictures in frames.
'I'm always rearranging my stuff and trying new things.'
Industrial-style ducting is a feature across the ceilings, while exposed brick walls continue the warehouse feel alongside a tonal palette of anthracite grey, beige and white with a splash of yellow in the sofa scatter cushions and Made.com armchair. The large black Crittall mirror adds to the loft look.
Pete and Claire came up with some clever design tweaks ' the bathroom (inset) feels larger thanks to the antique, distressed mirror tiles above the bath ' while a heated pad behind the mirror ensures that even the hottest of showers won't steam it up. 'I stayed in a hotel with a bathroom mirror just like this one, so I pinched the idea,' says Pete. Claire designed contemporary built-in wardrobes to create maximum storage in the bijou bedrooms, adding mod cons like air conditioning and blackout blinds. The look is softened by a collection of Pete's childhood toys; a teddy bear, which sits next to a Humpty Dumpty made for him by his great-grandmother.
A black and white print of the New York skyline ' a gift from his three closest university friends ' and a quirky collection of 1980s piggy banks add personality to the bedrooms, both of which lead onto a sleek terrace, the decking dotted with huge grey planters of scented climbing jasmine, ferns and ivy.
'It's the perfect spot for a coffee or breakfast,' he says. 'This is a brilliant location but you only have to shut the door to create an aura of calm inside.'
It was while travelling for filming commitments that Pete realised he could make this urban oasis of a home work for him by renting it out through luxury London property concierge and management company Stayandescape.com, which gives guests a five-star luxury hotel experience with the comfort and intimacy of home.
'I was spending six months in Sydney working on the Australian version of Saturday Night Takeaway,' he says, 'and it seemed mad to leave the place empty. It went really well, the flat was rented regularly during November and December. I now work away from home five or six times a year, so if someone is interested in renting it for a weekend city break, I don't have to worry about a thing as Stayandescape.com look after everything.'
A Marie Kondo convert (he's read both her books), Pete created some much-needed hidden storage with a divan bed, ideal for keeping personal items during rentals, and has streamlined his wardrobe to cut down on time spent prepping for guests.
'I don't have many clothes and I'm militant about bed linen. I've got two sets for each bedroom ' it means you buy less but what you have, you use.'
The utilitarian theme continues in the kitchen with neutral base units, refrigerated drawers, stainless steel work surfaces and open oak and steel shelving holding mason jars filled with oats, coffee and cereal, glassware and cookery books.
'Having shelves means that everything is on show so you make better choices,' adds Pete. 'l believe in buying for the space you're in. I have four of everything, and if I have a cocktail party, I hire the glasses when I buy the wine.'
The hall wall is hung with original watercolours of Blackpool Prom and Oldham painted by his grandmother Elizabeth Ogden while his treasured National Television Award and the two Saturday Night Takeaway Baftas have pride of place on a bespoke oak and steel wall unit in the living room.
'I pack away everything I'm attached to ' including my awards and my crystal Soho Home glasses ' and keep it very minimalist when I'm renting it out,' he says. 'And when I'm home, this place is hard to beat. The area is lively, it's a stone's throw from the River Thames and the city, yet you can shut the door on all the hustle and bustle and completely chill out.'
Source: Metro
---
London Build is the leading building & construction show for London and the UK. Gain access to 350+ exhibitors, 500+ speakers and connect with 25,000+ registered visitors. If you are interested in speaking, exhibiting or becoming an official event partner for the 2019 show, simply submit your interest and a member of the team will be in touch.'