17 Sep 2019
Redevelopment at Lord's enhances world-class experience at the home of cricket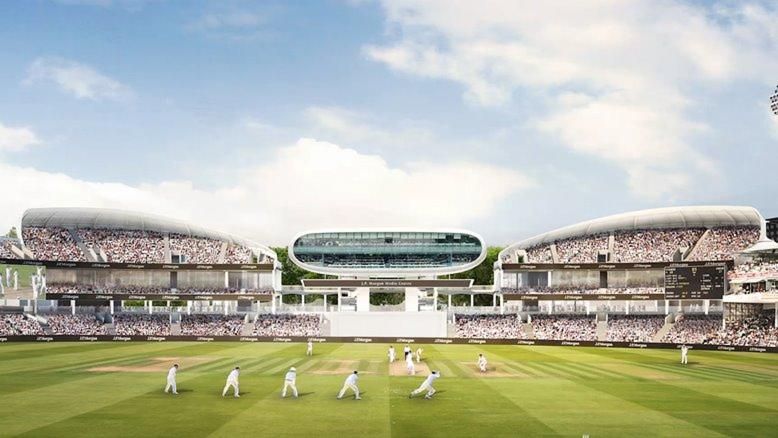 The milestone marks the start of a two-year redevelopment of the Compton and Edrich stands, increasing the capacity of the ground by 2,600.
As part of'MCC's Masterplan'for the redevelopment of Lord's, the two-year phased construction programme will see the erection of two new three-tiered stands, positioned either side of the J.P. Morgan Media Centre. The stands will provide significantly enhanced spectator facilities, as well as increased accessibility and amenities.
The new stands will increase the capacity of the Ground to 31,000 and will include 400 Debenture seats and associated dining facilities, twelve food and beverage outlets and two hospitality restaurants.
Chief Executive & Secretary Guy Lavender said:''It's very exciting to see this project underway following an incredible summer of cricket at Lord's. The redevelopment of the Compton and Edrich stands are integral in MCC's plans to continually develop, innovate and future-proof the Club, the Ground and the game.
"The distinctive design, which is heavily focused on the spectator experience, will preserve the charm and special character of the ground, while ensuring that Lord's remains the best place to the world to watch cricket.''
The stands, which have been designed by double Stirling Prize winners'WilkinsonEyre, will be constructed by'ISG. The global construction services company was responsible for building the London Velodrome ahead of the 2012 Olympic Games, and the new grandstand at Ascot Racecourse.
Steven McGee, Managing Director for ISG's Construction South division, commented:''MCC is responding to rising demand for seats at one of the most famous cricket grounds in the world. This redevelopment will enable an additional 2,600 spectators to experience the thrilling atmosphere and spectacle of world-class sporting endeavours at the Home of Cricket.
'We'll be using our experience of delivering iconic sporting venues across the UK and applying this directly to a complex scheme that will have an enduring legacy for cricket fans for many generations to come.' '
The project is supported by principal partners, J.P. Morgan. Vis Raghavan, CEO - Europe, Middle East & Africa commented:''Every great institution evolves and it is hugely exciting, as a long-term partner, to see Lord's undertake the next step in its history with yet more state-of-the-art facilities surrounding the J.P. Morgan Media Centre. Such an iconic ground, producing the kinds of exciting sporting moments we saw this summer, deserves stands like these that will inspire future generations of cricketers.'
Site set-up and enabling works commenced on 23rd August after the last of the major matches had been played at Lord's this season. The new stands will be constructed with seats fitted to accommodate spectators for major matches next year, and fully fitted out for the official opening in May 2021.
Source: Lord's
---
London Build is the leading building & construction show for London and the UK. Gain access to 350+ exhibitors, 500+ speakers and connect with 25,000+ registered visitors. If you are interested in speaking, exhibiting or becoming an official event partner for the 2019 show, simply submit your interest and a member of the team will be in touch.'