20 Sep 2019
Sainsbury's bids to build high-rise flats on New Cross Gate store car park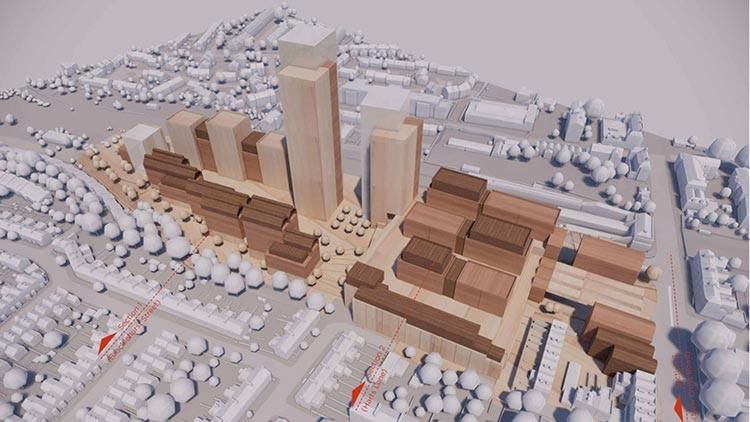 A proposal from Sainsbury's to build 1,500 flats in the car park of its New Cross Gate store would see neighbouring businesses such as TK Maxx close down and could hamper plans for a Bakerloo line Tube station there, a local councillor has warned.
Brenda Dacres also said that she was concerned about a lack of affordable housing in the proposed development' ' which is slated to be built on Transport for London's (Tfl) preferred site for a Tube station in New Cross Gate.
Dacre said:' It is my understanding that Sainsbury's owns the land and will be seeking to redevelop the site at New Cross Gate which would mean that the other retail shops such as Dream and TK Maxx on that site will close.
'We need to keep sight of the huge benefit for all of Lewisham borough to secure the Bakerloo Line extension, and for the line to run not only to Lewisham but also on to Catford and beyond (where it will help to unlock thousands more affordable homes).
'With this in mind, it is really important that developments on the Sainsbury's site don't prevent us delivering that.'.
The NXG project would see the existing Sainsbury's'supermarket revamped alongside the construction of 1,500 homes across a cluster of towers up to'33-storeys high. The proposals for the homes are to be submitted to Lewisham Council this month, just as TfL begins a further consultation on its plans to extend the Bakerloo line.
Chris Porter, Transport Planning Manager at TfL, said: 'There has been no change in our preferred option for the proposed new Bakerloo line station which remains the Sainsbury's car park at New Cross Gate. We will continue to engage with all relevant stakeholders in relation to these proposals. In addition, a'further TfL consultation for the Bakerloo Line Extension will start next month'.
David Mills, Head of Property Communications at Sainsbury's said:' The Bakerloo Line extension does not facilitate the development, this is something we will bring forward as a joint venture with our development partners.
'TfL have put forward a consultation document which identifies a new station on our land. We are continuing to discuss this with them, including other potential locations in the area for the station'.
Critics are also unhappy about the 35 per cent proportion of homes in the proposed development being earmarked as affordable housing, or available for London affordable rent rates ' a scheme created by Sadiq Khan, the Mayor of London,
The developers ''Mount Anvil and A2Dominion with Sainsbury's ' have said they were 'committed to delivering a greater proportion of the 35 per cent homes as London Affordable Rent'.
Simon Haddock, from the New Cross Action Group, also voiced his objections to the plans.
He said to Lewisham Newshopper: 'Our main objection'is that Sainsbury's are trying to build a complex on land that is earmarked for a huge infrastructure'redevelopment that is a really important for the area in the Bakerloo line'.
Once submitted, the proposal will go before the council's strategic planning committee and will require approval from City Hall in order for the development to go ahead.
Source: Eastlonodnlines
---
London Build is the leading building & construction show for London and the UK. Gain access to 350+ exhibitors, 500+ speakers and connect with 25,000+ registered visitors. If you are interested in speaking, exhibiting or becoming an official event partner for the 2019 show, simply submit your interest and a member of the team will be in touch.'