16 Sep 2019
Sella Concept creates "grown-up" interiors inside London co-working space Public Hall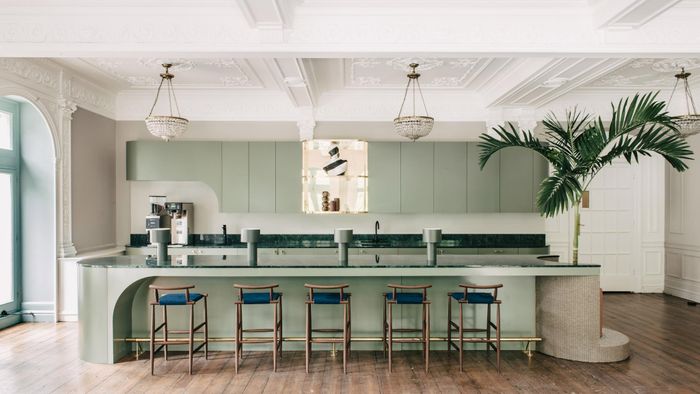 London design studio'Sella Concept'used plush furnishings, grandiose light fixtures and a "sophisticated" colour palette to ditch the stereotypical aesthetic of startups inside this central London'co-working space.
Public Hall is set within a 19th-century building in London's Westminster, which formerly served as the headquarters of the UK secret intelligence service, MI6, and later as an apartment block.
It now hosts a 250-member co-working space, headed up by workspace provider'Huckletree, that caters to public-sector technology startups.
Huckletree tasked'Sella Concept'with developing interiors that encourage "disruptive modern thinking" without taking away from the building's historic character.
"Startups are all too often associated with a very particular aesthetic ' pop-y colours and bean bags ' and we wanted to create something that felt a bit more grown-up," the studio's founders, Tatjana von Stein and Gayle Noonan, told Dezeen.
"The main objective was to retain the grandeur of the space while injecting the Huckletree brand's playful nature, a piece of the past and a step into the future."
The building's ornate plaster ceilings and wooden floors have thus been preserved in Public Hall's bar and breakout area, which is anchored by a curved, teal-blue seating banquette.
It can be easily moved around to suit the different events held in the room.
The adjacent kitchen features jade-coloured cabinetry and a matching breakfast island topped with emerald marble. Cane bistro chairs and tall potted plants have also been dotted throughout.
Ornate ceilings appear again in the main work area, which is centred by a gold chandelier.
The studio collaborated with office furniture brand'Opendesk'to create two long tables for the room in a custom shade of muted-green.
Shutters in front of the windows have also been painted salmon-pink.
"We were confined to using the Dulux Heritage paint range, but after a period of experimentation settled on a sophisticated mix of the blues and greens," the pair added.
"As the building is Grade II heritage-listed we couldn't alter the structure, so paint colours and line accents were a really crucial way for us to add a contemporary layer."
Downstairs in the basement ' the only major structural addition that's been made to the building since its construction in 1884 ' the studio has applied a similar colour palette to visually link rooms to those on the upper levels.
Walls in the library have been covered in teal-coloured wallpaper, nodding to the furnishings in the bar.
Books and ornaments are presented on full-height vaulted shelves, which emulate the form of the arched windows in the workroom.
A handful of decor details like vases, Roman-style busts and the legs of meeting room tables have been painted with black and white stripes in reference to Huckletree's monochromatic brand logo.
Established in 2016, Sella Concept has previously'designed a Mediterranean-inspired restaurant'in London's Pimlico and'created a drinks bar beneath a railway arch'in Hackney.
Public Hall isn't the first co-working space that the studio has worked on ' back in 2017 it'completed the interiors of shared office De Beauvoir Block, which occupies an Edwardian-era warehouse in east London.
Work areas featured soft-pink walls and industrial-style metal seating.
Source:'Dezeen
---
London Build is the leading building & construction show for London and the UK. Gain access to 350+ exhibitors, 500+ speakers and connect with 25,000+ registered visitors. If you are interested in speaking, exhibiting or becoming an official event partner for the 2019 show, simply submit your interest and a member of the team will be in touch.'