27 Oct 2022
Skanska Celebrate Ropemaker Development Topping Out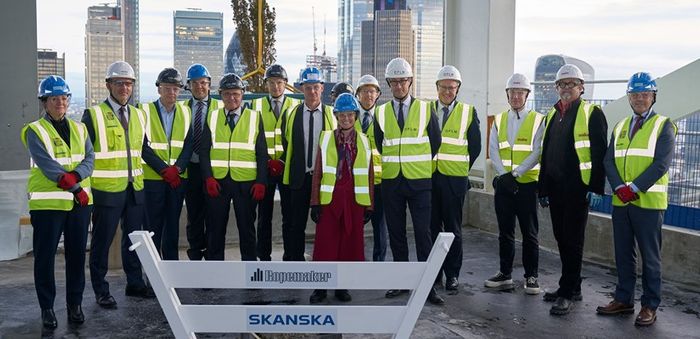 This week Skanska celebrated reaching the highest point of construction on the Ropemaker development, with a topping-out ceremony at 20 and 22 Ropemaker street.
Designed by Make Architects, the mixed-use scheme is one of the biggest construction projects currently underway in the Capital, with Skanska installing the mechanical, electrical and public health services, as well as the construction work. Other consultancies that worked on the scheme include WT Partnership, Waterman and Hilson Moran.
Located in the City of London, the development will reach 112 meters high, and will feature 22 floors, with five accessible roof terraces.
The scheme will feature 419,093 sq ft of office space and 11,785 sq ft of ground-level retail space. Skanska set high environmental targets for the project and will be aiming for BREEAM 'Outstanding' and the latest version of the WELL Building Standard, Version 2 – Platinum. They have trialled a number of sustainable techniques that aim to reduce the amount of waste sent to the landfill, reduce the amount of water and energy use and have chosen eco-friendly materials that mitigate the impact of operations on water, land and soil quality. One example of this is "...using a secondary aggregate when mixing the concrete. This involves reusing a product from other industrial processes and reduces the amount of waste produced." (Skanska UK)
Ian Perry, Operations Director at Skanska, says: "When finished, this building will provide a sustainable workplace that sets a benchmark for future buildings located in the city. The unique design means the office space is flexible and can adapt to different-sized businesses. This design has created five roof terraces, with access to outdoor space that provides landscaping, seating, biodiversity and nature.
"In the post-pandemic office environment, it's never been more important to find that balance between productivity and wellness. Spaces like this development, with top-quality facilities that earn industry-leading building certifications, will be at a premium, so we're proud to bring our healthy building expertise to this fantastic project."
Completion is due in late 2023. Its first tenants will be Linklaters LLP, with the development becoming their new global headquarters.
Source: Skanska UK
---
London Build is the UK's leading construction & design show. Gain access to 500+ incredible speakers across 8 stages, 350+ exhibitors, Meet the Buyers, live product demos, networking parties, entertainment, live music, the UK's biggest Festival of Construction and endless networking opportunities with leading architects, developers, housebuilders, contractors, government and more.