11 Oct 2019
Speaker Spotlight: An interview with Angela Brady OBE PPRIBA FRIAI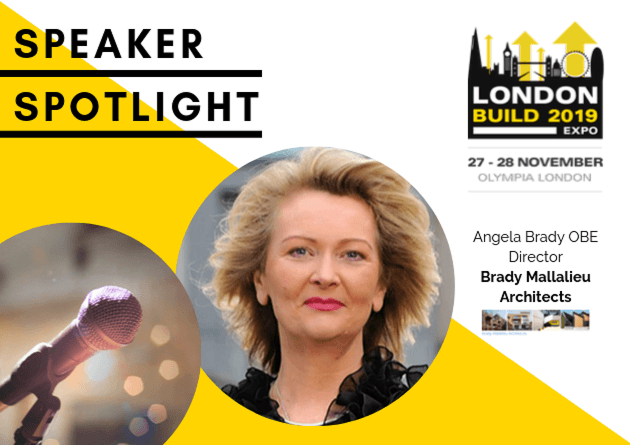 What is your current role?
As one of two directors with Partner Robin Mallalieu, we share the running of our private practice based in London and have architectural projects in the UK, Ireland and USA. We are working on housing and office projects and just completed the Brickworks award winning housing and community project in North London. I sit on a few panels including; as chair of Croydon Place Review Panel, member of TU board in Dublin and RIAI London Forum. I also promote architecture and design via TV documentary series as 'Designing Ireland'.
'
What inspires you?
People are my inspiration and getting a project just right for our clients. I like to introduce art and craft to projects to give it that full completed look from the architecture to the interiors and fit out. I also promote and curate Craft and Design internationally. Additionally, I put together collections of essays in books on sustainable city design to share and disseminate knowledge.'
'
Who is your biggest career influence?
After graduating in Architecture from DIT in Dublin (Now called TU ) I spent 18 months in Denmark researching co housing and Danish architecture and design. Arne Jacobsen the Danish architect is a key influence as he and his team also made furniture, light fittings and artworks. The Danes are leaders in design.
'
What project or piece of work are you most proud of?
Our Phoenix Heights 200 homes and community centre for Ballymore Homes is a key project of ours and also the tallest at 23 storeys. It also involved community consultation for the large community centre within the project. This also involved urban design and interior fit out. It still looks great today. Our latest is 'Brickworks' on Crouch Hill, for Islington Council where we designed 23 homes and the largest community centre in Islington. We were involved in great community consultation - so we knew what to provide for the community and it's a really popular and well used centre today.
What advice would you give your 20-year-old self?
Never give up - Work hard and play hard and keep you networks wide and fun. Continue to educate your creative side, where you will meet people outside of your professional groups.... and never take up a free internship.....So it worked.
'
What are you looking forward to most at London Build?
I love looking at the latest products and projects and experimenting with new materials where possible. The discussion forums are a great place to ask or give advice and find out the latest in what's going on InOut industry.
Written by: Costello Palmer
---
London Build is the leading building & construction show for London and the UK. Gain access to 350+ exhibitors, 500+ speakers and connect with 25,000+ registered visitors. If you are interested in speaking, exhibiting or becoming an official event partner for the 2019 show, simply submit your interest and a member of the team will be in touch.'