15 Oct 2019
Speaker Spotlight: An interview with Dimitra Kyrkou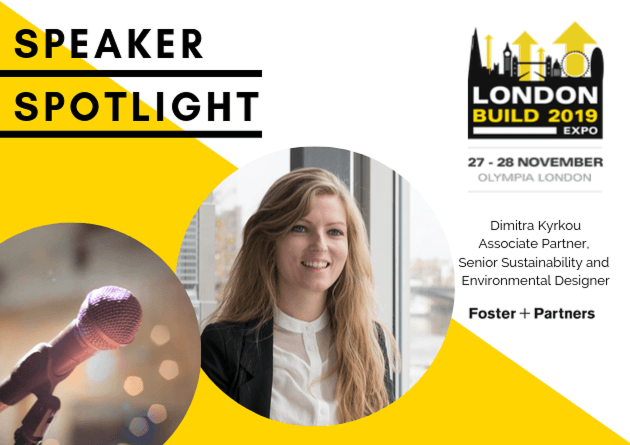 What is your current role?
I am currently an Associate Partner within Foster + Partners Environmental Engineering team with specialism on Sustainable Design, Planning, Policy and Sustainable Masterplanning Strategies. My passion and high motivation to sustainability aligns with the company's approach to developing and applying successful sustainable solutions. My role involves offering sustainability environmental design support to the architectural teams on design strategies and policies for sustainable developments of various types and scale, from building to large masterplans. My responsibilities include offering guidance on the effective application of international sustainability rating systems, such as BREEAM, LEED, WELL Building standard and GSAS. I am currently leading the Sustainability agenda for a high-profile commercial development in Doha, Qatar.
What inspires you?
What inspires me the most is the amazingly diversity at Foster + Partners. With so many people from all around the world, of different ages, backgrounds and values, it is a fascinating amalgam of cultures which in turn creates a fascinating amalgam of new ideas and concepts, whilst still all sharing the same passion for architecture and sustainability.'
Who is your biggest career influence?
My bigger career influence is my manager and leader of the Environmental Engineering Group at Foster+Partners. Not only because if his endless passion about sustainability, but mainly because he managed to establish an integrated design approach to design led by sustainability principles in a company that previously featuring mainly fully glazed buildings. It is also about the ethos and the principles my manager envisages: I've been with Foster + Partners for 8 years, and I never felt any discrimination because I am woman working within an engineering group. The opposite, I was always felt fully supported, and being given amazing opportunities.
What project or piece of work are you most proud of?
After spending days or months working alongside the architects to make them aware of the importance and benefits of designing buildings that are environmentally responsive, and you can see in the end that the message of sustainability becomes such a seamlessly integral part of the project.'It is about making people aware of the significance of putting sustainability first and pushing the design boundaries to make it happen.
What advice would you give your 20-year-old self?
Work hard; work with a passion; work with a smile, and never stop learning.
What are you looking forward to most at London Build?
Meeting inspiring people who all share the same passion on architecture and sustainability
Listening and learning about other people's ideas on how we can altogether push the boundaries on designing more sustainable buildings and cities.
Exploring new trends and technologies related to the built environment.
'
Written by:'Costello Palmer
---
London Build is the leading building & construction show for London and the UK. Gain access to 350+ exhibitors, 500+ speakers and connect with 25,000+ registered visitors. If you are interested in speaking, exhibiting or becoming an official event partner for the 2019 show, simply submit your interest and a member of the team will be in touch.'
'