10 Oct 2019
Speaker Spotlight: An interview with Juan A. Morillas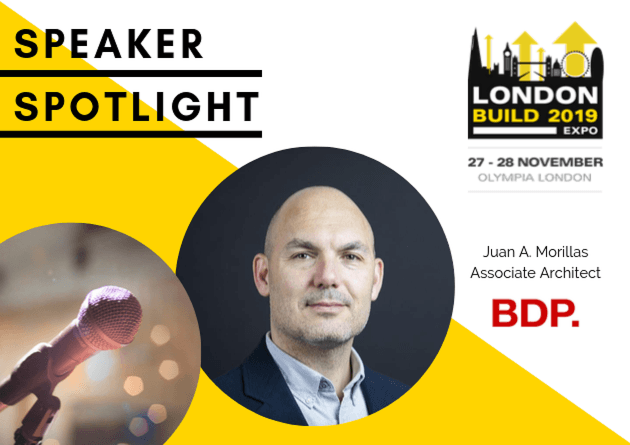 What is your current role?
I'm the structure lead working for BDP on the new Google HQ at Kings Cross.
'
What inspires you?
I understand my profession as a process of continuous learning. It's an open minded approach with influences from many different fields. It's a constant evolution linked to my personal development, without being afraid of changing my mind along the way.
What inspires me now is very different to what inspired me when I started my career and it will be different in a few years' time. But the motivation to do the best I can with the tools and resources I have is always the same.
'
What is your proudest moment?
When I visit a finished building with a client / owner and they are satisfied with the result of years of hard work.
'
What is the best book you've ever read?
It's very difficult for me to choose one book only. I've selected a few books that marked different periods of my life:'
- The life of 'Lazarillo de Tormes' by Anonymous author.
- Lord of the flies by William Golding
- The New York Trilogy by Paul Auster.
- Sustainable Energy ' without the hot air by David JC MacKay.
'
What's going to be the next big thing in your sector?
I hope Life Cycle Assessment is fully implemented in the construction industry and carbon emissions benchmarks are set in the short term. That would allow us to really understand the magnitude of the carbon emissions of any building across its entire cycle, from design to demolition.
All the relevant parties will have to work together, Government, Councils, Developers, Designers, Contractors, Manufacturers, et cetera in order to achieve the carbon reduction goal.
'
What are you looking forward to most at London Build?
I have the feeling that Climate Change awareness has increased exponentially in the last few months and I hope the London Build can be a true reflection of that change.
I hope there will be constructive debates about how our goal can be achieved and how each party, companies and individuals alike can work together.
Written by: Costello Palmer'
---
London Build is the leading building & construction show for London and the UK. Gain access to 350+ exhibitors, 500+ speakers and connect with 25,000+ registered visitors. If you are interested in speaking, exhibiting or becoming an official event partner for the 2019 show, simply submit your interest and a member of the team will be in touch.'