06 Oct 2019
Speaker Spotlight: An interview with Maciej Kindler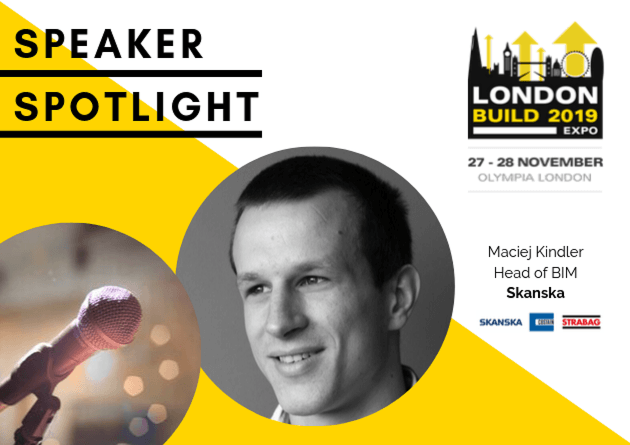 What is your current role?
I'm Head of BIM for Skanska Infrastructure UK. I manage and support BIM teams that deliver projects for Highways England, Network Rail, HS2, Crossrail and National Grid. I'm also part of a team that creates and lead our Digital Transformation strategy.
'
What inspires you?
Passionate, skilful people and opportunities they create. Creating strong and collaborative teams capable of disrupting construction and making an impact on the future of it is to me always the most exciting part of working.
'
Who is your biggest career influence?
Throughout my whole career I find myself incredibly lucky to have great mentors and managers who never hesitated to give me a chance. I would say that the two most recent ones, Keith Jones and Simon Clitheroe had the biggest impact on me and my career. They both showed great trust and confidence in me and gave invaluable guidance and support on my way from a technical expert to a manager and leader.
'
What project or piece of work are you most proud of?
It will be the Area South Main Works for HS2. Working with incredible Skanska Costain and Strabag JV team,'we managed to set a new standard on how to deliver projects actively using BIM in all areas of design, engineering, planning, commercial and environment. I believe that we truly break through the wall of inclusiveness and we do make BIM, GIS and digital engineering open and friendly to everyone.
'
What advice would you give your 20-year-old self?
If you really want to change something, build power with people not over people.
'
What are you looking forward to most at London Build?'
As always, I'm looking forward to meeting with interesting people, share our ideas and experiences and learn how I can improve the company, the team and myself.
Written by: Costello Palmer'
---
London Build is the leading building & construction show for London and the UK. Gain access to 350+ exhibitors, 500+ speakers and connect with 25,000+ registered visitors. If you are interested in speaking, exhibiting or becoming an official event partner for the 2019 show, simply submit your interest and a member of the team will be in touch.'