12 Oct 2019
Speaker Spotlight: An interview with Richard Huntley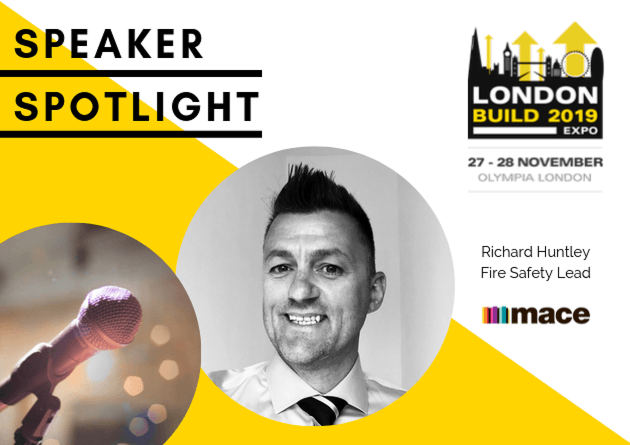 What is your current role?
I work within the Health, Safety and Wellbeing function of Mace providing fire safety and fire engineering support across the construction, consultancy and facilities management (Macro) sections of the business.
The role involves everything from developing and presenting construction-based fire safety training, setting and producing fire safety standards and guidance documents, developing templates and permits through to on-site inspection and audits of live construction projects. In addition, I provide direct support to bid, procurement and commercial teams to assist correct inclusion of fire safety requirements in line with regional legislation, standards and guidance.
The role requires me to keep abreast of technical developments such as wireless fire alarm systems, hydrogen fuel-cells equipment and fire stopping products through to legislative changes and construction guidance updates (HSG 168 and Insurer JCoP).
As the business is centred around the construction sector much of the role involves maintaining awareness and correct inclusion of fire safety in the design and construction phases to assist life safety of occupants, primarily, and secondarily property protection.
'
What inspires you?
Having two small boys puts perspective on life and affirms, at least for me, that we must all be able to get home safely from work to our families each day and be safe in our home. So, for me helping to ensure, at least from a fire safety perspective, that projects and buildings are set-up, managed and maintained appropriately, is a primary inspiration. The events at Grenfell Tower highlight that, unfortunately, there is still much to be improved within the fire sector and so the events do provide impetus and focus for fire safety professionals to continue raising awareness at a business and legislative level.
'
What do you believe are the current challenges in your industry and how can we overcome them?
Within the construction industry we are challenged to deliver faster, more efficiently and for lower cost, so there is an expectation to achieve more for less. Unfortunately, this does result in compromises regarding fire safety deliverables, not only during the construction phase but in the final construction itself; this is often due to a lack of understanding of legislative requirements, the building fire strategy, building regulations, product knowledge and the basic overall importance of fire safety in design.
Raising awareness of the importance of fire safety during construction, and in the final design, is absolutely key. All disciplines involved in a construction project e.g. MEP, civils, logistics, commercial, procurement, etc. must have an appropriate understanding of fire safety to be aware of how they can affect it. Appropriate in-house training, fire standards and support is key to raising awareness and significance of fire safety.
In addition, clients must be more aware of fire safety in terms of legislation, costs during construction and as part of the final scheme, and increase inclusion of fire safety requirements during the project management bid process; by raising fire safety expectations and standards then contractors must deliver those higher standards.
'
What are the current trends in your industry?
A move to environmental energy sources, specifically hydrogen fuel cells, has required a recent review of their impact and formation of safe working practices etc. for construction sites. Future environmental commitments look to remove all diesel-powered equipment and replace them with alternate power supplies so further fire safety reviews will be required.
Reducing overall storage of flammable liquids and gases (LPG, petrol and diesel), removal of most hot work process (open flame torches for roofing works), and better management of combustible waste all form part of push towards reduction hazards and resultant risks to as low as reasonably practicable.
'
What will people be surprised to know about you?
After university I sang in pubs and clubs around my home town of Hull for sixth months and have previously entered both Pop Idol and X-factor competitions, so I do like a bit of karaoke.
'
What are you looking forward to most at London Build?'
An opportunity to share my experiences of construction fire safety with those perhaps seeking advice on the practical application of available guidance and recommendations to live projects. I look forward to attending other presentations and visit product stands to update myself on current development and new technology.
Written by: Costello Palmer'
---
London Build is the leading building & construction show for London and the UK. Gain access to 350+ exhibitors, 500+ speakers and connect with 25,000+ registered visitors. If you are interested in speaking, exhibiting or becoming an official event partner for the 2019 show, simply submit your interest and a member of the team will be in touch.'