03 Oct 2019
Speaker Spotlight: An interview with Vicki Reynolds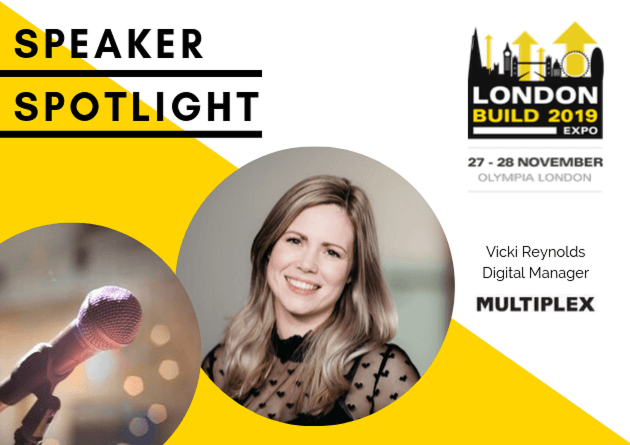 What is your current role?
I am a Digital Manager for a Tier 1 Contractor specialising in tall towers and high spec buildings in and around Central London.
Originally I focused on project delivery, working on the exciting One Nine Elms development in Vauxhall, but about 12 months ago I moved in to the head office at Multiplex to work on preconstruction and the digital upskilling of the organisation.
'
What inspires you?
I am inspired by the need for change. As an industry we are not efficient enough, safe enough or diverse enough, but we're moving in the right direction. There are so many things to be done, but we have the right people now with the right attitudes, and that is both exciting and inspiring. I wouldn't want to be anywhere else.
'
Who is your biggest career influence?
I've been so fortunate and have had a number of hugely positive influences in my career, but I'd say the biggest has been Lisa Clark. Lisa now works in the mining industry in Australia, but I met her on the Battersea Power Station Redevelopment Project. She had an absolute no-nonsense attitude to project delivery and taught me so much about good data and information management. Although she was incredibly thorough in her role, she was also exceptionally approachable and great at both listening and giving advice. Not only did she ignite my initial passion for BIM and Information Management, but she also showed me the type of leader I wanted to be.
'
What project or piece of work are you most proud of?
Helping to develop Multiplex in to a 'model 1st' organisation has made me very proud. As a BIM Consultant for a major Project Management company, I used to dream of working with designers and contractors who put models and their data at the centre of projects. The input I've been able to have, specifically around the redevelopment of our template documents such as the BIM Execution Plan, the creation and roll out of a training program for digital skills development, and the standardisation of our data language and processes across our projects, has been such a challenge and a privilege, I can't help but feel proud.
'
What advice would you give your 20-year-old self?
'You'll be fine. There are some ups and downs on the way but they are all important experiences, so buckle up and ride them out. Keep your enthusiasm and keep saying yes to opportunities. You've got some great times ahead!'
'
What are you looking forward to most at London Build?'
I'm really looking forward to the Women in Construction meet up. This year I will be there as an official Women in Construction Ambassador, and I'm hoping to build on some of the fantastic and exciting conversations that were started last year around increasing the diversity of our industry. I am also chairing the'panel discussion'on Women in BIM, which brings together two of my favourite topics; digitalisation and inclusion!
Written by: Costello Palmer
---
London Build is the leading building & construction show for London and the UK. Gain access to 350+ exhibitors, 500+ speakers and connect with 25,000+ registered visitors. If you are interested in speaking, exhibiting or becoming an official event partner for the 2019 show, simply submit your interest and a member of the team will be in touch.'